After six starts on the track, Jardin de Giverny never broke her maiden. In 2020, the four-year-old began the next chapter of her life at TAA-accredited MidAtlantic Horse Rescue. 
After rehoming thousands of former racehorses, Executive Director Bev Strauss has had plenty of experience transitioning Thoroughbreds off-the-track. 
"When Jardin came in it was obvious she was a total athlete with a good brain, but needed a program and direction," Strauss said. "So, we sent her to Sally Shirley for a consistent program." 
The Kentucky-bred was off to begin retraining for her second career at Shirley's Westminster, Maryland farm. Meanwhile, a young Sarah Laderman had just begun the search for her first horse. 
At the age of eight, Sarah rode a horse for the first time thanks to father who enrolled her in a week-long day camp. It wouldn't be long before she was taking lessons and entering competitions. Her father, Steve, recognized early on that his daughter's passion for horses was serious, and eventually he agreed it was time for Sarah to have a horse of her own.
"Sarah has a fairly natural ability to handle herself around horses and I was confident in her ability to train and bring a horse along," Steve Laderman said. 
Sarah had done her research and decided she would be looking specifically at off-track Thoroughbreds— something MidAtlantic had in spades.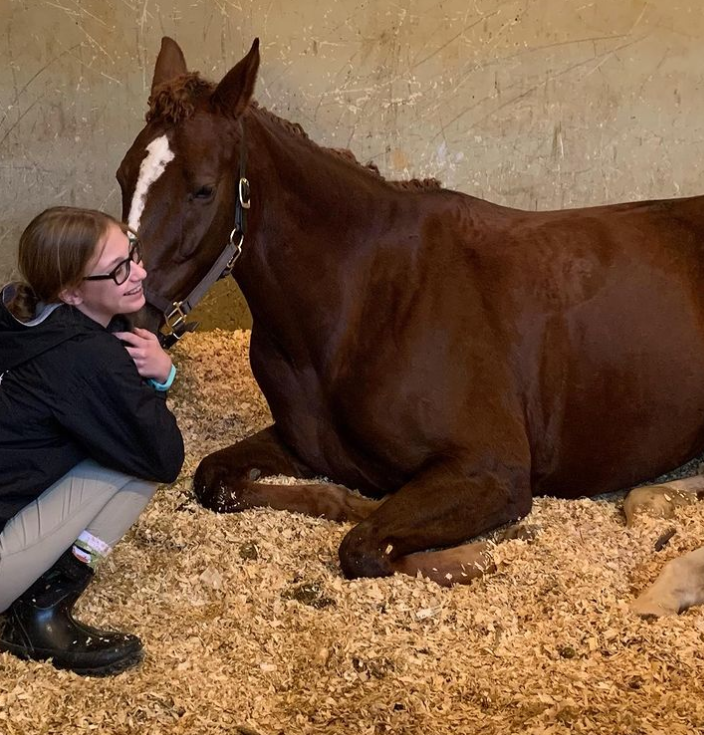 "I saw the ad for MidAtlantic Horse Rescue on Facebook," Sarah said. "I checked out their website and found Jardin." 
A couple days later Sarah and her dad were on their way to Sally Shirley's farm, ready to meet Jardin de Giverny. 
"She was almost exactly what I was looking for," Sarah said. "She was a really pretty mover which stood out to me, but it was that she was willing to learn and picked up on things really quickly that convinced me."
Just three months after arriving at MidAtlantic, the daughter of Superfly had found her forever home. 
Sarah and Jardin stayed in Shirley's training program for a month to give the new partnership a good foundation and to work out those OTTB quirks— something Steve Laderman has enjoyed watching from the sidelines. 
"It has been crazy watching Sarah and Jardin grow as a team and both being able to anticipate each other's movements and actions," Steve said. "The amount of trust and comfort level continues to build as we go and Jardin's maturity is beginning to shine through.
That trust has helped tremendously in Jardin's transition to her new life as a show horse. Sarah and Jardin earned 15th place in the Show Jumping division at the 2021 Thoroughbred Makeover, making their team third overall among the junior competitors.
"Sarah makes the mare look super easy to ride, but she is not," Strauss said. "Young people like Sarah are the future for OTTBs."
Looking ahead, Steve has high hopes for his daughter and has enjoyed witnessing her passion grow. 
"There very well may be a career in the horse or animal world for her," he said. "And if not, the skills, life lessons, and experiences will be something she can leverage through the rest of her life."
Cover Image: JARDIN de GIVERNY