For the fourth consecutive year, Centennial Farms sponsored the Thoroughbred Aftercare Alliance (TAA) Best Turned Out Horse Awards during the Pegasus World Cup Invitational Card Jan. 29, 2022 at Gulfstream Park. A cash prize and TAA gift bag were given to the winning groom of the Best Turned Out for the twelve races on the card.
Representatives from the Thoroughbred Aftercare Alliance and Centennial Farms selected the horse in each race that was deemed to be the best presented, and that horse's groom received a gift bag and cash prize. The TAA and Centennial Farms promoted the winners on their social media platforms, the winning groom was mentioned on the live simulcast feed, and a congratulatory ad was placed in both the Thoroughbred Daily News and BloodHorse Daily on Monday, Jan 31, 2022.
"There is nothing more gratifying than to award the unsung heroes who take care of our beloved Thoroughbred athletes," TAA Inspection Coordinator Suzie Picou-Oldham said. "The Thoroughbred Aftercare Alliance was thrilled to once again partner with 1/ST and Centennial Farms to celebrate our hardworking men and women of the backside."
The Thoroughbred Aftercare Alliance is a charity partner for the Pegasus World Cup.
Thoroughbred Aftercare Alliance Best Turned Out award recipients:
RACE 1

#9 STRIKE APPEAL
Groom: Odin Londono, III
Trainer: Odin Londono Jr
RACE 2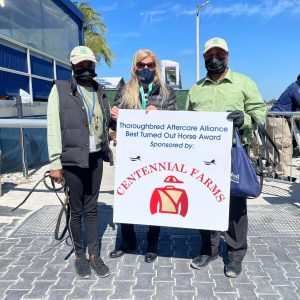 #2 MAD MOCHA
Groom: Michael Lewars
Trainer: Stuart Simon
RACE 3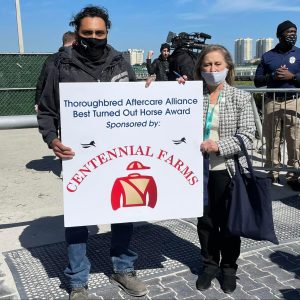 #5 EARTH STRIKE (IRE)
Groom: Onildo Quevedo
Trainer: Mark Casse
RACE 4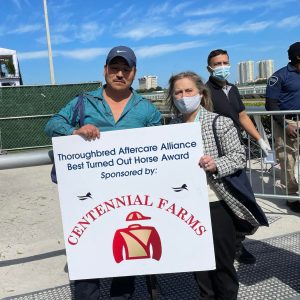 #6 BOURBON HEIST
Groom: Robin Alvarez
Trainer: Ian Wilkes
RACE 5 – LA PREVOYANTE S. (G3)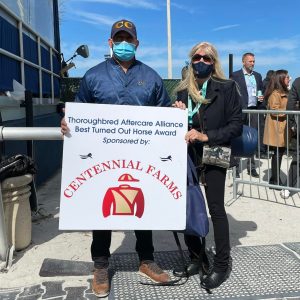 #6 BEAUTIFUL LOVER
Groom: William Aniceto
Trainer: Christophe Clement
RACE 6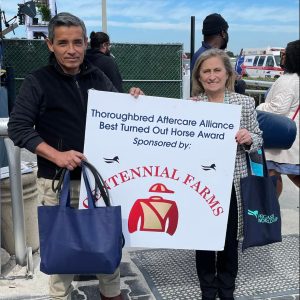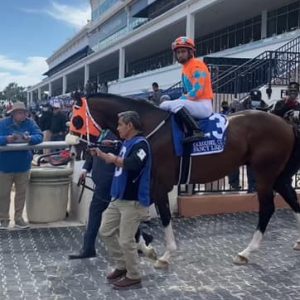 #3 FANCY LIQUOR
Groom: Emilio Silva
Trainer: Mike Maker
RACE 7 – W. L. McKnight S.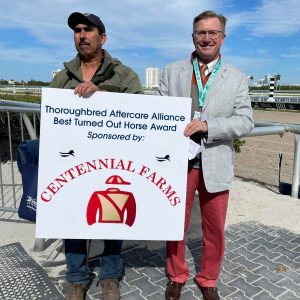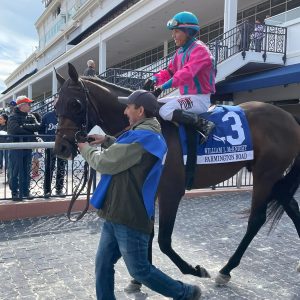 # 3 FARMINGTON ROAD
Groom- Carlos Navas
Trainer: George Arnold
Guest Judge: Don Little
RACE 8 – Inside Information S.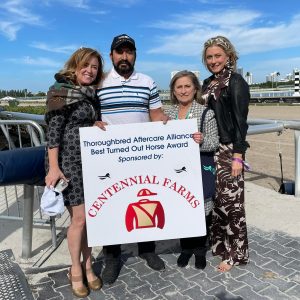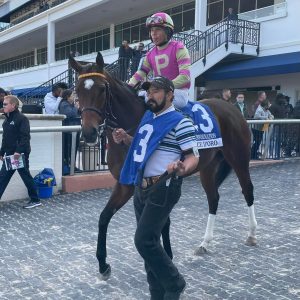 #3 DANCE D'ORO
Groom: Jose Gonzales
Trainer: Ralph Nicks
RACE 9 – Thoroughbred Aftercare Alliance Pegasus World Cup Filly & Mare Turf Invitational S. presented by PEPSI (G3)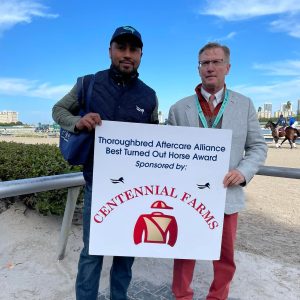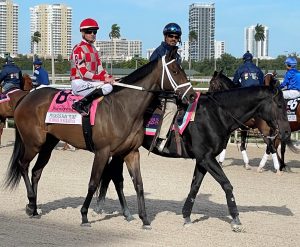 # 8 SUMMER IN SARATOGA
Groom: Carlos Orantes
Trainer: Joe Sharp
Guest Judge: Don Little
RACE 10 – Fred W. Hooper S. presented by Hill 'n' Dale Farms at Xalapa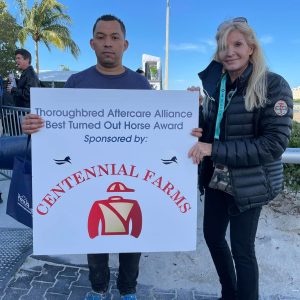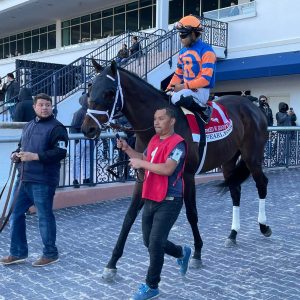 # 1 FEARLESS
Groom: Jesus Gomez
Trainer: Todd Pletcher
RACE 11 – Pegasus World Cup Turf Invitational S. presented by Baccarat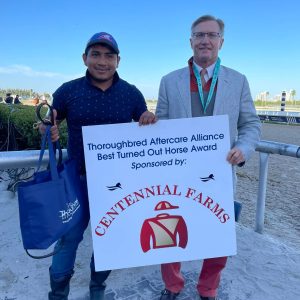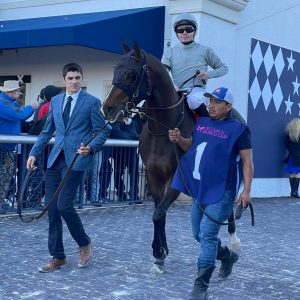 # 1 SPACE TRAVELLER (GB)
Groom- Elmer Martinez
Trainer: Brendan Walsh
Guest Judge: Don Little
RACE 12 – Pegasus World Cup Invitational S. presented by 1/ST BET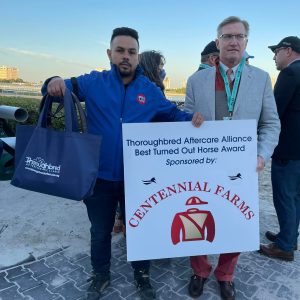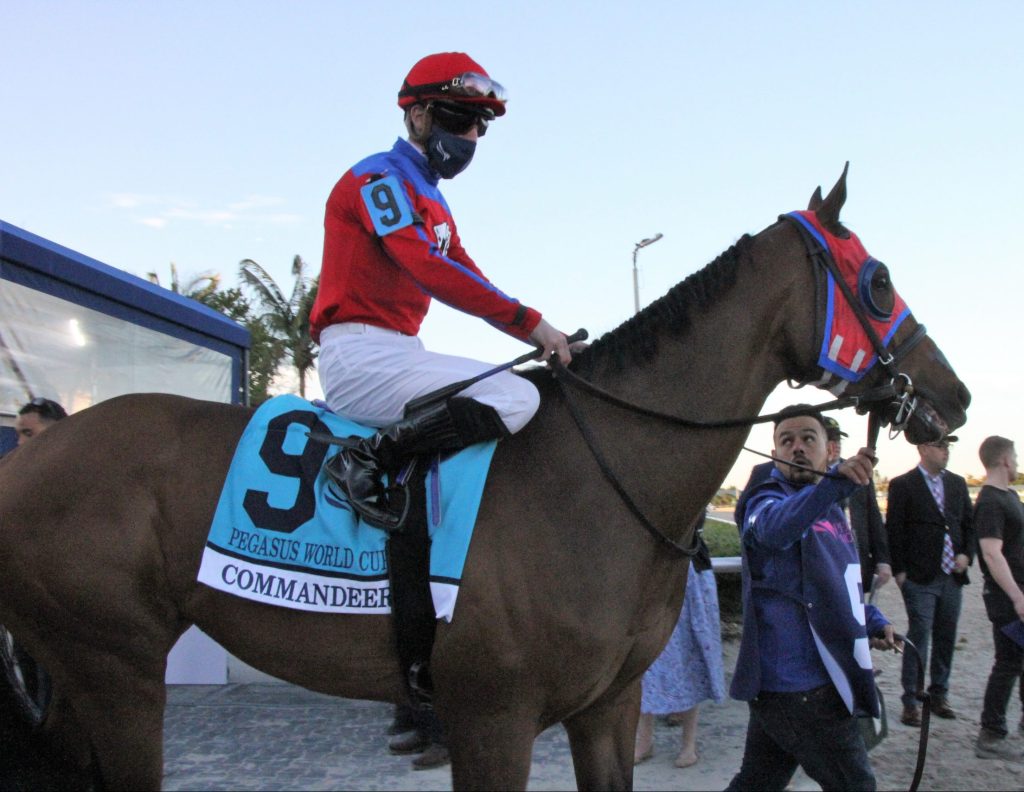 # 9 COMMANDEER
Groom- Javier Armenta
Trainer: James Toner
Guest Judge: Don Little