Named after WWII war hero and MLB professional baseball player Leland Victor Brissie, meet Lou Brissie, the retired graded stakes winner. Like his namesake, Lou Brissie impacted multiple lives before eventually enjoying his retirement.
Born in 2008, the son of Limehouse made 21 starts on the track, earning over $176,000 before making his final start at Ellis Park in 2012. Lou Brissie made quite the soft landing from racing when he was sent to Thoroughbred Aftercare Alliance (TAA)-accredited Old Friends Farm in Georgetown, Kentucky to live the retired life amongst the likes of Kentucky Derby and Breeders' Cup Classic winners. However, it didn't take long for the Kentucky Juvenile Stakes (G3) winner to catch the eye of Ashley Duvall, who was looking to adopt an off-track Thoroughbred.
"I had been looking for a horse for a while," Duvall recalled. "I was in need of a 2'6" hunter/jumper at the time."
Ideally, Duvall was looking for a horse equipped with an aptitude for jumping. Despite the young gelding being untested as a jumper, Lou had captivated Duvall's attention since he first arrived.
"Everything I tried just wasn't right," Duvall said. "Even though he was a bit green, I went to Old Friends to try Lou." 
When Duvall first arrived, Lou seemed a bit standoffish, but once Duvall swung her leg up on the Kentucky-bred, something just clicked.
"He was much happier under saddle," she explained. "He was so honest and good, and not at all spooky."
Subsequently, Lou was headed home with Duvall to begin retraining for his new career as a hunter jumper. According to Duvall, Lou was a sweet and willing learner.
Together, the pair competed up to 3' at various Intercollegiate Horse Shows Association (IHSA) shows while Duvall was in college. The sweet, steady Lou remained honest and reliable even when acting as another student's catch ride.
"He came with me to college, and we competed at some New Vocations shows and stuff at the Kentucky Horse Park," Duvall said. "I even let him go to some of the Interscholastic Equestrian Association (IEA) shows where he once was voted best horse." 
After Duvall graduated and began a new career of her own, Lou spent a couple years teaching the next generation of riders the ropes.
"He was leased for two or three years by a little girl, Duval explained. "It was so cute to watch them run around the 2'6" classes."
At the age of 13 Duvall decided it was best for Lou to retire from competition and made the call to Old Friends. Michael Blowen and his team were more than happy to re-welcome the gelding back just last year, and report he is settling back in nicely.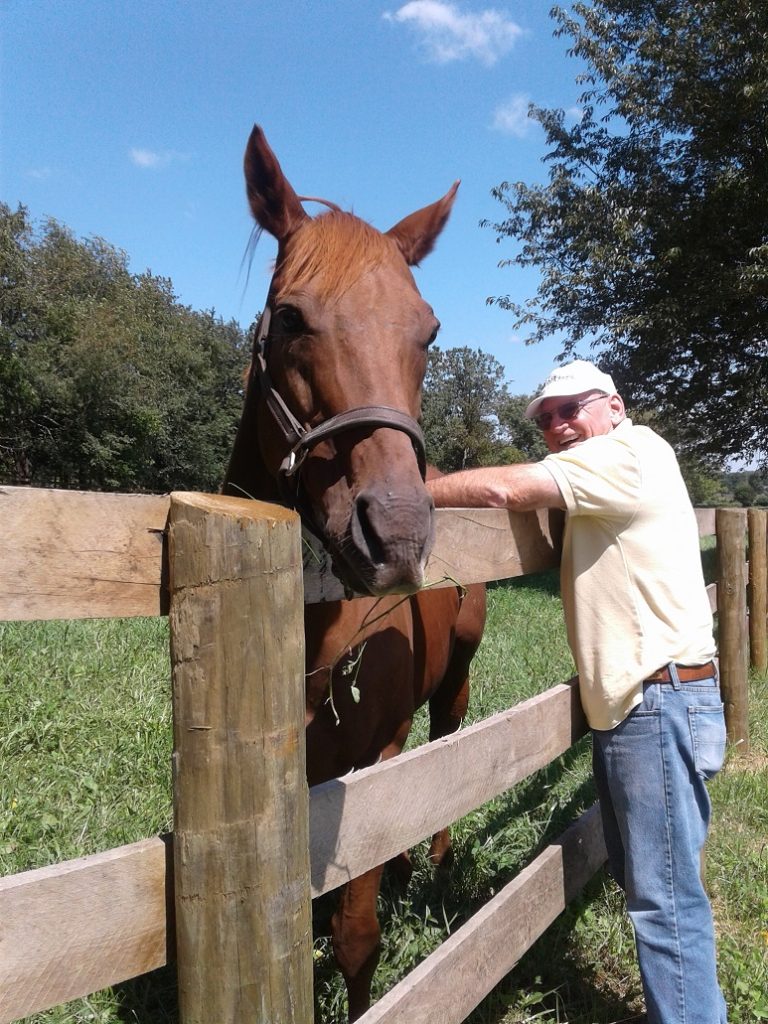 Although he is not in her barn anymore, Duvall still visits her old friend from time to time, happy to have had him in her life then and now.
"I've restarted a few Thoroughbreds since Lou," she said. "But I always end up comparing them back to him– he was so good." 
Cover Image: Shawn McMillan