By: Alexandra Kokka
Our Serengeti ran 11 times, never breaking his maiden. The Oklahoma-bred retired to TAA-accredited Horse & Hound Rescue Foundation with $18,504 in earnings.
Patricia Lynch and her husband had just relocated to Wichita, Kansas when she decided she was ready to start riding lessons again. The equestrian had taken a step back from her lifelong hobby after suffering a traumatic horse-related injury.
"I found a good dressage trainer and decided it was now or never to buy a horse and become serious in my riding," Lynch said. "When I saw 'Getty' it was love at first sight. I reached out to Horse and Hound to set up a time to come see him in person. At that time, they disclosed that he had suffered a racing injury and would probably not be suitable for an eventing or upper level jumping home, which was fine by me because I just wanted a new dancing partner."
After her previous accident, Lynch knew she needed a level-headed and reliable partner to keep her safe. Despite being just 4-years-old at the time, Our Serengeti proved himself to be just what Lynch was looking for.
"From the moment I saw his sales ad, I thought he was perfect," Lynch said. "He checked all the boxes–over 16.1h, uphill build, good bones, and he was a bay, which was just icing on the cake. His sales videos showed a good walk, a decent trot, and an absolutely beautiful canter. As soon as I met him and realized what a giant love bug he was, I was hooked. I think I sent his adoption fee two days later."
It was the start of an invaluable friendship, Lynch and Our Serengeti, or "Getty" had their work cut out for them, but with hard work and dedication both horse and rider have shown tremendous growth.
"('Getty') is my heart horse," Lynch said. "He has been exactly what I needed to rebuild my confidence after my riding accident while being talented enough for the show ring. We did struggle in the early part of our partnership with soundness issues and weak, brittle feet, but we have worked through all of those issues–he has grown another inch from the time of adoption and gained easily 300-400 pounds of weight and muscle and power. He is so sweet, comes out willing to work everyday, a barn favorite, and I am so grateful I found him."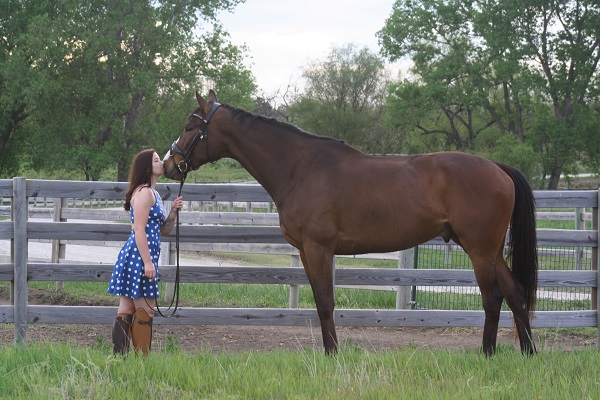 Initially, Lynch set a conservative goal for the son of Toccet: to achieve their USDF bronze medal. Now, nearly three years later, Lynch is proud to report that "Getty" has handily surpassed that goal and is a solid second-level dressage partner.
"Lateral work comes naturally to ("Getty") and he has a lovely, reaching leg-yield," she said. "Also, he is so, so smart, learning at an unprecedented rate, sometimes learning and retaining something new in only one ride. We have dabbled with flying changes, which will definitely be something that comes easy to him, we have shown USEF and USDF recognized shows and received 8's for that beautiful canter I fell in love with in his sales video. Now I can honestly say my goal is to ride this horse as far as he can take me. He is so smart, talented, and willing that I am very optimistic about our future together."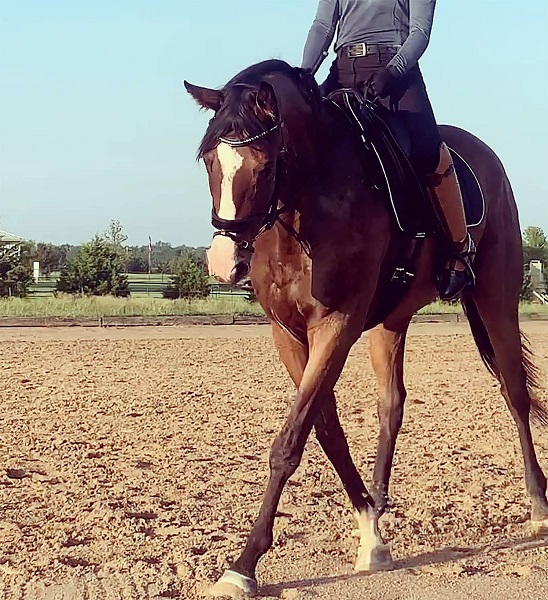 Lynch shares her appreciation for Horse and Hound Rescue in Guthrie, Oklahoma, which earned its TAA accreditation in 2019, with other equestrians so they too can find their next OTTB partner.
"Horse and Hound was amazing to work with because they really want to find the right fit for their horses," she said. "Nelda was honest about his previous injury, honest about wanting him to go to a place where he would have a job because she recognized his talents and knew he deserved more than just to be a pasture pet. I always recommend people start their OTTB search with them."