By Alexandra Kokka
During his three seasons on the track, Thirtysevenliveson never broke his maiden in eight tries. While the son of Giant's Causeway wasn't as successful on the track as his older siblings—2009 Kentucky Derby (G1) winner Mine That Bird and grade 1 winner Dullahan—he found his calling off the track.
Upon leaving the track, the former Bill Mott trainee was sent to TAA-accredited New Vocations where he was adopted by OTTB lover Suzanne Jarowey.
Jarowey was looking for a laid back horse who was up for anything. She didn't have much in the way of physical requirements, but had a soft spot for chestnuts.
"I immediately noticed Thirtysevenliveson. Something about his expressions and his way of going caught my eye," she said. "I must have watched the video a hundred times, always looking at all others available but somehow always coming back to him. Thirtysevenliveson just seemed to be the right horse for me."
Jarowey was sure a gem like Thirtysevenliveson wouldn't be available for very long but needed time to think and talk it over with her husband. Eventually she reached out to New Vocations to inquire about the former Zayat Stables runner, and was told they were looking for a home for him where he can have fun. It seemed like a great fit.
"He is a huge boy with as much personality as his size," Jarowey said. "What a joy to have around, so kind a true gentle giant, sweet, friendly, and seems to love to communicate with people. I fell in love from the first day."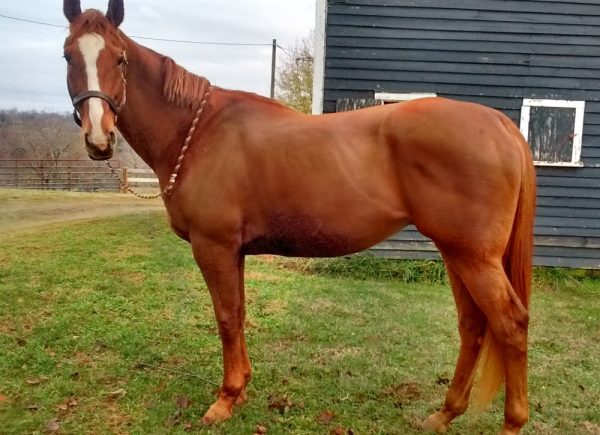 Jarowey and "Dublin," as he is now called, enjoy hacking around the farm and getting to know one another. With warmer weather coming she is eager to start some flatwork in the ring and figuring out what he wants to do with hopes of entering a few local shows leading up to the New Vocations Charity Horse Show & T.I.P Championships show in the fall.
"He is a great joy in my life," she said. "I always see that white-blazed face turn towards me as I walk the dog or come home from work, greeting me with a nuzzle."