Join us at the ABR Pre-Preakness Party
The Thoroughbred Aftercare Alliance has once again been named the beneficiary of Preakness' most anticipated event: America's Best Racing's Pre-Preakness Party. The eighth annual Pre-Preakness Party is set to be held on Wednesday, May 17, at the Mt. Washington Tavern in Baltimore, Maryland.
Organized by America's Best Racing, this party has become the most popular Preakness week event that is open to everyone. For just $25 each, tickets include secure access to the Sky Bar (2nd floor) at the Mt. Washington Tavern and the following:
One (1) complimentary drink ticket
Complimentary snack platters (wings, dips, veggie, cheeses)
Access to well-known horse racing personalities and handicapping experts
Networking opportunity among racing enthusiasts
Read the official press release HERE.
Special Handicapping Competition
Eight guest handicappers will select their picks (win, place, show) for both the Black-Eyed Susan Stakes and the Preakness Stakes.
Two renowned racing professionals will choose handicapper selections to back in real life: Aidan Butler, Chief Executive Officer, 1/ST RACING & GAMING, and Mike Rogers, 1/ST RACING Executive Vice President and Maryland Jockey Club Acting President and General Manager.
Aidan and Mike will go head to head and back four handicappers each. All winnings will go towards Thoroughbred Aftercare Alliance.
About Mike
Mike Rogers is a highly accomplished industry executive with a remarkable career spanning over three decades in the Thoroughbred racing industry. Starting from the backstretch of Fort Erie Racetrack, he has actively been involved in nearly every aspect of the sport.
Following a successful tenure as a sports agent representing jockeys in Canada and the United States, Rogers joined Adena Springs in 1998. There, he played a pivotal role in managing one of the world's foremost Thoroughbred horse breeding and racing operations.
Currently, Rogers serves as Executive Vice President, 1/ST Racing and Acting President & General Manager of The Maryland Jockey Club where he is responsible for overseeing all racing functions, with a focus on enhancing the racing product, industry relations and legislative priorities.
Apart from his industry work, Rogers is a strong advocate for the welfare of horses both during and after their racing careers. He serves on several boards and committees, including: Equibase, National Thoroughbred Racing Association (NTRA), Thoroughbred Racing Associations (TRA), Thoroughbred Racing Protective Bureau (TRPB) and the Permanently Disabled Jockeys Fund (PDJF). Rogers also currently serves as a trustee of the National Museum of Racing and Hall of Fame and is a member of The Jockey Club of Canada.
About Aidan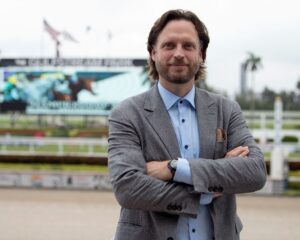 Aidan Butler currently serves as the Chief Executive Officer of 1/ST RACING & GAMING.
In this role, Butler is responsible for the management and oversight of racing operations at 1/ST owned racetracks and training centers. His focus is on implementing and enforcing global best practices and integrity standards for horse and rider safety in collaboration with key industry stakeholders, while aiming to modernize racing operations. To support the shifting landscape of sports wagering, digital platforms and racing content, Butler leads an integrated team of racing and gaming personnel to leverage 1/ST assets, identify new opportunities, and create trailblazing programs to fully capitalize on the future of sports wagering and gaming.
Butler previously served as Chief Operating Officer, 1/ST RACING and as Chief Strategy Officer for The Stronach Group. During a transformative time in horse racing, Butler was responsible for the implementation of industry-leading health and safety protocols for horses and riders at Santa Anita Park. In addition, Butler was responsible for the development of key stakeholder and strategic relationships and leading Santa Anita Park successfully through the early stages of the COVID-19 pandemic. Always championing the Thoroughbred, and currently owning retired racehorses, Butler proudly joined the Thoroughbred Aftercare Alliance (TAA) Board of Directors in 2022.
Originally from England, Butler followed in his grandfather and father's footsteps to become a licensed bookmaker in the U.K., before relocating to the United States. Butler has extensive experience across a variety of verticals and his expertise has been utilized by numerous organizations in North America and Europe.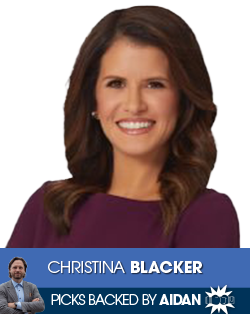 Click to Read Bio
Christina Blacker is a FanDuel TV racing host, analyst, and reporter.
Blacker began her broadcasting career in 2004 and has had prominent roles with HRTV, TVG and NBC Sports over the past two decades. She is also a sales representative and liaison for Keeneland Sales company and host of "Rising Stock" for the Keeneland sales. In addition, she also serves as a spokesperson for the Equibase product "Race Lens" and is a digital creator and ambassador for My Racehorse, serving as a host of "Wire to Wire." She also has experience working on a variety of national syndicated programs including MTV News, "Extra" and "Last Call with Carson Daly."
Blacker is highly respected in the racing industry, serving as one the speakers at the inaugural Horse Racing Women's Summit. She is also the co-founder of "I Am Horse Racing," a non-profit dedicated to sharing the stories of racings unsung heroes.
Blacker graduated from the University of Southern California with a degree in broadcast journalism and entertainment communications. She is the daughter of jockey Frank Olivares and is married to trainer Dan Blacker. Together they raise their three very active children in California. Whether at the racetrack or the beach, Del Mar is her favorite place to be. You can follow her on Twitter, Instagram and TikTok.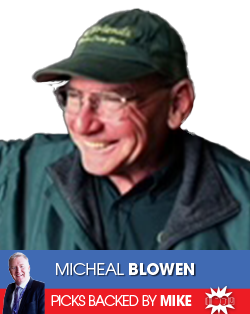 Click to Read Bio
Michael Blowen founded Old Friends, a retirement farm for Thoroughbreds, in 2003. Old Friends is Blowen's third career. For two decades he was movie critic and arts writer for the Boston Globe, and prior to that he taught film at Emerson College and Boston University. Blowen mucked out stalls and hot-walked horses at Suffolk Downs. He imagined that learning about racing from the ground up would help his handicapping. It didn't. Instead, he fell in love with the horses. After retiring from the Globe he moved to Kentucky to work as Operations Director for the Thoroughbred Retirement Foundation. Two years later he started Old Friends, which today cares for over 250 Thoroughbreds, including stallions whose racing and breeding careers have ended.
Click to Read Bio
Caton Bredar grew up in the shadow of Arlington Park Racetrack, destined for a life in racing.  Her father, the late Raymond Metzler, was a trainer, farm manager for Rogers Red Top Farm and owned and operated Carey Horse Vans—one of the largest thoroughbred horse transport companies in the Midwest and her maternal grandfather, Ted Atkinson was a Hall of Fame Jockey and leading rider in North America in the 1940's and 50's before serving as Illinois Senior State Steward.
After graduating from Knox College in Galesburg, Illinois, Bredar began her tv and radio career in Chicago before moving to Florida, New Jersey, California and, ultimately, Louisville where she and her husband, Doug, have owned a home for 20 years.  She initially worked full time in Louisville as a news anchor and reporter for the NBC affiliate, WAVE-3 for whom she she researched, wrote and co-produced the Eclipse, Emmy and SPJ (Society of Professional Journalists) Award-winning documentary "A Legend Re-Affirmed – the 30th Anniversary of the Last Triple Crown," which also earned runner-up honors from the Kentucky AP Broadcasters for Best Special, Series or Documentary. 
Prior to moving to Kentucky, Bredar lived in LA, where she was the first on-air talent hired for the new horse racing channel, Television Games Network (TVG) now known as FanDuel TV.  She served as their lead anchor for four years, working out of the LA-based studios, nationally and abroad to cover major races including the Arc de Triumphe and the Barbados Gold Cup.  Bredar returned to TVG in 2015 and continues to cover racing at Gulfstream Park, Keeneland and Kentucky Downs among others. During her time away from TVG, Bredar worked for HRTV covering major racing events across the nation as well as the Gulfstream Park Championship meet.  She was a key part of the HRTV team that produced the Emmy Award winning documentary "Big Cats of Carson Springs".
Caton was horseback reporter for ESPN/ABC's coverage of numerous events including the Breeders' Cup Classic, where Zenyatta suffered her first defeat.  She also worked five years as horseback reporter in the United Arab Emirates, where she covered the richest race in the world, the Dubai World Cup.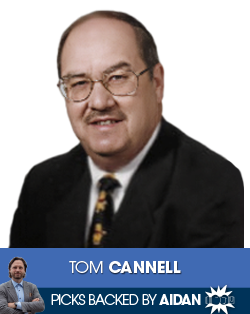 Click to Read Bio
Board of Directors, Florida HBPA
Cannell became a horse racing fan at an early age when he started handicapping races at Waterford Park in West Virginia. His passion for the game brought him his first job in racing, working in the media department at Thistledown in Ohio in 1975.
Cannell's first win as an owner was in 2006 with Somes Sound. The top horses he has owned include Ode to Sami, Eden is Burning, and Mo Cash. He has been a board member of the Florida HBPA since 2009.
Before retiring, he was the Assistant Director at the Ohio Department of Insurance before moving on to be Executive Vice President at an insurance company.
Cannell was born in Cleveland and raised in Canton, Ohio. He graduated from Franciscan University in Steubenville, Ohio with a Bachelor's Degree in Business Administration. He was a four-year starter for the varsity baseball and golf teams. Cannell was an All-Star catcher and was inducted into the Amateur Hall of Fame (Ohio) in 1992.
Cannell lives in Lake Jovita, Dade City, Florida, with his wife, Barbara. They have three children, Sheri, Kris, and David. They also have eight grandchildren, Michael, Rebecca, Jacob, Emma, Kyra, Tessa, Nathan, and Jolie.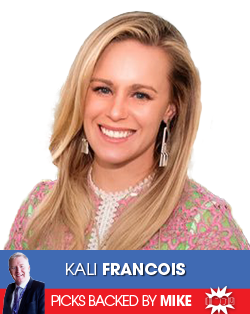 Click to Read Bio
As on-air host, rider & analyst for the Maryland Jockey Club, the Triple Crown Jewel #2 is easily my favorite week in Maryland racing. Preakness is the party, and I love that it starts off supporting one of my favorite organizations in the TAA. I hope I get to see everybody at Mt. Washington Tavern! 
Fun times from last year I'd like to repeat: sprinting down the turf course to get to the camera in time for a trackside hit...and the Turfside Terrace crowd thoroughly enjoyed the show and cheered us on as if it were a foot race! 
Click to Read Bio
Gabby Gaudet is a FanDuel TV racing analyst, reporter and host. She is also the expert commentator for Keeneland racing in Lexington, Kentucky and a U.S. representative for Keeneland sales.
Gaudet began her career as a racing analyst and paddock reporter for the Maryland Jockey Club in 2013 and from there went on to cover horse racing nationally at Arlington Park, the Breeders' Cup, and Gulfstream Park. In 2016, she joined the New York Racing Association's broadcast team as a racing analyst and reporter before joining FanDuel TV, then TVG, in 2019. Gaudet has reported on racing throughout the U.S. and abroad including Hong Kong, New Zealand, Canada and at the Royal Ascot in England. 
In 2020, Gaudet added another job description to her impressive resume when she took the auctioneer's stand to become the first female to announce at a major Thoroughbred sale in North America at Keeneland's January Horses of All Ages Sale.
She is also a member of the Thoroughbred retirement organization, Thoroughbred Aftercare Alliance (TAA) and an advisory board member of the Safety Net Foundation which provides financial assistance to those in need in the horse racing industry. 
Gaudet grew up in racing. Her parents, Linda and the late Eddie Gaudet, were longtime trainers in the Mid-Atlantic area, where her sister, Lacey Gaudet, trains. She lives in Louisville, Kentucky with her husband Norm Casse and
Click to Read Bio
A graduate of Arizona State University's Walter Cronkite School of Journalism and Mass Communication, Scott has covered horse racing since 2004, first at HRTV and later with TVG. He has been part the broadcast team coverage of the Triple Crown, Dubai World Cup (G1) and Royal Ascot. Scott currently works for Keeneland as a pedigree announcer at each of their sales, as well as broadcast host for Keeneland's Simulcast Broadcast. His father Richard Hazelton won more than 4,700 races during a training career that spanned over 60 years.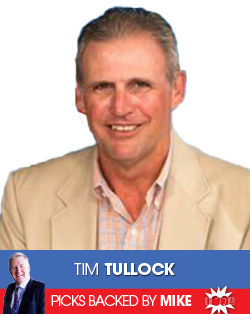 Click to Read Bio
Timothy J. Tullock Jr. was born and raised in Great Barrington, a town of around 7,000 people in western Massachusetts near the New York border that came alive every year with the Great Barrington Fair that dated back to 1859, before even fabled Saratoga Race Course opened its doors, and     grew when pari-mutuel betting was added in 1940. He later moved a little more than an hour east to Northampton, also popular with fair and racing fans.
Tullock later worked for late trainer Eddie Kelly and began training on his own in 1994, spending colder months in South Florida and returning to the Mid-Atlantic with the warmer weather. He met his wife in the summer of 1999 and settled in Maryland a year later.
"Tullock worked for E.I. Kelly in New York for a little bit and that was a great experience. In the fall of 1994 he saved enough money to claim his own horse and started his own business. Tullock had been doing the Delaware-Florida circuit for four of five years starting in 1996 and in the fall of 2000 didn't really have the stock to go to Florida. He had met Jillian the summer before, so he thought maybe I'll just go to Maryland. he came to Maryland and have been here ever since. Tullock was always among the top trainers and won a bunch of stakes and had some nice young horses. And he married the girl he came here for, so that was fortunate."
It's clear listening to Tullock that he has a knowledge and passion for racing that shines through no matter if he's training, watching or talking horses, and is eager to lend a hand whenever possible to promote the sport. Tullock first began filling in at the analyst's desk on an as-needed basis in the fall of 2016 before being given a more regular presence during the 2017 summer meet.
In the latest evolution of Tullock's racing career, he is able to draw upon more than two decades for experience as a trainer – the majority of it spent based in Maryland – as well as his background of growing up attending and working on the once-thriving and popular New England fair circuit.