The Thoroughbred Aftercare Alliance (TAA) hosted the Best Turned Out Awards in partnership with the Maryland Jockey Club during both Black-Eyed Susan and Preakness Stakes Day. Beyond the Wire sponsored the groom cash prize during the Friday May 20, 2022 Black-Eyed Susan Day card, and Fidelity First sponsored the awards during the Saturday May 21, 2022 Preakness Stakes Day card.
A cash prize and TAA gift bag were given to the winning groom of the Best Turned Out for the twelve races on the card.
Representatives from the Thoroughbred Aftercare Alliance, Maryland Jockey Club, Fidelity First, and TAA VIP guests selected the horse in each race that was deemed to be the best presented, and that horse's groom received a gift bag and cash prize. The TAA and Maryland Jockey Club promoted the winners on their social media platforms, the winning groom was congratulated on the live simulcast feed, and a congratulatory ad will run in both the Thoroughbred Daily News and BloodHorse Daily on Tuesday and Wednesday May 24-25, 2022.
"Hosting the Best Turned Out awards at the Preakness is always a highlight for the Thoroughbred Aftercare Alliance," said TAA Operations Consultant, Stacie Clark Rogers.
"Honoring the grooms who work day in and day out caring for our Thoroughbreds is a privilege and we're grateful for the Maryland Jockey Club for continuing this momentous tradition during the middle jewel of the Triple Crown. Thank you to Beyond the Wire and Fidelity First for their generous prize money donations for this year's awards."
The Thoroughbred Aftercare Alliance was a charity partner for the 147th Preakness Stakes.
---
Thoroughbred Aftercare Alliance Best Turned Out award recipients:
Black-Eyed Susan Day
RACE 1
#1 KOBE TOUGH
Groom: Ramon Garcia
Trainer: Timothy Keefe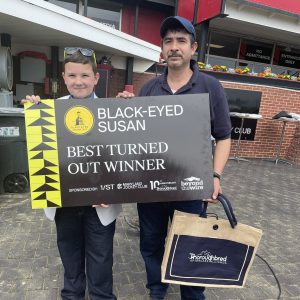 RACE 2
#2 SAINT EROS GIRL
Groom: Alex Garcaro
Trainer: Ron Moquett
RACE 3 — Presented by the Thoroughbred Aftercare Alliance
#10 NEVER EXPLAIN
Groom: Benjamin Maldonado
Trainer: Claude McGaughey III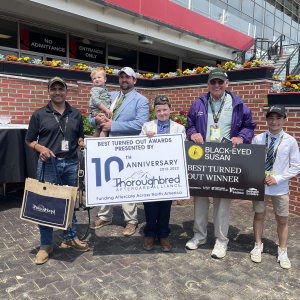 RACE 4
#5 GALLANT GOLD
Groom: Caesar Cruz
Trainer: John Salzman, Sr.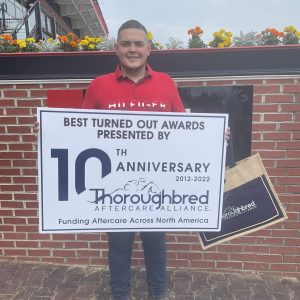 RACE 5
#5 LOVE YOU MUCH
Groom: Raul Ivina
Trainer: A. Ferris Allen, III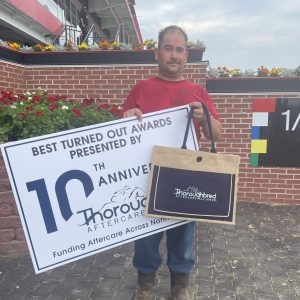 RACE 6
#9 SHINELIKEADIAMOND
Groom: Phillipe Cortez
Trainer: Timothy Keefe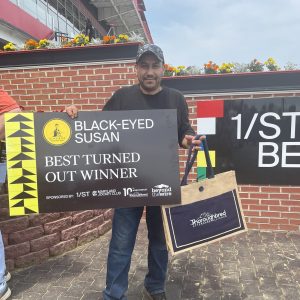 RACE 7
#16 B DETERMINED
Groom: Hazel & Mazie O'Neil
Trainer: Suzanne Stettinius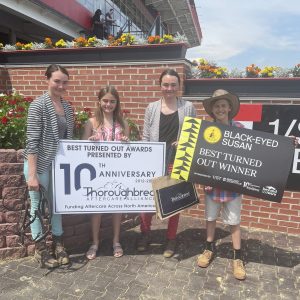 RACE 8 — Allaire Dupont Distaff Stakes (G3)
#3 CLICK TO CONFIRM
Groom: Juan Barajas
Trainer: Rodolfo Sanchez-Salomon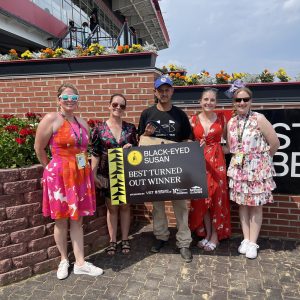 RACE 9 — Hilltop Stakes
#5 DETERMINED STAR
Groom: Alvaro Barajas
Trainer: Phil Schoenthal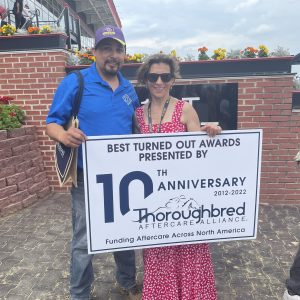 RACE 10 — Miss Preakness Stakes (G3)
#1 VERYLITTLECENTS
Groom: Eligio Perez
Trainer: Randy Morse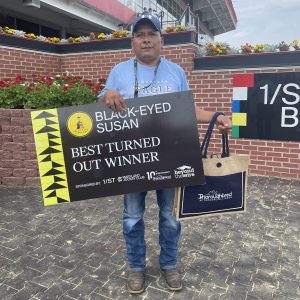 RACE 11 — The Very One Stakes
#11 SPUN GLASS
Groom: Saul Ramirez
Trainer: Michael Trombetta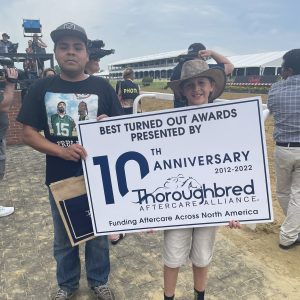 RACE 12 — Pimlico Special Stakes (G3)
#11 MOHAAFETH
Groom: Victor Manuel Barajas
Trainer: Elvis Trujillo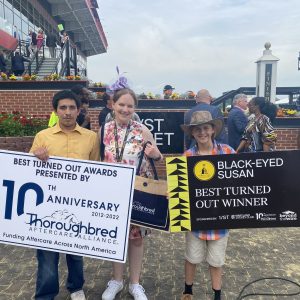 RACE 13 — George E. Mitchell Black-Eyed Susan Stakes (G2)
#4 MIDNIGHT STROLL
Groom: William Rodriguez
Trainer: John Terranova II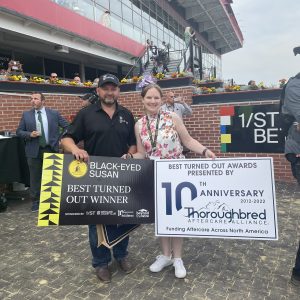 RACE 14
#4 BLAME B B
Groom: Francisco Magdaleno
Trainer: Anthony Aguirre, Jr.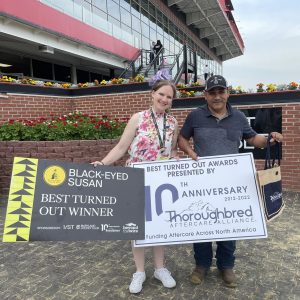 Preakness Stakes Day
RACE 1
#6 ABUELO PAPS
Groom: Howard ThrockMartin
Trainer: Marco Salazar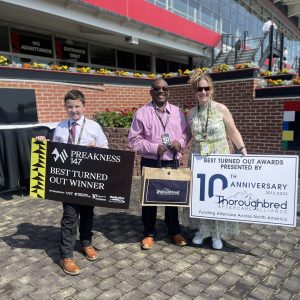 RACE 2
#1A BENANDJOE
Groom: Jose Magdaleno
Trainer: Hugh McMahon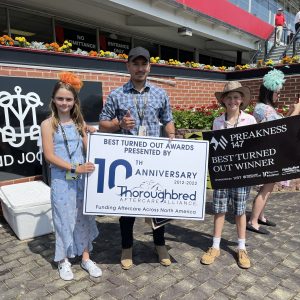 RACE 3
#10 SPIRITUAL GHOST
Groom: Rafael Magdaleno
Trainer: Rick Buckley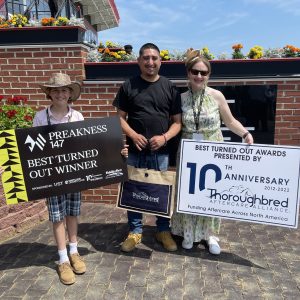 RACE 4 — Maryland Sprint Stakes (G3)
#2 SIR ALFRED JAMES
Groom: Roberto Sanchez
Trainer: Norman Cash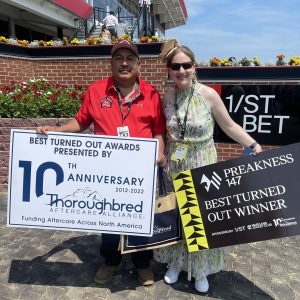 RACE 5 — Gallorette Stakes (G3)
#4 TECHNICAL ANALYSIS (IRE)
Groom: Alvaro Garerro
Trainer: Chad Brown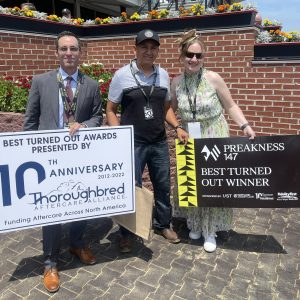 RACE 6
#9 VOLADOR
Groom: Victor Estrella
Trainer: Hugh McMahon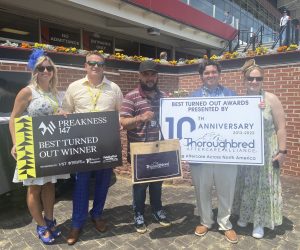 RACE 7 — Skipat Stakes
#3 CINNABUNNY
Groom: Alex Mata
Trainer: Cathal Lynch
RACE 8 — Dinner Party Stakes (G2)
#4 BEACON HILL
Groom: Pedro Estrada
Trainer: Michael Matz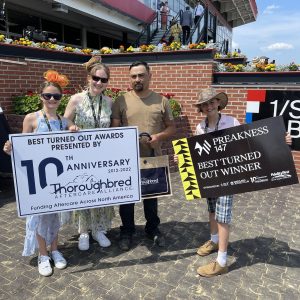 RACE 9 — Chick Lang Stakes (G3)
#3 DOCTOR JEFF
Groom: Enrique Sanchez
Trainer: Rudy Rodriguez
RACE 10 — James W. Murphy Stakes
#2 LOCAL MOTIVE
Groom: Javier Cruz
Trainer: John Salzman, Jr.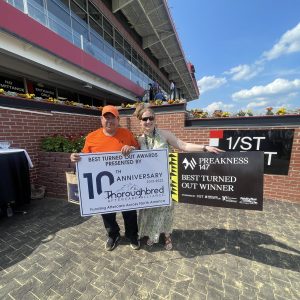 RACE 11 — Sir Barton Stakes Sponsored by Brandon & Diannah Perry to Benefit the Thoroughbred Aftercare Alliance
#1 ETHEREAL ROAD
Groom: Rosa Jimenez
Trainer: D. Wayne Lukas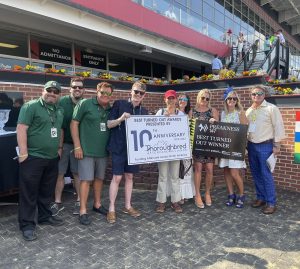 RACE 12 — Jim McKay Turf Sprint Stakes
#6 SMOKIN' JAY
Groom: Sadie Jenkins
Trainer: Kelsey Danner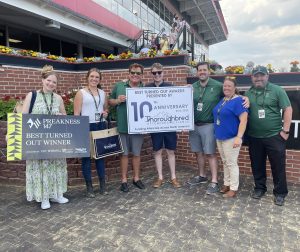 RACE 13 — Preakness Stakes (G1)
#4 SECRET OATH
Groom: Arturo Topete
Trainer: D. Wayne Lukas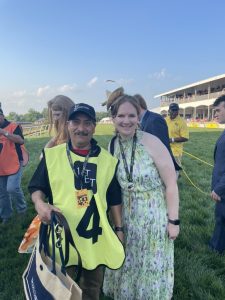 RACE 14 — UAE President Cup Stakes (G1)
#2 PROUD AMERICAN
Groom: Hector Castellanos
Trainer: Nicole Ruggeri