Hidden Acres Rescue for Thoroughbreds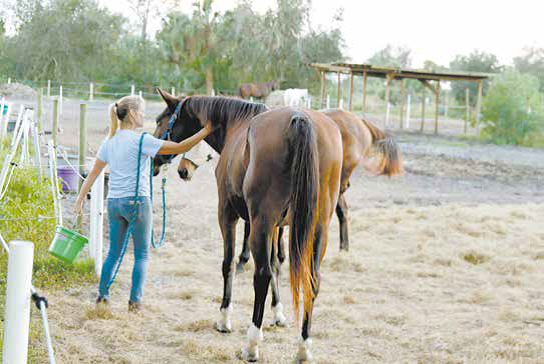 Services: Adoption
Location: Cocoa, FL
Founded: 2011
Social:
Average Number of Thoroughbreds: 10
---
Founded in September 2011, Hidden Acres Rescue for Thoroughbreds (HART for Horses) is committed to being the voice for off-the-track Thoroughbreds on Florida's Space Coast. Nestled on seven serene acres between a national wildlife refuge on its western border, and a recreational area to its south, HART provides miles of riding trails through to the Canaveral Groves.
The main barn is well-ventilated for the summer heat and rated for winds up to 150 mph to withstand the hurricane season of Florida's eastern coastline. With 15 turn-out pastures, a large jumping and schooling arena, and a standard dressage arena, HART offers a full array of facilities and services geared toward rehabilitation and re-homing. It also offers traditional lessons, boarding, and a growing interest in equine therapy.
Built on a belief that education and outreach improve the lives of those in their community, as well as the lives of the equine athletes they rescue, HART regularly opens its barn doors to the local community.
Speaking about one such event, Suzanna Norris, HART founder and executive director, said, "The ASPCA Help A Horse Day contest is a wonderful opportunity for our team to welcome the residents and businesses of Brevard County into our barn and help spread awareness about the at-risk horses in our community who are in need of loving homes. Horses are majestic, loving animals, and we hope our local supporters will come out to help us so we can continue our lifesaving efforts for years to come."
To date, HART has helped more than 150 retired racehorses find success in their new careers,
including three who qualified for the American Eventing Championship in 2017, and several who are working as therapy horses to serve the local community.
Those people who live in the area or are planning to visit the Cocoa/Cocoa Beach area can help by volunteering their time. As a 501(c)(3) charitable organization, HART offers a variety of ways to provide financial support, from sponsoring a horse, business sponsorships, traditional donations, and even shopping online via the Amazon Smile program.
---
Hidden Acres Rescue for Thoroughbreds Success Stories