The Many Careers of Missn Suesann
Monday, October 2, 2023
By: Thoroughbred Aftercare Alliance
With only one start on her record as a three-year-old, Missn Suesann was not long for the racehorse life. Trained by Dallas Keen, husband of Thoroughbred Aftercare Alliance-accredited Remember Me Rescue Executive Director Donna Keen, there were no questions about her retirement just one month after her exit from race training. "Missn Suesann was sent to us in the fall of 2009 along with 2 other horses from a small breeder named Todd Martin. She was always a little spitfire," Keen recalled. "I can not remember what ended her career, but I was so glad Mr. Martin let us rehome her." Missn Suesann would retire to Remember Me Rescue after her first and only race in March 2010, where she would find her true calling at her forever home with Amanda Frye.
Amanda found her long-term partner on Remember Me Rescue's Facebook page in April of 2010. "When I first saw her photo, I was amazed at her beauty and athleticism," said Frye. "She had the kindest, sweetest eyes and face."
Not wanting to waste any time in contacting the organization, and after a lengthy conversation with Executive Director Donna Keen, Frye made the trip to Remember Me in Burleston, Texas the very next day.
Although Amanda had originally been drawn to the bay filly for her outward appearance, the deal was sealed when they met and experienced Susie's kind demeanor in person. "It was love at first sight," Frye recalled. "When I first met Susie, we just clicked. I think we both knew we belonged to each other." After filling out the required adoption application and awaiting her approval, Susie was on her way home to begin her new life.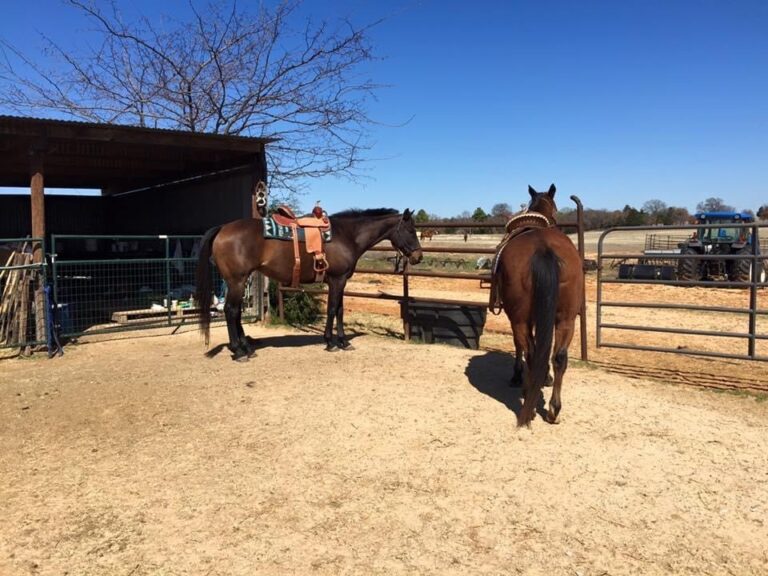 For the first five and half years with Frye, Susie was retrained and worked as a ranch horse. "[She was] sorting pairs, doctoring, roping, riding fence," she recalled. "Just whatever we needed done on our ranch." Although, Susie loved he ranch horse life, it wouldn't be long before the duo began a new journey that lead them to the show ring.
"When I decided I missed jumping, I pulled her out of the pasture and she started the show horse life," said Frye. They began competing in the Show Jumpers in 2016 and have enjoyed their time cruising around the Jumper ring together for the last seven years. In 2021, Susie stepped into her fourth "career" as a mother. Her foal was born on April 16, 2021, and was affectionately named "Dragon" as a way of honoring her mother's fiery spirit. "She gave me a beautiful filly," Frye gushed. "Susie was the original fire breathing dragon, so baby dragon just stuck. [Her] registered name is Capchure FR."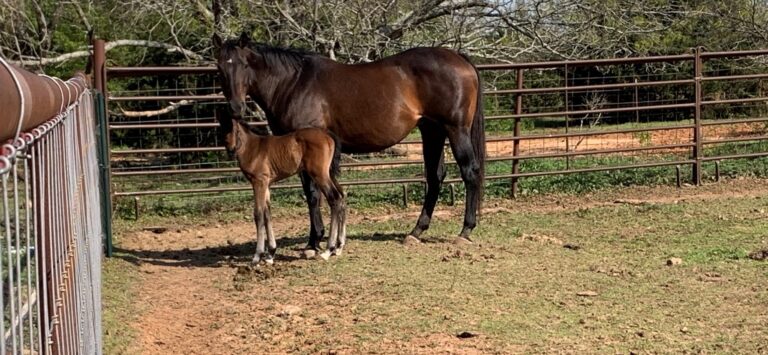 When looking towards the future, Amanda and Susie's goals haven't shifted much. "Most of my goals have been accomplished with Susie over the years. But our main one now is to work our way back up to the .95-1M Jumpers and maybe do some Take2 Thoroughbred classes," Frye reports. "[I'm] hoping to possibly qualify for TIP Championship in the fall of 2023."
Although Susie showed no interest in racing, her athleticism and passion made her capable of so much more. "I have ridden close to a hundred [Off Track Thoroughbreds] in my life. And I have yet to find another breed that has the heart and try that a TB does," Frye stated. "They give you their all every single time you climb on their back. If a Thoroughbred gives you their heart, you will have a partner for life."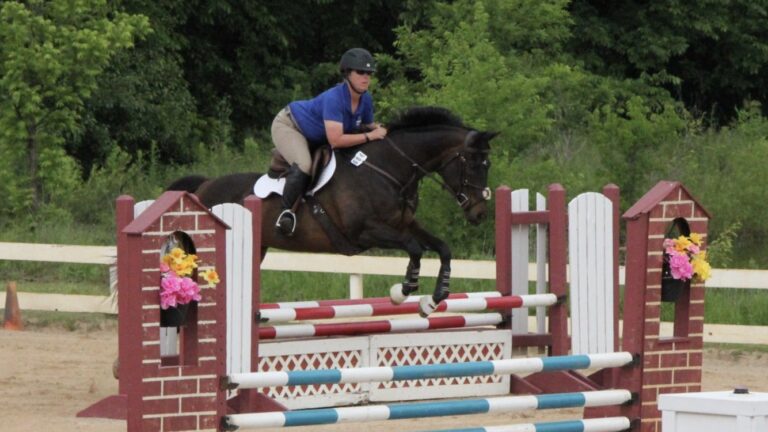 Do you have a success story that you would like to share?
Submit your experience with an accredited organization here: