More than 75 equine enthusiasts, many with retired Thoroughbreds, walked, trotted, or cantered their horse across legendary Gulfstream Park Monday morning as part of the second annual Canter for the Cause.
The event attracted riders from throughout Florida, as well as several retired Thoroughbreds with the Davie Police Department's Mounted Patrol Unit and the City of Coral Gables mounted unit.
The event, which ran Monday morning and afternoon for all equine enthusiasts, benefited the Thoroughbred Aftercare Alliance (TAA), a 501(c)(3) nonprofit that accredits, inspects, and awards grants to approved aftercare organizations to retrain, retire, and rehome Thoroughbreds using industry-wide funding, and Florida Thoroughbred Retirement and Adoptive Care (TRAC), an accredited TAA facility.
Canter for the Cause was sponsored by Gulfstream Park, the Florida Horsemen's Protective and Benevolent Association (FHBPA), Seminole Feed and Purina.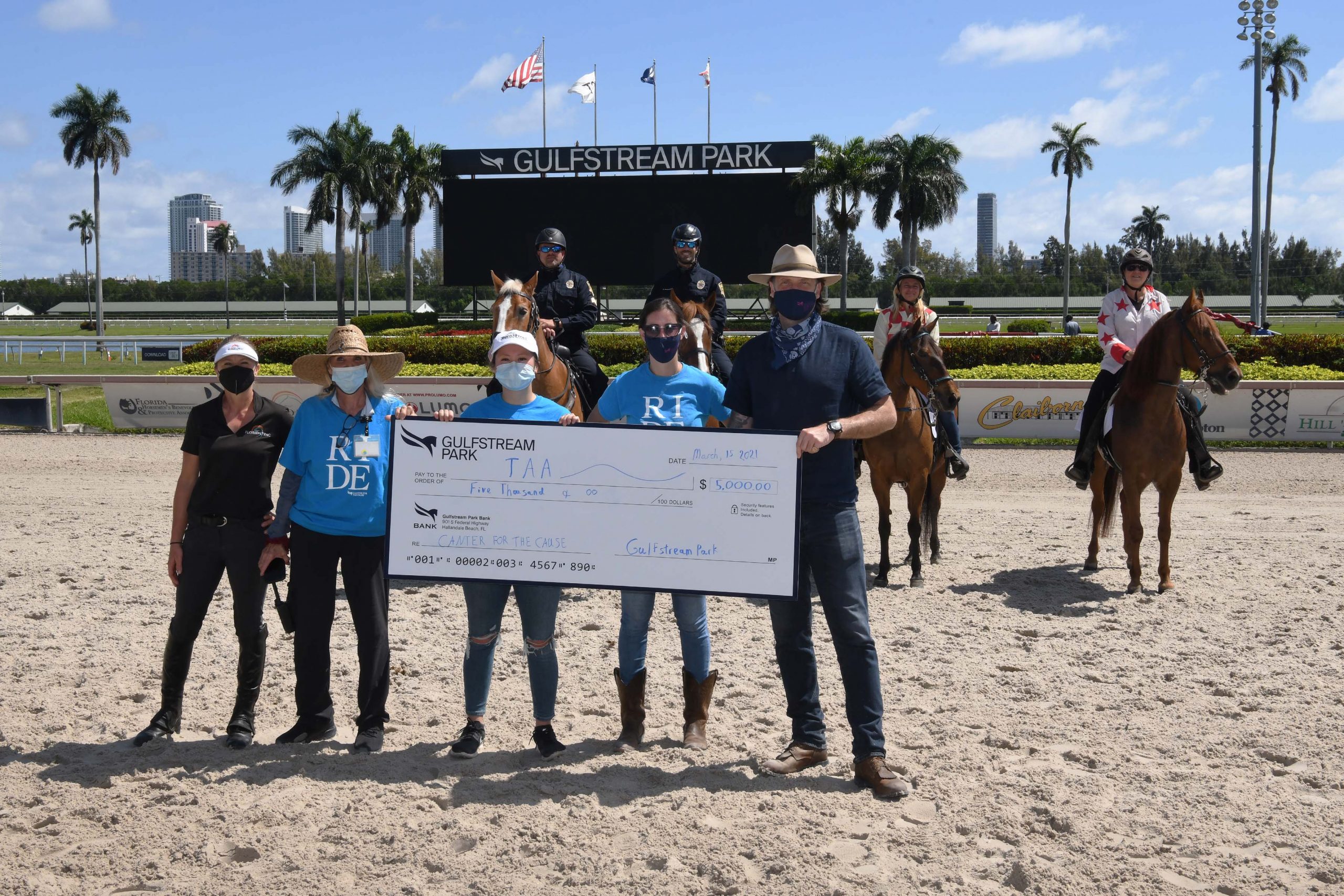 "This is a fun day for us at Gulfstream Park. I guess it's the equivalent of playing softball at Yankee Stadium," said Aidan Butler, Chief Operating Officer of 1/ST Racing. "It gives us a chance to not only showcase what we do on the track here but showcase what horses do for aftercare. A lot of people don't know this but Thoroughbreds, while born and bred to race, are awesome at all kinds of other disciplines. We have some police horses here, we have a bunch of polo ponies, dressage and show jumpers, and other cool disciplines that racehorses excel at. And with the benefit of Florida TRAC and the TAA, which are the beneficiaries of this charity event, we hope to do even more."
Katie Schmit, farm manager and trainer at Florida (TRAC), said: "I think it's awesome to do things like this and encourage people to see off the track thoroughbreds. We just need to keep raising awareness of aftercare. We need our focus on what horses are going to do after their racing careers and raising awareness at the track, and involving the horsemen is really special."
"We can't thank Gulfstream Park enough for their continued support of accredited Thoroughbred aftercare and including the TAA in this fun event," said Alexandra Kokka, Marketing and Communications Manager at TAA. "For some attendees, it was a dream come true to get to ride their horse at this hallowed racetrack and seeing their exhilarated faces was priceless. We are excited to continue working with Gulfstream Park to find new ways to support our beloved Thoroughbreds."
Some of the retired Thoroughbreds returning to the track were Shadow Boxer, who is training for eventing, mounted police horses Tizrobertcharles and Guidoinaspeedo, Sweet Karen Sue, who became a hunter, and Cicerone, who went on to be a jumper.
Photos: Coglianese Photo