Centennial Farms sponsored the Thoroughbred Aftercare Alliance Best Turned Out Horse Awards during the Pegasus World Cup card Jan. 28, 2023 at Gulfstream Park. 2023 marks Centennial's fifth consecutive year Centennial Farms has sponsored the awards.
RACE 1
#12 QUALY
Groom: Manuel Felipe
Trainer: Saffie Joseph, Jr.
RACE 2
#9 PERFORM
Groom: Marco Antonio
Trainer: Claude McGaughey III
RACE 3
#4 SOLE VOLANTE
Groom: Carlos Arantes
Trainer: Patrick Biacone
RACE 4 — The South Beach presented by Pepsi
#1 KAHIKO
Groom: Nestor Ramos
Trainer: J. Kent Sweezey
RACE 5
#11 JOURNEYMAN
Groom: Javier Solis
Trainer: Saffie Joseph, Jr.
RACE 6 — The La Prevoyante presented by Don Julio (G3)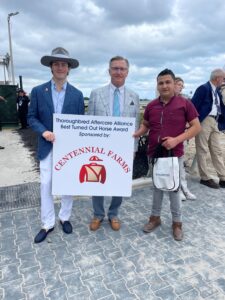 #4 BESIDE HERSELF
Groom: Edwin Garcia
Trainer: Todd Pletcher
RACE 7 — The Carousel Club presented by Seminole Hard Rock
#8 GREYES CREEK
Groom: Victor Mendoza
Trainer: Paulo Lobo
RACE 8 — The Inside Information presented by Brightline (G2)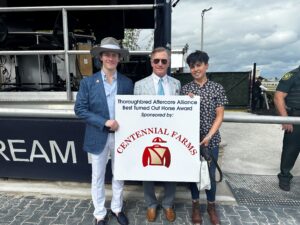 #4 OBLIGATORY
Groom: Ana Hernandez
Trainer: William Mott
RACE 9 — The William L. McKnight presented by Davidoff Cigars (G3)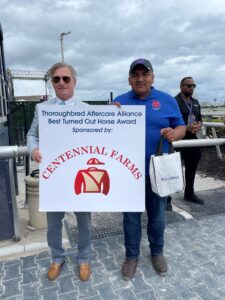 #3 PAO ALTO (FR)
Groom: Esteban Ramierz
Trainer: Graham Motion
RACE 10 — The Fred W. Hooper presented by Whispering Angel (G3)
#9 ENDORSED
Groom: Edwardo Agustin
Trainer: Mike Maker
RACE 11 — The TAA Pegasus World Cup Filly and Mare Turf Invitational presented by Pepsi (G3)
#2 DALIKA
Groom: Omar Bahena
Trainer: Albert Stall, Jr.
RACE 12 — The Pegasus World Cup Turf Invitational presented by Qatar Racing (G1)
#6 LADY SPEIGHTSPEARE
Groom: Anastasia Zemtsov
Trainer: Roger Attfield
RACE 13 — The Pegasus World Cup Invitational presented by Baccarat (G1)
#1 PROXY
Groom: James Darjean
Trainer: Michael Stidham