By Alexandra Kokka
Meet Sasha's Image, an Oklahoma-bred filly who survived a deadly tornado in Moore, Oklahoma. In the spring of 2013 the category EF5 tornado ripped a 14-mile path of destruction through the town of Moore and parts of southern Oklahoma City.
The unraced 3-year-old was at Celestial Acres Training Center in Moore, who suffered significant damages to both life and property. According to an article from the BloodHorse, it was estimated that up to 80 horses could have been at the training center that day; approximately 34 of which were alive and accounted for in the days following the storm.
TAA-accredited Oklahoma Thoroughbred Retirement Program was one of many organizations there to help pick up the pieces. According to recounts from OTRP volunteer Dana Kirk, Sasha's Image was found trapped beneath the rubble of the barn she had been taking shelter in.
"(Sasha's Image) had a laceration on her side and leg, but they were not that bad," Kirk said. "Her ears were laying down on her head for about a month. They were told it was from the stress."
Five months after the devastating storm, the filly made her first start at Remington Park. Sasha's Image ran eight more times before retiring with earnings just under $3,000.
"She had been adopted by Amanda Eggleston right after she was retired to OTRP," Kirk said. "Amanda's barn burned down tragically in January 2015 with three horses inside. Luckily, Sasha was not in the barn that night."
As if "Sasha" and her adopter hadn't been through enough, later that year the same farm had to be evacuated due to flooding caused by heavy rainfall.
"When I went to visit her at Heritage Place, I could see how stressed Amanda was with all that had happened to her," Kirk said. "I asked if she would like me to take 'Sasha' to my place where she would have her own paddock with her own loafing shed. Amanda said that would be wonderful and 'Sasha' has been with me ever since."
By age 5, "Sasha" had lived through a tornado, fire, and flood. Despite her experiences she's proven to be a gentle and inspiring ambassador for OTRP, and even attends events for the TAA-accredited organization.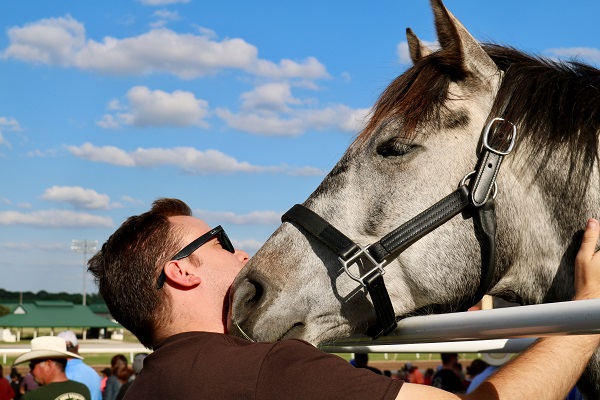 "(Sasha) has been to several events including the Oklahoma State University Center for Veterinary Health Sciences' Open House and Remington Park's Extreme Race Day," Kirk said. "She even dressed up as Sasha Claus for a Christmas party for the kids of Positive Tomorrows, a school for homeless children."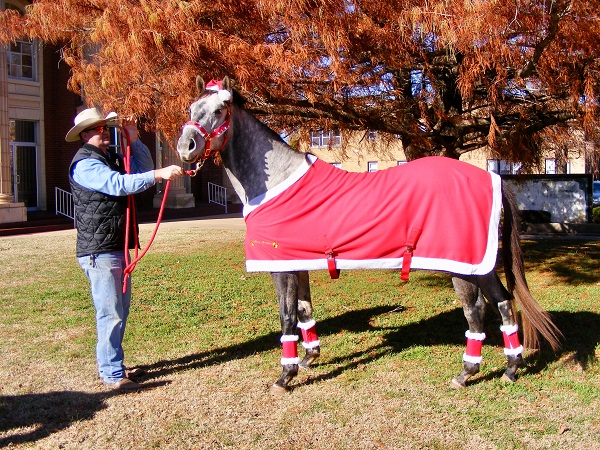 Although the mare's physical scars have healed, her mental ones are not so easily cured.
"She doesn't like being in a trailer for too long when it's not moving," Kirk said. "When one drop of rain falls from the sky she books it to her shed and she will not come out. She has to be fed in the shed if it's raining just a little."
According to Kirk, "Sasha" doesn't like being in a herd, but now has two miniature horses to keep her company.
"She loves her mini Pepe Le Pew and has a love-hate relationship with Penelope."