Monday, February 13, 2023
By: Jen Halliwell
When professional Hunter/Jumper trainer Joyce Brinsfield received a call from her long-time friend Paula Singer on an early spring day in March 2021, she knew she would soon be a part of a new journey. "I knew immediately she was up to something when she began asking me how much I charge for certain services at my barn," Brinsfield recalled. "After I explained how my rates worked, she said, 'I want to save a horse.'"
After 25 years of friendship, it didn't take much to convince Brinsfield to accompany Singer to Thoroughbred Aftercare Alliance Accredited facility, Kentucky Equine Adoption Center, in Nicholasville, Kentucky. "One of Paula's friends told her about the horse that inspired this adventure, a gelding named Save Me Paula," said Brinsfield. "In my normal fashion, I rolled my eyes, thinking her motivation for adopting him stemmed entirely from his name."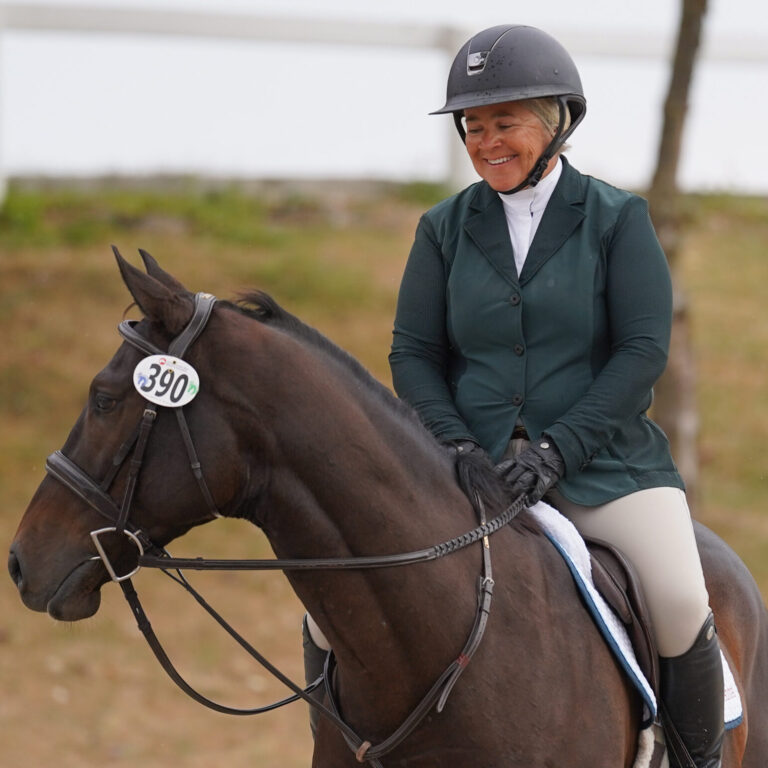 While she may not have been too far off, Brinsfield was relieved when they finally laid eyes on the 2017 Super Saver gelding. Save Me Paula had just come off the track in February after 33 career starts. Naturally, the four-year-old gelding was a bit of a diamond in the rough, so to speak. "He was on the thin side, little, and covered in rain rot," Brinsfield recalled. "Nevertheless, he was put together well and he was sound."
After some discussion, it was decided. "Paulie," as they call him now, would be coming home with the duo to Brinsfield's farm, Ballyhigh Show Stable, just 15 minutes away from Kentucky Equine Adoption Center.
Once Brinsfield suggested Paulie be entered in the Retired Racehorse Project's Thoroughbred Makeover and Singer agreed, he was given several months for let down and weight gain. On December 1, 2021 his transformation from racehorse to riding horse began, and 10 months later, after much preparation and training, Joyce and Paulie were ready to face the Makeover in the Show Jumping and Competitive Trail divisions.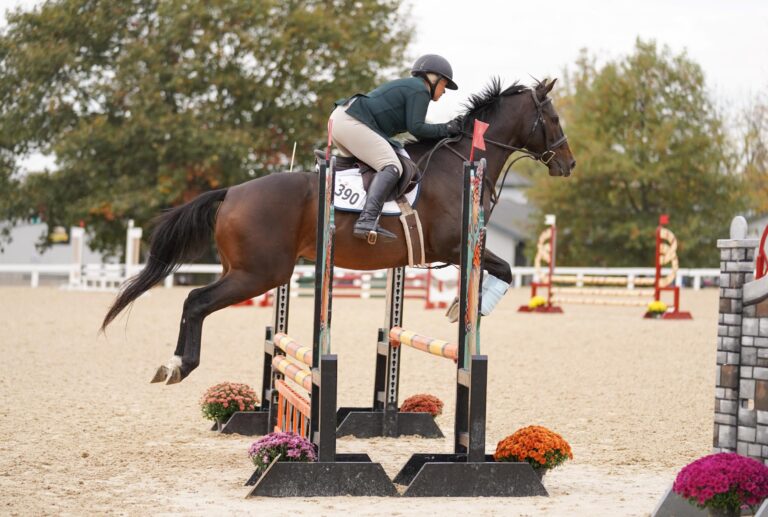 "The first discipline Paulie and I contested was Show Jumpers, and I was nervous," Brinsfield confessed. "The course was extremely tough for Paulie—and many of the other entries. He was a little overfaced but he showed how much heart he has." After a challenging first day, Brinsfield wanted to switch gears to prepare Paulie for his next challenge, Competitive Trail.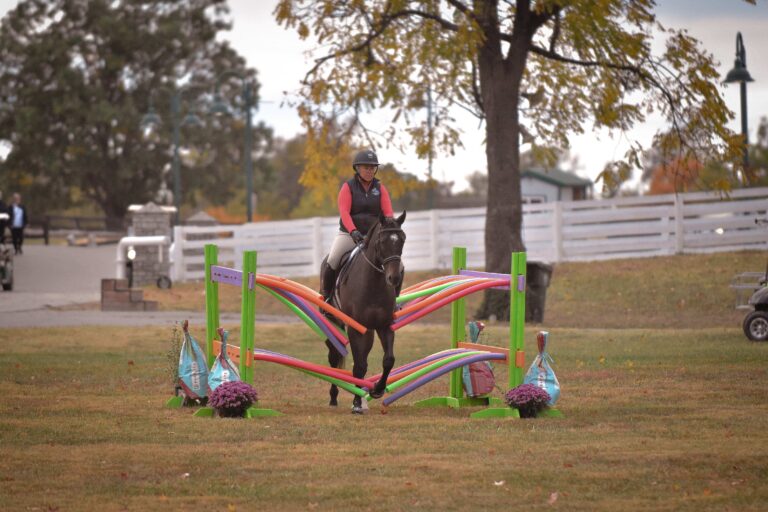 The next day, Brinsfield let the long walk from the barns to the trail course be his warmup, willing the morning to stay as low key as possible and slowly allowing her confidence to raise as she thought about how hard the young gelding had tried for her throughout the jumper course. "All the training we had done with trail obstacles in the preceding months paid off," she said. "He behaved like a pro at every obstacle." The final test was the water- a tricky task for many throughout the day. But once again, Paulie proved the faith Singer had placed in him from day one was well-deserved.
"I was smiling halfway through the long walk through the water and as we walked out of the water a few strides later, I was crying," said Brinsfield. "I'm definitely not an emotional person, but these were tears of joy. Tears that signified the work I had put into this special little horse with all the heart – the same [racehorse] one that was bounced around from one racehorse trainer to another."
Save Me Paula placed sixth out of 49 entrants in Competitive Trail, just half a point away from a chance to showcase his skills in the finale the next day. However, that didn't get Brinsfield or Singer down one bit. "Nothing beats the feeling of a horse performing well after you spend the time to reach certain goals," Brinsfield proudly stated.
Although Paulie's future isn't set in stone, Brinsfield has turned his retraining efforts toward Foxhunting, and Singer has enjoyed watching her friend and the gelding's progress as a team. "She is his person, and I could not be happier at the bond they've formed and all that they have accomplished," Singer said. "He looks fantastic and is engaged and curious about everything." It is entirely up to Paulie where he wants to go next, and his humans are completely on board with going along for the ride in the meantime.