A multiple graded stakes winner who made 35 starts in six seasons, Shakhimat is taking to his new career and lifestyle with no reservations thanks to TAA-accredited Equine Rescue of Aiken and adopter Erin Douglas.
Under the care of Hall of Fame trainer Roger Attfield, the Lonhro (AUS) gelding scored front-running wins in the 2016 Transylvania Stakes (G3T) at Keeneland and the 2017 Tropical Turf Stakes (G3T) at Gulfstream Park, defeating multiple graded stakes winners Inspector Lynley, Tower of Texas, Blacktype (FR), and Camelot Kitten. Bred in Ontario by Adena Springs, Shakhimat is out of the winning Touch Gold mare Reggae Rose.
After making his last start at Gulfstream in April of 2020, he traveled to Equine Rescue of Aiken in South Carolina to start a new chapter. There, adopter Erin Douglas met the dark bay when she initially arrived at the rescue to look at another horse.
"I had contacted Caroline (Mulstay) at Equine Rescue of Aiken to come and see another horse she had on the property," Douglas said. "While we were there, I asked her if she happened to have any other horses with a good brain. She immediately brought me over to see Shakhimat, who had just arrived the night before and was just quietly standing surveying his surroundings.
"They say that sometimes you just know and that's how it was with 'Shak' and I. I didn't even end up riding the other horse I had come to see. I was deeply impressed with how quiet he was, especially considering that he was in a new place very different from anything he had ever known. I also really liked how he was watching everything carefully, and how he wasn't afraid. He just quietly watched and took it all in."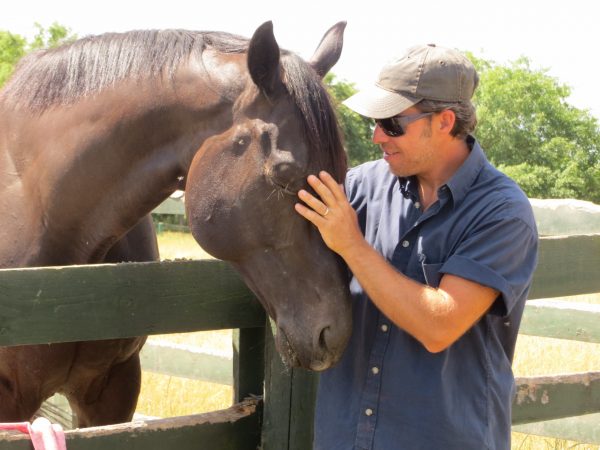 While she made the decision to adopt him after that encounter, Douglas has been taking things slow with Shakhimat since he arrived at his new home. His natural curiosity and willingness shining through.
"Once he was comfortable with the rhythm of our farm, I started doing some work with tarps and bags in our round pen with him, and he breezed right through it," Douglas said. "He never hesitated when I asked him to walk over blue tarps. Flying bags? Not even a flinch. Walking through water? No problem. Shakhimat really likes to learn.
"We have spent a lot of time learning voice commands, and he loves to give kisses now. I really treasure lightness in my horses–I don't like to have to pull and push my horses around–so I have spent a lot of time fostering that lightness in 'Shak.' He is a very sensitive horse and has taken to light aids very naturally."
And the duo have even been able to spend some time outside of the ring, allowing the gelding to experience even more.
"Shakhimat loves being on the trail," Douglas said. "He is a little detective and when he is not sure of something, he wants to go and see it. So we have spent a lot of time walking the trails and investigating everything. He has a wonderfully curious mind."
For now Douglas is enjoying the ride with her inquisitive mount. Thinking there might be a future in trail riding or endurance for the former turf runner, she will let the horse tell her what's next.
"My main goal is for him to continue to progress through our training in a calm and inquisitive way. I want him to be excited and ready for our next adventure together when I walk up to him with the halter," she said. "With his love of the trails, I think he would make an excellent endurance horse, but I am keeping an open mind and really watching to see where Shakhimat thrives. Time will tell where we end up, but for now, we are both enjoying the journey."
As the pair continue to bond, Douglas is ever thankful for the individuals at Equine Rescue of Aiken who made their partnership a reality during a tough year.
"I just want to thank everyone over at Equine Rescue of Aiken for all of the amazing work they do," she said. "I know every year has its challenges, but COVID-19 has presented a whole new set of difficulties. Jim, Caroline, and Caitlin have met these with both grit and grace. The community of Aiken and the horses are so lucky to have you."