America's Best Racing's Pre-Preakness party sponsored by Sagamore Racing will feature a large silent auction to benefit the TAA and Maryland's Beyond the Wire. This action packed event will be held Wednesday, May 15th, 2019 at the Mt. Washington Tavern in Baltimore. Thanks to the generous donations from our industry supporters there will be over 30 items offered ranging from custom bourbons, racing apparel, art, and collectible memorabilia. Preview the silent auction items below and get your ticket today!
Tickets are now on sale at eventbrite.com for $20 (tickets will cost $30 on site). The cost of admission includes one drink, a light buffet of bar snacks and appetizers, access to the Preakness Preview panel, and entry into a drawing for a door prize of two tickets to the 2019 Preakness Stakes on May 18 at Pimlico Race Course.
Racing Memorabilia
Bernardini Halter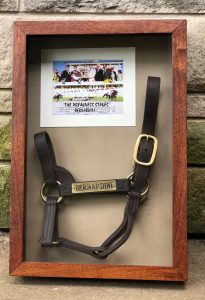 Halter worn by 2006 Preakness Stakes (G1) winner and champion 3-year-old colt Bernardini. The son of A.P. Indy counts the Jockey Club Gold Cup (G1), the Travers (G1), Jim Dandy (G2), and the Withers (G3) among his scores. He stands at Darley.
Donated by Darley & Jim Bob Rose
California Chrome Halter & Saddle Towel Shadow Box
Halter worn by dual classic winner and two-time Horse of the Year California Chrome. The multiple grade 1 winner stands at Taylor Made. Shadow box includes a quarter-size Kentucky Derby saddle towel replica and signed certificate of authenticity.
Donated by Taylor Made
Ghostzapper Halter
Halter worn by 2004 Horse of the Year and Hall of Famer Ghostzapper. The son of Awesome Again earned more than $3 million and won six graded stakes including four grade 1s. He stands at Adena Springs Kentucky and has sired five champions.
Donated by Adena Springs
Silent Name (JPN) Halter
Halter worn by Canada's 2018 leading sire Silent Name (JPN). The graded stakes-winning son of Sunday Silence has sired of eight black-type stakes winners and has $3.4 million in progeny earnings. He stands at Adena Springs North.
Donated by Adena Springs
2015 Alibi Breakfast Saddle Towel and Preakness Program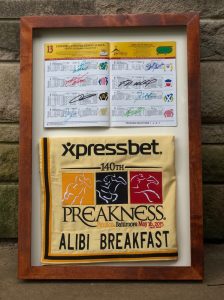 Signed saddle towel and Preakness Stakes program from 2015, won by Triple Crown winner and Horse of the Year American Pharoah, presented in a custom shadowbox.
Donated by Thoroughbred Aftercare Alliance & Jim Bob Rose
Signed 2019 NBC Kentucky Oaks Bat

Bat used in televised segment on NBC Sports during the 2019 Kentucky Oaks. Signed by: Jerry Bailey, Donna Brothers, Larry Collmus, Dylan Dreyer, Dale Earnhardt, Jr., Ahmed Fareed, Britney Eurton, Rebecca Lowe, Nick Luck, Von Miller, Randy Moss, Eddie Olczyk, Laffit Pincay III, Kenny Rice, Mike Tirico and Rutledge Wood.
Donated by NBC Kentucky Oaks Team
Spirits
Calumet Farm Bourbon "Winning Traditions"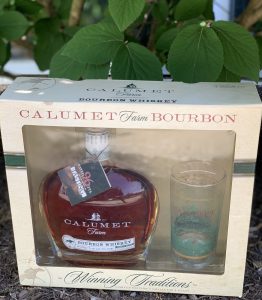 Calumet Bourbon is bottled from hand selected barrels with a customary mash bill of corn, rye and malted barley offering a sweet, flawless finish. With a steep tradition in breeding winners, Calumet Farm Bourbon Whiskey is truly a winning spirit. Also includes a limited edition collector's glass.
Bottle of Pappy Van Winkle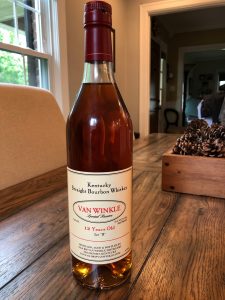 Van Winkle Special Reserve is the perfect combination of age and proof. This sweet, full-bodied whiskey has been described by some as "nectar." The 12 years of aging and medium proof seem to be just right in creating a very pleasant drink of whiskey. This fine bourbon can compete with any excellent cognac as an after-dinner drink. The overall impression is rich and deep.
Donated by StableDuel
Maker's Mark Private Select Bottle & Vintage Kentucky Derby Cup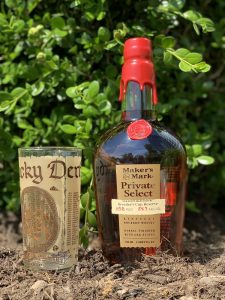 1974 100th anniversary of the Kentucky Derby Cup
Maker's Mark Private Select Oak Stave selection by Breeder's Cup Reserve.
Belle Vodka Gift Basket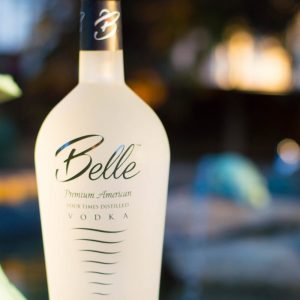 Basket includes 1 bottle of Belle vodka, glass, mixers, snacks and more.
Donated by Belle Vodka
Experiences
Private Tour of Old Friends with Michael Blowen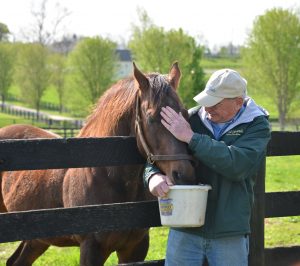 A private tour for two (2) of Old Friends with founder Michael Blowen. The Old Friends Dream Chase Farm in Georgetown, KY is home to notable former runners including Silver Charm, War Emblem, Alphabet Soup, Touch Gold, Little Mike, Game On Dude, and many others. See certificate for limitations and terms.
Donated by Michael Blowen
Taylor Made Tour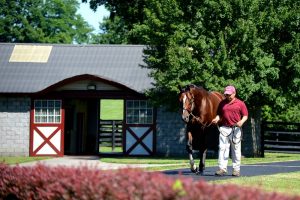 Visit one of Kentucky's most iconic Thoroughbred Farms. Taylor Made Farm, located in Nicholasville, Kentucky will provide a tour for 10 of their sprawling 1,100-acre farm with stops at the mares and foals barn, yearling barn and concludes with stallion viewings. Included are grade 1 winners Graydar, Mshawish, Noth this Time, and two-time Horse of the Year California Chrome.
Donated by Taylor Made Farm
Sagamore Experience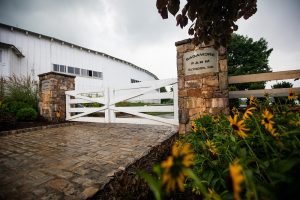 Sagamore Farm Tour, passes for a Sagamore Spirit distillery tour, Sagamore swag, and whiskey.
Donated by Sagamore Farm
Art & History
Limited Edition Ellen Skidmore Print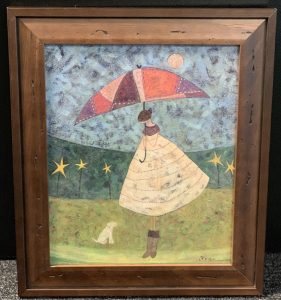 "PUPPY" by Ellen Skidmore, 2018. Special limited edition print. Ellen Skidmore's work is known for its whimsical subject matter and luminous color palette.
Framed Photo of 2019 Kentucky Derby Winner

Framed photo of 2019 Kentucky Derby Winner Country House by Suzie Oldham.
Champions Day Poster Signed by Triple Crown Legends.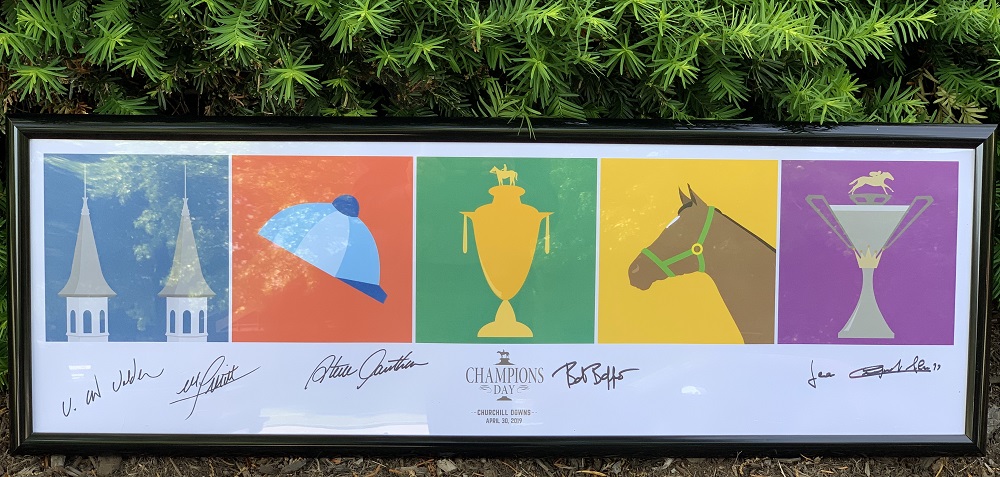 Signed by Triple Crown winners Bob Baffert, Elliott Walden, Mike Smith, Steve Cauthen, and Jean Cruguet
Fred Stone Zenyatta Framed Print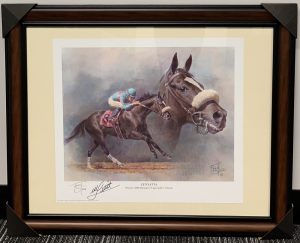 22 x 28 framed print of Hall of Famer Zenyatta, honoring her win in the 2008 Breeders' Cup Ladies Classic (G1). Signed by jockey Mike Smith and late American painter Fred Stone.
Donated by Alicia Hughes
Gift Basket by Ellen Skidmore
Throw Me A Carrot LLC is a lighthearted design & publishing company specializing in Ellen Skidmore's unique illustrations. Her books, prints, and other gift items are popular with horse lovers of all ages.
Donated by Ellen Skidmore
Framed Photo Remembering Hall of Famer Alydar

14×18 framed photo remembering Hall of Famer Alydar, who ran second in all three legs of the 1978 Triple Crown to rival Affirmed before defeating him in the Travers Stakes.
Donated by Frames on Main, Paris, Ky
Secretariat Signed Photo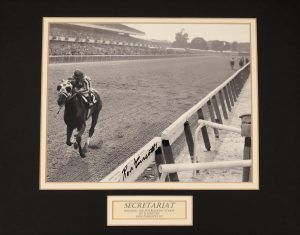 8X10 Photo of 1973 Triple Crown winner Secretariat. Signed by his jockey Ron Turcotte.
Donated by Dan Tordjman
BloodHorse Magazines Featuring Zenyatta

Seven BloodHorse Magazine covers featuring 2010 Horse of the Year and Hall of Famer, Zenyatta. The daughter of Street Cry (IRE) earned more than $7 million during her twenty start racing career, the first nineteen of which she won thus solidifying her place in history.
Donated by Matt Shiffman
Champions' Book Fourth Edition

"Champions: The Lives, Times, and Past Performances of America's Greatest Thoroughbreds" includes past performances, photos, and stories on racing's legends.
Donated by Michael Blowen
American Pharoah Wins the Breeders Cup Classic Framed Collectible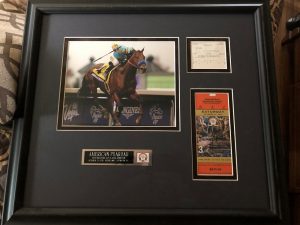 Framed keepsake of 2015 Triple Crown winner American Pharoah with nameplate and Breeder's Cup victory photo and tickets. These items capture the famed moment in history when American Pharoah became the first horse to win the Grand Slam of Thoroughbred racing.
Merch- Hats, Jackets, gifts baskets etc
Custom Tipperary Vest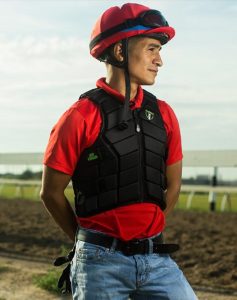 The first and only safety vest to meet the ASTM Equestrian Standard and SEI Certification, the Tipperary Equestrian Competitor vest provides full-coverage protection as well as freedom of movement. Designed to allow for air circulation, this vest will keep you cool and comfortable so that you can focus on the course ahead. Choose your custom color and size and additional information including expiration on gift certificate.
Donated by Dave Anderson
Winx Hat & Memorabilia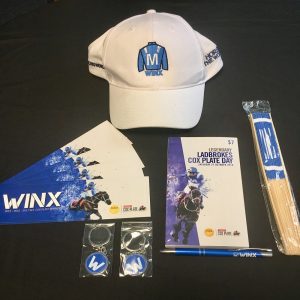 Winx won 33 consecutive races of which 25 were grade 1s, setting a new world record. In 2017 she was inducted into the Australian Racing Hall of Fame and is the leading money earner in history. Gift basket includes a Winx hat and memorabilia items: bumper stickers, a fan, two key chains, a pen, and 2018 Cox Plate Condition Book.
BC Vintage Coat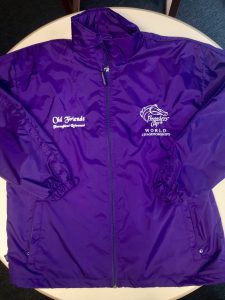 Breeders' Cup jacket with Old Friends logo, size L.
Donated by Old Friends
Japan Cup Hat and Jacket

2018 Japan Cup Hat and Jacket, size 2XL.
Purses for Ponies Charm Bag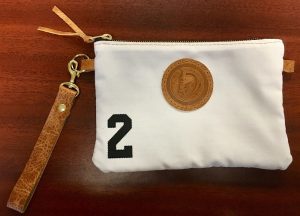 Purses for Ponies unisex charm bag is great for travel, and is big enough to use as a wallet or makeup bag. It features a stunning saddle towel front and a full grain leather back.
Donated by Trevor Shoemaker/Purses for Ponies
Old Smoke Three-Pack of Tee-Shirts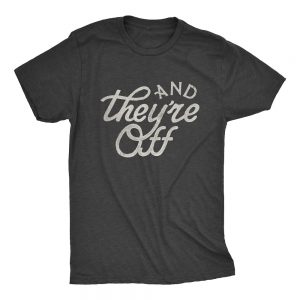 Donated by Old Smoke Clothing Company
Women's Preakness Posh Racing Hat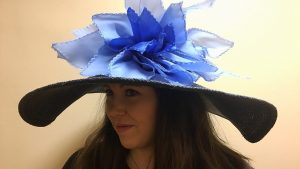 Designed by famed milliner Christine A. Moore who was the featured milliner of both the 144th and 145th Kentucky Derby. Note: exact hat offered for auction may be different.
Donated by Christine A. Moore
ABR Collection Men's Classic Hat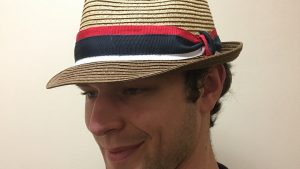 Designed by famed milliner Christine A. Moore who was the featured milliner of both the 144th and 145th Kentucky Derby. Note: exact hat offered for auction may be different.
Donated by Christine A. Moore
Items to benefit Beyond the Wire
American Pharoah Halter
Halter worn by 2015 Triple Crown Winner American Pharoah.The halter comes with a signed Certificate of Authenticity and a Preakness program from his Preakness win signed by all of the Preakness S. jockeys.
Donated by Coolmore America-Ashford Stud
Reserve: $3,000
"Yearling Sales" At Timonium Painting
8 x 10 Gouache painting by fine artist Sam Robinson
Alex Woo Charm Bracelet
Whimsical silver Alex Woo charm bracelet with owl charm.
Donated by Smyth Jewelers
Write Your Own Race
Write the conditions of your race to be run at Pimlico and/or Laurel subject to approval by the Maryland Jockey Club. See certificate for terms and conditions.
Donated by Maryland Jockey Club
Akindale Framed Photograph
21 x 24 custom frame "Unbridled" By photographer Karen Bulzaacchelli. A Beautiful scene of retired racers enjoying sanctuary at TAA accredited Akindale Thoroughbred Rescue.
Stakes Saddle Towel Pillow
3-5 pillows made out of saddle towels.
Donated by Maryland Jockey Club
Warrior's Reward Stallion Season
Medaglia d'Oro – For All You Do, by Seeking the Gold
2006, b, entered stud 2011
A leading sire of his crop by SWs,
incl. multiple GSW winner AXELROD.
A leading G1 son of Medaglia d'Oro.
Avg. 146 mares bred last 4 years.
2019 FEE:$4,500 Live Foal
Located at WynOaks Farm in PA
Donated by Donnie Brown
Framed Justify photograph and Signed Preakness Program
Photograph of Justify winning the 2018 Preakness S. taken by Pimlico track photographer Jimmy McCue along with a Program signed by all of the Preakness S. jockeys.
For tickets to ABR's 6th annual Pre-Preakness party go to: https://www.eventbrite.com/e/6th-annual-americas-best-racing-preakness-party-presented-by-sagamore-tickets-59120843033