By Alexandra Kokka
Special Ops raced for six seasons and retired with a record of 8-5-2 out of 34 starts. The Mike Maker trainee earned just more than $383,000 and won the 2017 West Virginia House of Delegates Speaker's Cup Stakes.
The son of Big Brown out of the graded stakes-placed True and True retired to TAA-accredited Second Stride. Gail Caban, an advocate and previous adopter of Second Stride contacted the organization with hopes of finding another great OTTB to add to her barn.
"Second Stride is a really great group of people, so it seemed logical to reach out to them while toying with the idea of entering the 2019 Retired Racehorse Project's Thoroughbred Makeover," Caban said. "I have worked through Second Stride in the past and own two other geldings that have come through the program."
Special Ops wasn't the horse that Caban had come to Second Stride to see, in fact he had only arrived a few days prior.
"Toni the Second Stride volunteer who had met me mentioned that I may be interested in him after we discussed my goals," Caban said. "'Ops' was standing in a round pen and had this beautiful kind eye and presence about him that I can't verbalize."
Caban was instantly taken with the gelding and Toni allowed her to give him his first ride off the track.
"He was clearly feeling good but his class overrode the opportunity to misbehave," Caban said. "While the gelding that I had initially went to see was also great, and looked better to me on paper, Ops was my choice."
Within a few weeks, Special Ops was adopted and on his way home.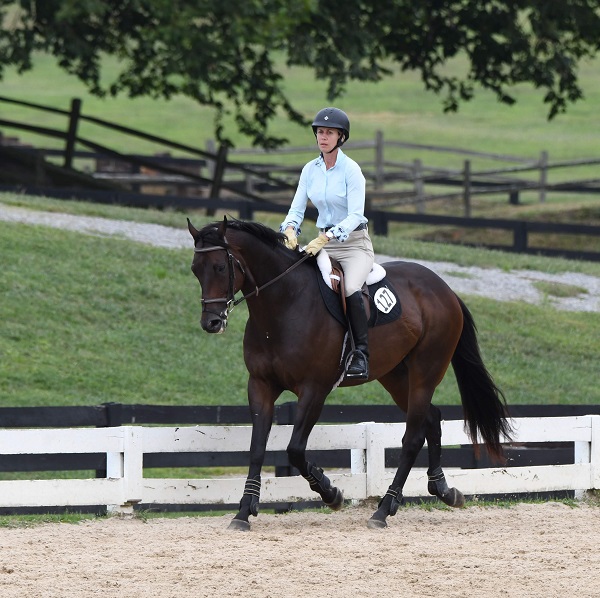 "After some well earned time off, we're making forward progress with each ride. Ops is extremely intelligent and loves to work," Caban said. "No matter what I ask of him, he does his best to comply even if he doesn't initially understand what I want."
Now, the pair has their sights set on the Thoroughbred Makeover Oct. 3-5 at the Kentucky Horse Park. Caban and Special Ops, or "Ops" will be competing in the jumper and dressage divisions.
"I would like to grow Ops into an amateur owner jumper with the hope of being competitive on the rated show circuit," Caban said. "Ops also seems to have some real talent when it comes to dressage, this may be a discipline that we learn together. Ultimately, we will go whatever direction our training takes us."