United Pegasus Foundation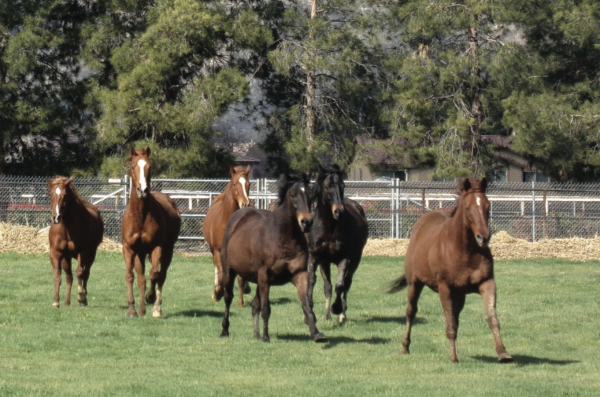 Services: Sanctuary, Rehabilitation, Retraining/Adoption
Location
: San Jacinto, CA
Founded
: 1994
Social:
Average Number of Thoroughbreds
: 150
---
United Pegasus Foundation in 2021 celebrates its 26th year as a nonprofit horse rescue and Thoroughbred retirement facility. Founded in 1994 by Helen Meredith, United Pegasus Foundation has taken in and rescued hundreds of Thoroughbred horses who were looking for a soft landing after racing or were rescued from feedlots where their future looked quite grim.
Meredith has been involved with racing all of her life. She came to California in 1989 and quickly realized there was a need for a place for Thoroughbred horses to be retired with dignity and love.
While United Pegasus Foundation has had its fair share of millionaires retired to its pastures, the organization never made the amount of money won or celebrity of a horse a determining factor for accepting horses into its program. United Pegasus Foundation believes that every horse deserves a second chance regardless of money won, pedigree, or injury.
A majority of the horses taken in by United Pegasus Foundation are permanent retirees. Horses who come to United Pegasus Foundation as retirees are first rehabilitated, and once their rehab is over, the horses are introduced to a group where they buddy up and live life in a herd. United Pegasus Foundation has about 150 horses between its two facilities in Tehachapi and San Jacinto, Calif. These horses had participated in more than 2,300 races and earned more than $13 million combined.
United Pegasus Foundation works with aftercare partners to find homes for younger horses who need a second career and assist with rehabilitation of those coming off the track that have sustained career-ending injuries. United Pegasus is one of the largest and oldest Thoroughbred horse rescues in the United States, and Meredith and her team are constantly working to care for their horses' needs. Their hard work is a testament that Thoroughbred retirement is not a dream but a reality, making sure that the athletes who perform for us today will be cared for and given the opportunity to live a great life with new adoptive homes or retirement herds, where horses can be horses. This can only be done industrywide and the United Pegasus Foundation is grateful that the racing industry is committed to taking care of the athletes that make the Sport of Kings one of the greatest sporting spectacles.