Bred in Kentucky by Lee R. Christian and Ben Berrigone, Wachacha was foaled February 18, 2007. The daughter of Sultry Song spent four seasons on the track before retiring with a record of 5-5-9 out of 39 starts. In total, Wachacha earned a total of $100,215 before her lengthy career on the track came to a close.
The warhorse was retired to the Thoroughbred Aftercare Alliance (TAA)-accredited Thoroughbred Placement Resources when her owners decided it was time to plan for retirement and needed to scale back their racing stable. 
"Wachacha came to us because the couple who had her were older and needed to reduce the number of horses they had," said Thoroughbred Placement Resources President and Executive Director, Kimberly Godwin Clark. "She had very sore feet, but was a kind, quiet, and beautiful mare." 
As a retired exercise rider and a United States Dressage Federation silver medalist, Godwin Clark is ideally suited to give retired racehorses the foundation they need to be successful after racing. Her training techniques are proactive, using each horses' previous experiences as a springboard to teach them the skills needed for a new life off-the-track. 
While Godwin Clark was beginning Wachacha's rehab for her sore feet, Sandra Tilghman of Origami Stables in Delaware was searching for a new eventing partner for a client. Previously, Tilghman had had success adopting a horse from a trainer at Laurel Park, but this time around her friend didn't have any horses available. 
"The trainer I was friends with helped me search—as she didn't have anything that would suit at the time—and contacted Kimberly Godwin Clark at Thoroughbred Placement Resources to see if she had a horse that would work."
Ideally, Tilghman's client wanted an OTTB to do eventing with, but needed something sturdy enough for a larger rider. And like many equestrian's, the client had a weakness for grays.
Aside fromWachacha's sore feet—which would resolve with the proper care and attention—the gray warhorse immediately stood out to Godwin Clark as a perfect match.
"I was rehabbing [Wachacha] when Sandra came to my farm and met her," Godwin Clark said.  "It was love at first sight and I knew Sandra had the knowledge and skills to retrain her, so the match was made."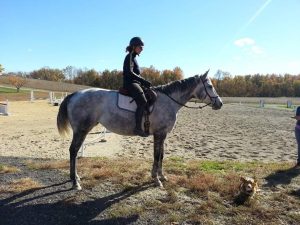 Undeniably, Wachacha, now known as "Chacha," and Tilghman felt an immediate kinship, but Chacha was already promised to her junior client.  
"My first ride I thought to myself that if my student's mother changed her mind I would not be upset as I fell in love with her as soon as I got on," Tilghman said. 
Luckily for Tilghman, it only took six months for Chacha to come back to her. 
During those six months, Chacha did a little bit of flat work, jumping, trail riding, and even gymkhana. However, Chacha and her young rider struggled to find their stride together; so, as fate would have it Tilghman and the Kentucky-bred were together again. 
"Things didn't work out and that had nothing to do with either him or her," Tilghman said. "So I took over and we took our time and developed a good solid base." 
Equally excited for Chacha's return was Tilghman's daughter, who wanted to help with the mare's retraining.
"I handed the flat and dressage work and my daughter would do easy flat work and jump her," Tilghman said.  "I wanted her to feel like she helped with the training as I had done all the training on her first horse. We were planning on eventing [Chacha], then my daughter realized she preferred to show jump. Chacha didn't care as long as she got to jump."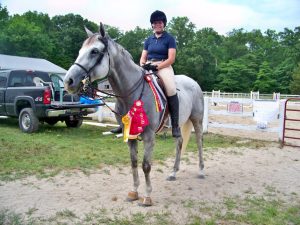 Tilghman and her daughter took Chacha to 2'6" jumper shows and enjoyed every moment of it. As a warhorse with four years of experience who raced in seven different states, Chacha's been there done that approach to life as a show horse made her a dream to compete.
"She can land and turn faster than a lot of other horses I know," Tilghman said. "At horse shows she parks and naps like an old lesson horse. As soon as you walk through the gate it's like someone flipped a switch, she's on till you finish the course, then walks out on a loose rein. It pays to do the flat work on a smart mare."
Although Chacha's retraining was coming along great, she had a few unfortunate field accidents that resulted in some costly trips to the vet. That combined with the burden of bringing along two other Thoroughbreds meant Tilghman was beginning to feel the effects of being stretched a bit too thin, and was thus forced to face a potentially tough decision— selling two of her three horses.
"Everyone wanted Ashley, my daughter, to keep the big chestnut project we had just gotten and sell Chacha, as they thought that she was too much for her," Tilghman said. "But the smile on Ashley's face every time she rode Chacha was enough to know we had to keep her. Chacha is our heart horse."
Still needing to find ways to offset their many expenses, Tilghman instead chose to lease Chacha to another rider.
The first lease they tried was with another young rider, who Chacha happily babysat as they gained confidence learning to ride, but it was with her second leasor, Mallory Sensinig, where Chacha truly began to shine. 
"I had a hunter type Thoroughbred I was bringing along, but I wanted a Thoroughbred that I could explore eventing and show jumping with," Sensinig explained. "So, through mutual friends, I was able to ride this amazing mare. She is the kindest mare you'll ever meet! She just tries her heart out for me and is willing to have a go at whatever I throw at her." 
Sensinig and Chacha moved through the jumper levels to the 1.0 meter jumpers, all the while Chacha gained more confidence and trust in her new rider.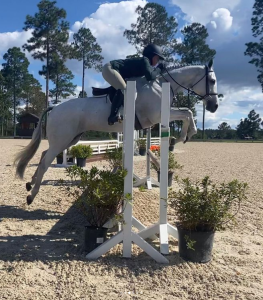 "Cruising along a jump course is so exciting, but we also work well together to put in the time and work to get there," Sensinig said. "We are lucky to live in an area with access to great trainers like Jimmy Wofford, Michael Heneghan, and Sally Cousins. But Haley Rhinier and Kelly Conner have also been such an important part of our partnership."
All of their hard work and countless hours in the jump ring paid off last October when Sensinig and Chacha went to Aiken, South Carolina for the Jockey Club's Thoroughbred Incentive Program Championships. The pair dominated the 3' jumpers and additionally earned the Thoroughbred Aftercare Alliance's High Point Award. 
Sadly, Chacha was diagnosed with Proximal Suspensory Ligament Desmitis (PSLD), and as a result Sensinig and Tilghman decided to end the lease early so Chacha could take the time necessary to rehabilitate at home.
"There's no way to know how long she's had it as it's a chronic injury that doesn't show symptoms right away," Tilghman explained. "She'll be home with me and once rehabilitated she'll be my personal horse." 
Even with all of the things Tilghman has been through with Wachacha, she is forever grateful for the little gray mare. 
"I would 100% adopt this horse again if I had it to do all over," Tilghman said. "This mare is wonderful, kind, and smart. She learns things so quickly that she anticipates what you want. You have to constantly mix things up to keep her guessing." 
While Chacha will spend the foreseeable future in rehabilitation, Tilghman will continue retraining her from the ground, building on the tricks she previously taught the mare like how to smile and bow.
Most importantly, Chacha can rest easy back home knowing she is surrounded by  her favorite humans.
"She gives you her all and then some," Tilghman said. "She is an excellent Thoroughbred ambassador, the quintessential family horse that you can give pony rides on, and yet still a total athlete. I will never sell her."