By Erin Shea
Sometimes you just know you've found the one when you see them. And that was the case when Melissa Barber instantly fell in love with Zesty Zar when she saw the son of Tapizar on the website of TAA-accredited New Vocations.
The Maryland-bred, whose second dam is grade 1 winner Dreams Gallore, made 13 starts before being retired through Beyond The Wire, an industry-supported program that works with Maryland horsemen to safely transition retiring racehorses to TAA-accredited organizations.
"'Zar' has been doing really well," Barber said. "He learns quickly and is eager to learn new things. He is learning to carry himself and is becoming increasingly soft and supple."
Since adopting her new horse in November of 2018, 'Zar' and Barber were enjoying their time getting to know one another until they were faced with a few challenges this spring. In March of 2020, their barn took a direct hit from the tornadoes in the Nashville area, resulting in some post-traumatic stress and nervousness in "Zar." Then, a couple of weeks later, the duo moved across the country to Colorado.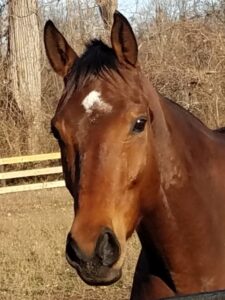 "We have been in Colorado about a month, and this past week he was back to being himself," Barber said. "He wants to cuddle, follow you around and his attention span is finally being engaged, unless there is a tumbleweed or pheasant around."
Now, they spend time schooling a few times a week in cross country, dressage, and out on the trails.
"At the new barn in Colorado, we have about 10 miles of ditch and open pasture land that we can ride on," Barber said. "He loves to hack out and work in places other than the arena. He has also found his motor since being in a place with wide open spaces.
"Recently I took him out on a long ride to build his endurance and at one point let him gallop. Holy cow, he is fast! I've never let a horse just run before it is both terrifying and exhilarating. He loved it. He even came back to me with a verbal command and a few large circles. He calmed down enough to walk home on a loose rein, like a western pleasure horse."
For now, Zesty Zar and Barber are content with sharpening their skills and building their bond, and possibly trying eventing to see if it suits them.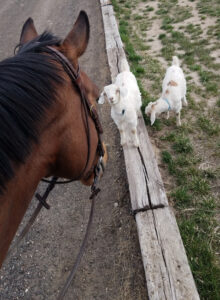 "Zar is a very hard worker and is super smart. He loves to work and picks up things easily and is quick to try to perfect them. Currently he is able to perform quite a few advanced dressage moves and is learning more by the day. He is still gaining confidence in his jumping but that will come with time," she said.
"My main goal is for him to be a happy, healthy horse who knows that he is safe and loved. I'd also like to try to do some eventing and see if he enjoys it."
Barber has also shifted her views on off-track Thoroughbreds since adopting "Zar."
"I was nervous to adopt an OTTB given the reputation that Thoroughbreds have," she said. "But I will be the first to tell you that you get what you put in. I spent, and still spend, a lot of time doing team building, groundwork, and reviewing the basics with 'Zar.' We have been a team since November 2018 and have come a long way. I can't wait to see how far we can go."