Riders from throughout the Mid-Atlantic cantered, walked, and trotted their horses across legendary Pimlico Race Course the morning of July 8 as part of Canter For The Cause while raising awareness and funds for the Thoroughbred Aftercare Alliance and Susan G. Komen Maryland.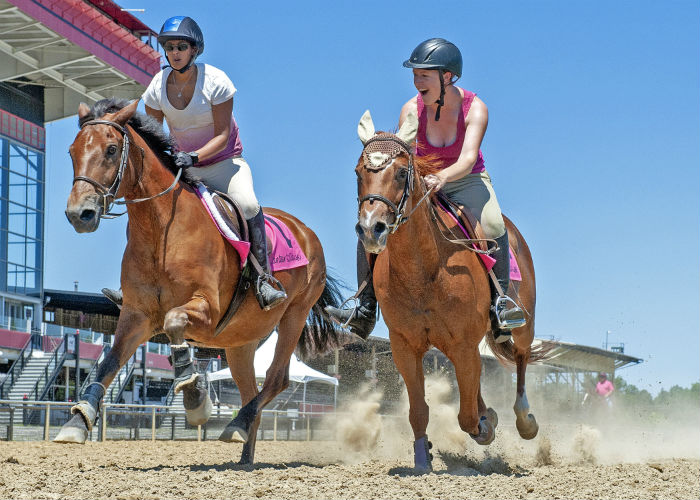 Riders brought their ponies, Thoroughbreds, Clydesdales, and Standardbreds to Pimlico to walk in the footsteps of such champions as Secretariat, Seabiscuit, American Pharoah, and Cigar. Riders were also able to walk their horses through the starting gate and pose and take pictures in Pimlico's winner's circle.
Debbbie Bird from The Pony Place in Mount Airy, MD, participated in Canter For The Cause for the second consecutive year with her horse Pepsi and was accompanied by six students.
"We had a great time last year and that's why we're back," she said. "It's the chance to go on the track. It's history. I brought two students with me last year and six this year. It's been very nice."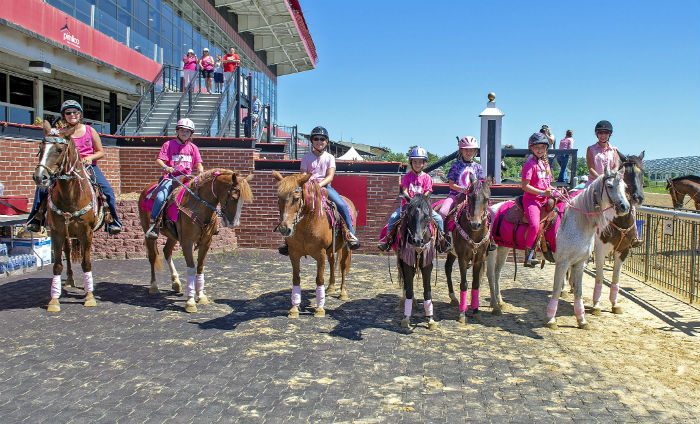 Georganne Hale, vice president of racing development for the Maryland Jockey Club, said Canter For The Cause continues to not only grow but also provide another way to give to local and national nonprofits.
"This is the fifth year for Canter For The Cause and we had 229 riders with Shetland ponies to draft horses to Clydesdales," Hale said. "Every rider had a big smile across their faces when they came around. We let the riders go into the winner's circle as well to have their pictures taken. It was a great event for two great charities—Thoroughbred Aftercare Alliance and Susan G. Komen Maryland.
"We're now looking ahead to the Totally Thoroughbred Horse Show."
The Totally Thoroughbred Horse Show, with more than $18,000 in prize money, will be held at Pimlico Oct. 7. Prize money is available in 20 classes highlighted by the $10,000 Hillwood Stable Jumper Speed Stake and the $1,000 Dark Hollow Farm Open Hunter Classic. Ticket sales and entry fees will benefit Beyond the Wire, the Thoroughbred aftercare program launched in 2016 by the Maryland Thoroughbred Horsemen's Association that works with TAA-accredited organizations to retrain and rehome horses.
All photos courtesy of JHA Photo.