By: Erin Shea
For fans of grey horses, you'll understand Shaundra Baumwart's decision to immediately fill out an adoption application with TAA-accredited Thoroughbred Athletes when she saw the face of Dakota Mac on their social media.
The grey son of Rockport Harbor visited the winner's circle five times in his 19-race career that ended with his last race at Oaklawn Park in 2016. He made his way to Thoroughbred Athletes in Oklahoma, where his kind eye garnered attention.
"I wasn't really looking for a horse but I immediately filled out an application," Baumwart said. "'Dakota' came straight off the track with no retraining. when I went out to see him but he stood so quietly in the cross ties while I groomed him."
Since Dakota Mac is Baumwart's first OTTB and since the gelding was fresh off the track, they both had a lot to learn. However, Baumwart made sure to employ the help of an experienced professional.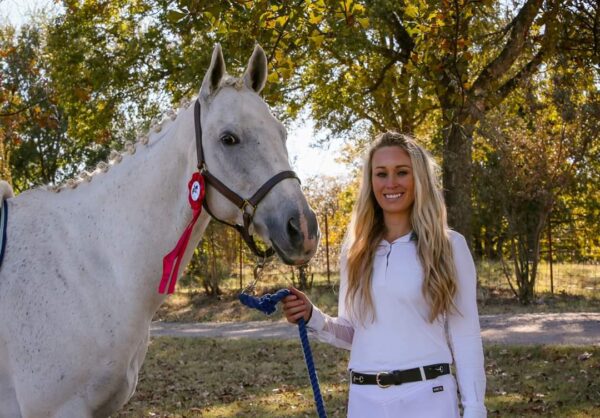 "The retraining process was definitely a learning curve for both of us," she said. "I had never had an OTTB much less one that didn't have a lot of retraining. So we had a lot of arguments and really butted heads at times, but I did have a lot of professional help from Robin Hessel at Valley View Dressage.
"I actually got Dakota to event with but because I became pregnant I stuck to ground work, and he really excelled at dressage. He was 2018 first level champion and has continued to show first level and school second level. We hope that as things open back up we are able to start showing again."
In addition to being stars in the dressage ring as they working toward their goal of a USDF bronze medal, they've been stars in front of the camera as well.
"Dakota has probably had almost as many professional photoshoots as my kids. A local photographer at Fat Cat Photography has asked Dakota to model and two separate occasions. One of the photos was internationally recognized by the Equine Photographers Network," Baumwart said. "I absolutely love him and feel so proud to own an OTTB."