By: Erin Shea
If you're driving right by a TAA-accredited organization on a road trip, why not make an appointment to stop in and see what they have available for adoption?
That's exactly what Dawn Paden did when she was driving through Oklahoma and decided to take a tour of TAA-accredited Thoroughbred Athletes in Guthrie.
"They had horses in every size and color," Paden said, adding that one in particular caught her attention.
Metersrunnin, a son of Northern Afleet who only made three starts, seemed to be the one for her.
"He was the total package—nice conformation and good looking to boot," Paden said. "He was already spoken for so l left believing he would never be mine. About a month later I got a call saying he was available."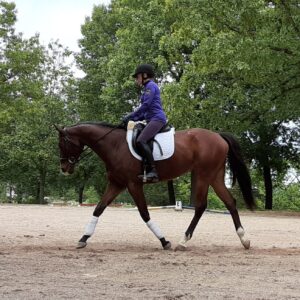 And so the Oklahoma-bred went home with Paden to start a new career.
"He is doing great. He is a happy horse," she said. "I thought he would be best suited in the hunter ring but he is telling me he wants to be a dressage horse."
As the duo works toward their goal of stepping foot in the show ring, Paden is thankful for the organization that made it all possible.
"I was very impressed with Thoroughbred Athletes and thought they knew everything about each horse in their care," she said. "I am extremely happy with my adoption of Metersrunnin."