Death Valley ran 55 times in five seasons retiring from the track with a record of 13-9-4 and earnings just over $200,000.
In September of 2007, jockey Inez Karlsson earned her first career win with Death Valley breaking his maiden at Arlington Park. Karlsson and Death Valley earned seven more wins together, developing a close bond.
Coincidentally, Karlsson is the reason that the Illinois-bred found his adopter Anne Stone. When the rider met Stone's husband, he mentioned they were looking to adopt an OTTB.
"(Karlsson) showed my husband pictures of Death Valley and mentioned he was the first horse she ever won on, and won several subsequent races on," Stone said. "He was now with Galloping Out and she really wanted him to go to a good, loving home as she had a special relationship with him."
With Karlsson's recommendation in mind, Stone headed to TAA-accredited Galloping Out to meet Death Valley.
"As I was talking to the woman who was working with him, (Death Valley) put his head into my chest and fell asleep," Stone said. "If I had taken a step back, he would have done a face plant. I knew at that moment I was his person and he was my heart horse."
From 2015 to 2017 Stone and Death Valley, or "Devin", competed at hunter jumper shows. However, "Devin's" show career was cut short due to previous tendon and ligament injuries flaring up.
"He had on and off lameness issues and was in long-term rehab twice," Stone said. "Just over a year ago, the decision was made to retire him from jumping and competition for good."
Now, the son of Gulch is enjoying life in the slow lane living out his days with fellow war horse Mr. Rosenthal or "Kip," who earned more than $300,000 and is a graduate of TAA-accredited New Vocations.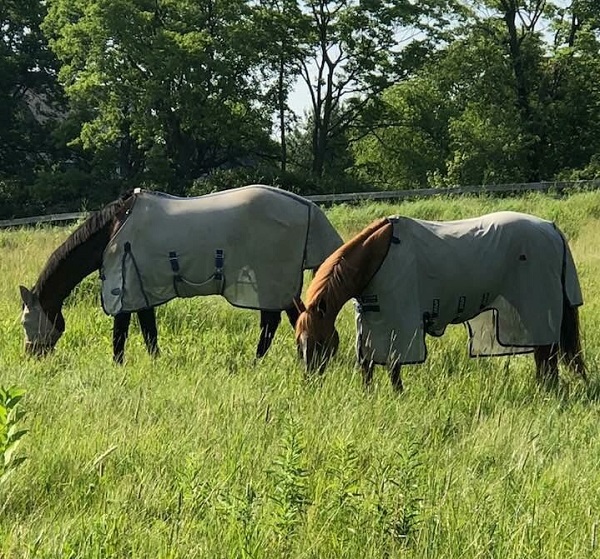 "Devin is sound enough to go on trails and he enjoys hacking in the ring as opposed to dealing with bugs out on the trail," Stone said. "My goal is to make him happy and keep him healthy as long as humanly possible."
Around the farm, "Devin" is known for his antics and often gets himself into trouble. Yet despite all his mischief and shenanigans, Stone wouldn't trade him for the world.
"I've been around Thoroughbreds all my life and I wouldn't have it any other way," Stone said. "They're quirky, intelligent, big hearted, and brave. You never know what you'll get on a day-to-day basis, but they will always give you their all. Good or bad. I feel honored and blessed to have two OTTBs in my life."