With her 14-year-old off-track Thoroughbred Devin retired from jumping, Anne Stone was looking for a friend for the gelding.
"I did hunters with him, but he kept getting injuries and had bad soles, so I would continuously have to rehab him and it was really tough," she said of Devin, whose registered name is Death Valley. The Illinois-bred son of Gulch earned $200,000 in 55 starts and came to her through TAA-accredited Galloping Out.
"Last year, he tore a ligament and I retired him from jumping. I moved him to a small barn in my neighborhood, where he is able to graze on 18 acres of pasture and go on occasional trail rides. I decided that Devin needed a buddy, as all the other horses at my barn are mares."
Hearing positive things about TAA-accredited New Vocations, Stone filled out an application and took a look at their horses listed online. One in particular stood out to her.
"I saw photos and videos of Mr Rosenthal and fell in love immediately," she said. "I was drawn to his face, very sweet."
The now 10-year-old gelding, who earned more than $306,000 in 41 starts on the East Coast, fit the bill for Stone. He was adopted and given the new name of "Kip."
"I've ridden him on the trail a few times and again, he has some confidence issues but I was really impressed that he was willing to go forward," she said of Kip. "I've only had him four months and he's already gotten better with his social skills. He and Devin get along beautifully, and that's all I was hoping for. The rest is gravy.
"Kip is a great addition to my family, and I think he realizes that he has hit the jackpot. He has a forever home with me and I will make sure that he has the best life possible."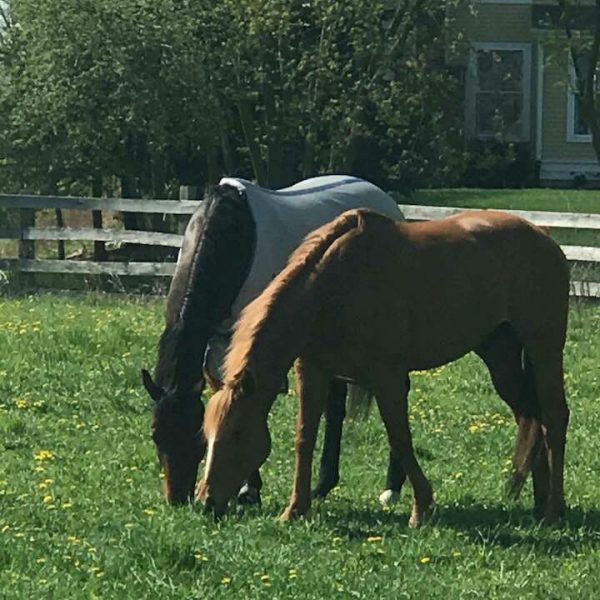 Pasture pals, Kip and Devin.