By Erin Shea
Samantha Sheldon was searching for a horse, so she called up Thoroughbred Athletes' Lynn Sullivan who told her that the TAA-accredited organization had some that might fit her needs.
Making a seven-hour drive from her home in Texas to the Thoroughbred Athletes facility in Guthrie, OK, Sheldon saw a few horses that the organization had available for adoption, and one that wasn't listed yet.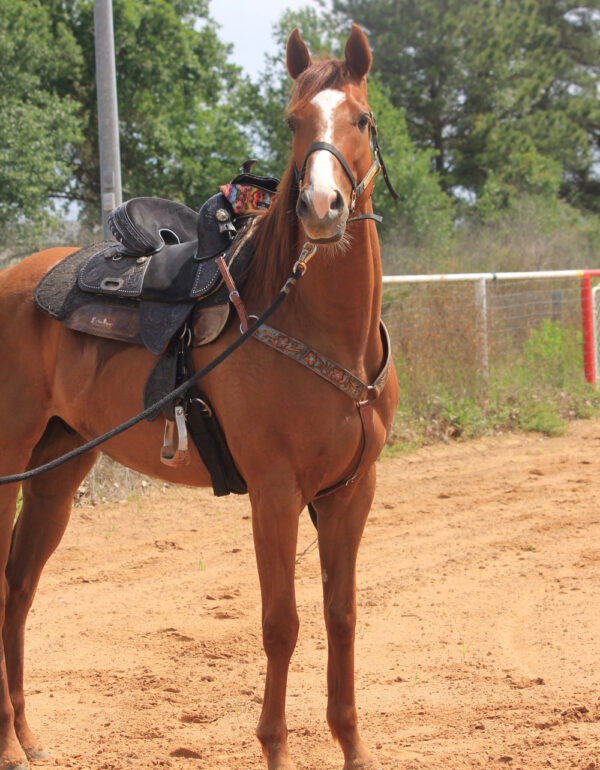 "Don't Lecture Me wasn't even listed as available for adoption yet. It was by accident that he was shown to me," she recalled. "I asked the trainer riding him his honest opinion, and he said, 'If you're looking for a winner, this is him.' And that was after riding three other horses. I just had a feeling and went with it."
The Oklahoma-bred son of Podium only made three starts before retiring. While life on the track wasn't for Don't Lecture Me, he's found his calling with Sheldon in another discipline with a goal to compete in the 2020 Thoroughbred Makeover.
"He is doing great," she said. "Don't Lecture Me has spent the last four months getting adjusted to off-the-track life, freshening up on groundwork, and retraining to be a barrel horse."