By Erin Shea
A fiery chestnut isn't for everyone. But for Amanda Ortiz, it was just what she was searching for.
After her OTTB had to be retired from competition due to a spinal compression, Ortiz began the search for her next competitive mount. She knew she wanted a Thoroughbred, as she had fallen in love with their heart and personality.
Ortiz came across TAA-accredited Thoroughbred Athletes, and through the organization she met and tried Bull City Bonus, a chestnut son of State City out of a Holy Bull mare who was a career maiden through five starts. Their connection was instant, and she brought him home.
"I am a dressage enthusiast and he had all the key elements needed to be successful," Ortiz said. "He is super smart and tries really hard. He is fiery, but so am I. We instantly made a strong team."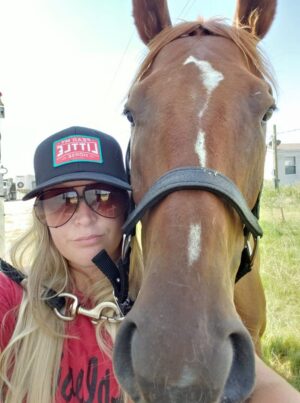 The duo traveled to compete in the 2019 Thoroughbred Makeover, however it wasn't in the cards for them that weekend. Bull City Bonus fell before their dressage tests and he bucked Ortiz off during their second test. When she brought him back home for an evaluation, it was discovered that he had a torn suspensory. After a thorough rehabilitation, he's now just getting back into things in the spring of 2020.
"We have ridden with several trainers and are continuing our education," Ortiz said. "Everyone that meets him thinks he's incredible and smart, smart, smart!"
"Not every day is a work day, he loves a good trail ride and a swim."
For the team, it's onward and upward. Ortiz knows Bull City Bonus' potential and has her sights set high for the future.
"We hope to be moving to first level (dressage) soon. I want to get my USDF bronze medal with him in 2021 and continue to grow," she said.
"He is something very special and will become a superstar for sure."