By Erin Shea
In search of a new horse, Kellee Meng posted on every equine sales sites her description for her perfect equine partner: "Looking for a 7-10-year-old, been there done that, Quarter Horse gelding."
Going beyond her initial search—and breed, Meng got in touch with TAA-accredited Friends of Ferdinand and set up a time to travel to their facility to check out a Thoroughbred gelding. When she was there, the FFI staff convinced her to also take a quick look at a chestnut mare.
Enter Filly Named Billy, an Indiana-bred daughter of Pass Rush who made five starts, placing twice in maiden special weights.
Meng enjoyed the mare's demeanor and her efforts under saddle. But some commentary on the trip home sealed the deal.
"On the car ride home, my friends daughter said, 'She was so pretty and she shined like a Penny.' And that was sort of it," she recalled.
As equestrians know, owning horses is not always sunshine and roses. Meng fully admits that the first few months of owning "Penny" (Filly Named Billy's new barn name) and getting her adjusted to a new situation were difficult. She dealt with a range of issues—separation anxiety, ulcers, heat cycles, teeth issues. With a good veterinarian and the help from the FFI team, everything got under control and the "Penny" began to shine.
"I would be lying if I said I didn't almost give up in our first few months," Meng said. "I've never worked with a horse this young, nor have I ever worked with a Thoroughbred.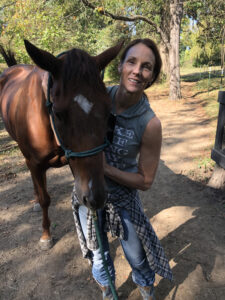 "I am so thankful for Erin, Sara, and Brandon (team FFI). I could not and would not have made it through those first few months with out them. I continue to call on them for help from anything from saddle fitting to what kind of trailer I should get. The phrase 'it takes a village' has never been more true. I'm at a very small private barn so with out my FFI family I would not know what to do."
Now, Meng is building off of the solid foundation that FFI gave the mare, who is picking up new fans along the way.
"She is doing AMAZING," she said. "I can't believe how smart she is. I wish I could take credit for it, but Brandon put the best start on her, I'm just trying to pick up where he left off. When I asked my trainer to help me and told him that I bought a 4-year-old off-the-track Thoroughbred, he was very skeptical. After one lesson, he was hooked."
Focusing more on western disciplines, Meng is working with "Penny" to learn cattle sorting, trail, ranch work, and natural horsemanship.
"I enjoy non-competitive cattle sorting, so I will introduce her to that," she said. "I currently take reigning (lessons) on a friend's horse, and will start taking 'Penny' up there for those lessons soon. I'd like to do some trail competitions, ranch shows. Eventually I'd like to be able to do some liberty work with her as well.
"She is too good of a horse and I'm too competitive to not get her out and show her off and see what we can do."