By: Alex Tyson
Sometimes your horse has a very different idea about who and what they are going to be than you do. Take my 2018 Retired Racehorse Project's Thoroughbred Makeover horse, Gold Room Scotty, for example. "Scotty," as we call him, is a 4-year-old, bay, 16.2-hand Thoroughbred gelding with legs for days. This horse has the look of a hunter, with a smaller, more refined head, sloping shoulder, and slightly upright build.
As a racehorse, the son of Quality Road made six starts in his on-track career but only earned one placing.
He moves like a hunter too; his stride is flat, balanced, ground ¬covering and naturally steady. When I got Scotty from TAA-accredited CANTER Michigan in February 2018, I was taking all of these traits into account as I made my decision to purchase him. My main goal was to do the freestyle competition, but I was thinking that the hunter class would be my back-up plan if not my second event at the makeover
However, it didn't take long to figure out my plan had some holes in it. The main problem was, of course, that Scotty had absolutely ZERO interest in jumping. This is no exaggeration; he wants nothing to do with lifting himself into the air to any degree. It is almost comical, this huge horse with insanely long legs will stop dead in his tracks before attempting to free jump a cross-rail. On the odd occasion he doesn't stop he just plows right through it, poles scattering. He has the worst look on his face during this process as well, ears pinned, brow furrowed, tail swishing. I had even made the feeble attempt at jumping in-hand next to him over a log in the pasture. This produced even worse results: he promptly bucked with both feet straight back in a forceful kick every time he found himself on the other side of the log, barley picking up his feet in the process. Like I said, the horse hates jumping.
On the other hand, there are some things that Scotty progressed rather quickly with. I taught him how to neck-rein in a week. By the end of two weeks, I could neck rein on pretty loose reins and had an excellent stop on him just by using my seat. He also picked up turn on the haunches pretty quickly too. I found that Scotty really liked to ride outside and was just as good if not better than in the arena. He didn't care about cars, tractors, dogs, bikes, and anything else that might cross his path. I rode him outside almost every day as part of his cool down if not for the whole ride.
As the makeover drew closer, I knew I needed to make a decision on which classes we were going to enter. The hunter class was out from day one. I thought dressage would be too much for him at this point as he still got a little nervous on more contact. I couldn't come up with anything that had enough "wow" for the freestyle. But I did have one thing that my huge lanky horse was good at: obstacles.
We had a Mobile Confidence Course come to our barn with teeter-totters, tarps, water, flappy things—if it was spooky it was there. Scotty was unequivocally the best horse in attendance. He didn't spook at one obstacle. He went through everything calm and confident like he had done it one hundred times. People were shocked that the 4-year-old OTTB was better than everyone's aged Quarter Horses. I was shocked, but Scotty had really opened my eyes to a new possibility.
I started taking him on trails that I knew had lots of activity off the farm. There he encountered marching Boy Scout troops, mega-phones, twirling flags, bridges, and water up to his chest. He handled it like a champ. At home I started more precision obstacles such as working gates, backing through "L"'s, dragging things, roping, and side-passing logs. All of this he tried with his usual earnestness and improved every time.
I decided on working ranch and competitive trail. When we got down to the Makeover Wednesday night, I warmed up with people who were practicing for the freestyle. Scotty got to see people driving, vaulters, and horses jumping over kayaks. Not to mention this is in a covered arena with coliseum-type dome seating! He didn't care, he didn't even bat an eye. Even though I knew we would look ridiculous in western attire I knew I had made the right decision. In the working ranch class Scotty didn't let me down. He did EVERY obstacle including the covered wagon, which he basically needed to duck into. This obstacle derailed a lot of good horse and rider pairs, but Scotty just dropped his head down and trotted on. We even got a little cheer from the crowd as he did.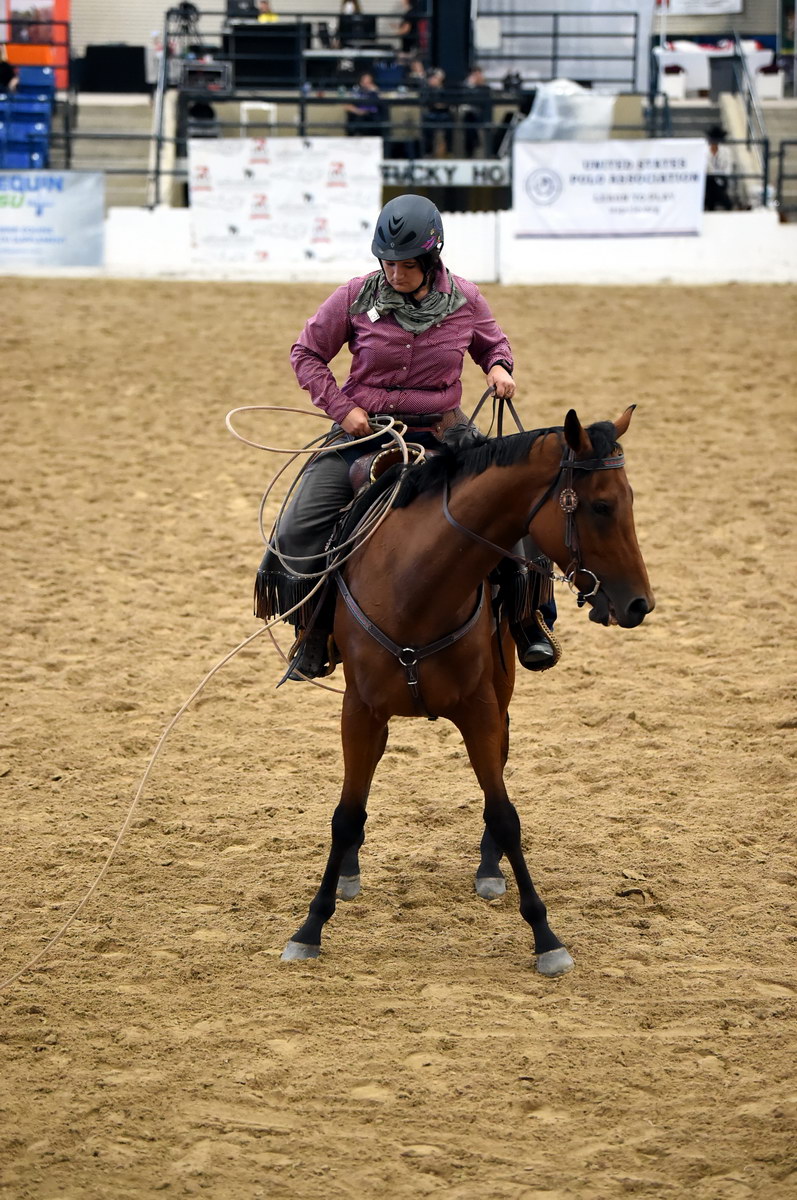 My big, lanky, clearly-an-English-discipline horse, ended up just outside of the top 10 in the working ranch class. We placed 14th out of 63 entries. The moral of the story: listen to your horse. I had an idea about what my horse would be good at and what he should be, clearly, he didn't get the memo. Scotty is a funky looking western horse, but he loves it. He likes to stretch his head down on a long rein, and just take me where I need to go with the lightest touch.
As I practiced more on the obstacles, Scotty has become more accepting of contact as well, something we were struggling with. I even found that I needed to get better at the obstacles to account for his size. The Makeover is a wonderful event that encourages trainers to find what their horse is good at and steer them in that direction, but this can be good advice for everyone. Listen to your horse and what he doesn't want to do, you might just find he is a whole lot better at something else, even if he looks a little silly.