By Alexandra Kokka
Blackjack N Beers raced nine times in Southern California as a 3-year-old, earning three wins and two additional placings in the maiden ranks. The Virginia-bred son of Stormin Fever was vanned off after his last start on the track and fell into a bad situation until he was picked up by TAA-accredited Southern California Thoroughbred Rescue.
While scrolling through equine groups on Facebook, Christina Brady stumbled upon Blackjack N Beers' listing.
"I had recently lost my trail horse and had no intention of getting another horse so soon, but there was something about 'Jack' that stood out and I kept returning to his profile," Brady said.
From that first glance, Brady was smitten with the handsome dark bay gelding. She wasted no time contacting SCTR founder Caroline Betts to begin the adoption application and schedule an appointment to meet the man who'd caught her eye. In September of 2014, after several months of anticipation, Brady received the good news that she was approved to for his adoption.
"There was just something about him I can't explain," she said. "There was an immediate bond between the two of us. I adopted him without even riding him due to insurance coverage. So it was a huge chance I was taking."
Brady was willing to put in the time and dedication to make his latest transition an easy one. Luckily she had a great support system who was there every step of the way.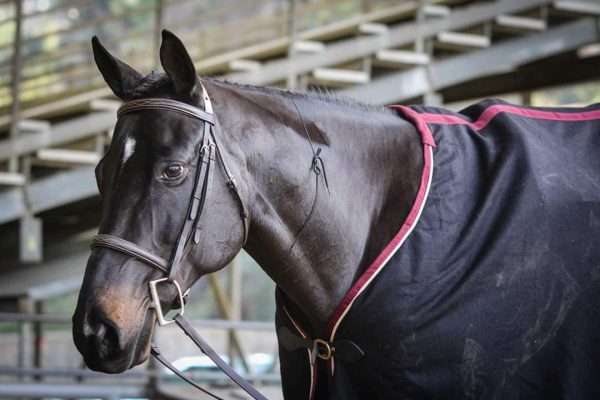 The pair was named the winner of the Thoroughbred Aftercare Alliance Adoptee Award and finished second overall in the hunter division of the 2018 Thoroughbred Incentive Program Performance Awards.
"I placed him in full time training with Gretchen Clark, owner of Showcase Training Stables, and here we are today. My trail horse-turned-hunter/jumper champion. It has been an amazing journey and learning experience," she said.
"We have far surpassed any goals I had for us as a team. The original joke was, if I don't use the horse show EMT we had a great day. Now he has competed in hunter derbies, won multiple medal classes, and has grown into a brave and confident trail horse who has been to Arizona, Colorado, and New Mexico gathering cows."
Despite having such an impressive list of accolades under their belt, the duo is not done yet.
"We are hoping to attend the 2019 Thoroughbred Incentive Program Championships in Kentucky as our last hurrah. We are transitioning from shows to trail riding and camping in the next three years before I retire. Then we will travel together and see what adventures await us."