By Alexandra Kokka
Kulik Lodge, a son of Curlin, had all the makings of a successful racehorse. After breaking his maiden in 2 starts, he continued to get lucky in a few optional-claiming allowance races and his best finish was fourth in the Del Mar Mile Handicap (G2). In 2016, shortly after his 12th start, Kulik Lodge retired to TAA-accredited New Vocations with a record of 4-2-0 and earnings just under $181,000.
Around the same time, Brooke Schafer was in search of her 2017 Thoroughbred Makeover mount when a friend who worked at New Vocations told her about several new horses who had just arrived to Mereworth Farm near Lexington.
"(Kulik Lodge) was out in the field with a stone bruise, but she said she would let me know when he was healed up and so I could come back to see him," Schafer said. "I began looking online for more information about him and his race career. I came across numerous photos and videos and fell in love with him before I ever got to meet him in person."
Schafer's gut feeling about Kulik Lodge was validated when she finally met the gelding a few weeks later.
"I walked into his stall, threw my arms around him, and knew he was coming home with me," Schafer said. "There was just something about his demeanor and intelligent eye that stood out to me."
Since the Kentucky-bred's adoption, the pair has worked hard to build a solid foundation in eventing. Although, Schafer quickly learned that things don't always go as planned.
"Kulik was injured in the fall of 2017 when jumping cross country and it took a long time for him to rehab and regain his confidence over fences," Schafer said. "With Tay Wienold's help, we have been able to overcome his confidence issues and he has blossomed into a talented Thoroughbred jumper."
Schafer and Kulik's 2019 show season was packed with excitement and success. The pair competed at a recognized horse trial at the Texas Rose Horse Park. Then, Kulik competed locally in Lexington at several A-rated jumper shows with Wienold piloting him through the TAKE2 Thoroughbred Jumper classes. Wienold and Kulik went on to compete in the 3'3 jumper championships at the New Vocations All Thoroughbred Horse Show. Most recently, Wienold and Kulik were invited to the National TAKE2 Thoroughbred Jumper Finals where they finished 12th.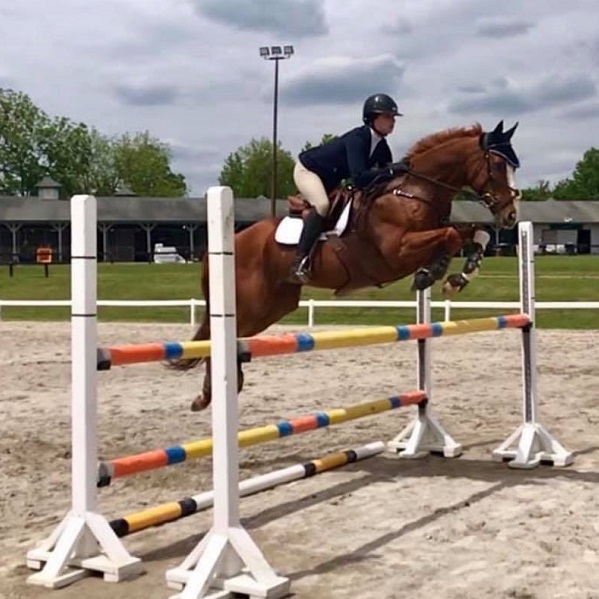 "There are big plans for the big red horse," Schafer said. "In the meantime, I love managing his fitness and playing owner and groom while he tackles the big fences at the jumper shows."
Looking forward, Schafer's plan for Kulik is to continue competing with Wienold in jumpers while Schafer works towards first level dressage and going novice in eventing.
"The amount of people who I have met because of him and the opportunities he has afforded me are beyond anything in my wildest dreams. I adopted him for a mere $500- it was the best $500 I have ever spent," Schafer said. "He has been an excellent ambassador for New Vocations and for all OTTBs. I hope that we can continue to make his connections proud and showcase all the things our Thoroughbreds are capable of when given the right opportunities."