In January of 2006, a plain bay named Strummer made his connections proud as he crossed the finish line first in the $65,000 Jimmy Winkfield to score his first stakes victory.
Nearly 17 years after posting his biggest accomplishment on the racetrack, Strummer is still putting smiles on the faces of those around him as one of 16 retired racehorses who have found a home at Old Friends at Cabin Creek in Greenfield Center, N.Y.
"Strummer is one of the quietest and sweetest horses I've ever known," said JoAnn Pepper, who owns and manages Old Friends at Cabin Creek with her husband, Mark Pepper. "If you ever need to just hug a horse, he's the one."
Strummer has found the perfect place to spend his golden years thanks to his last owner, Nat Krohn, who cared deeply for the kind-hearted son of Phone Trick. Strummer's journey to his current home spanned 10 years, and began as a juvenile in the care of conditioner Tom Bush.
A New York homebred son of Phone Trick for original owners Edward C. Behringer and Thomas P. Murphy, Strummer made his first outing in August 2005 at Saratoga Race Course in a state-bred maiden, finishing a close third behind What's Your Edge, who became a stakes winner one start later.
After a distant fourth-place finish as a maiden in the New York Breeders' Futurity at Finger Lakes Racetrack, Strummer graduated in memorable fashion under Hall of Famer Jerry Bailey with a dead-heat win alongside Building New Era that September at Belmont Park.
It was onwards and upwards for Strummer after securing his first victory, besting state-bred allowance company two months later at Aqueduct Racetrack and dominating the field of six by 4 1/2 lengths. He followed with the biggest win of his career to kick off his sophomore campaign in the Jimmy Winkfield at the Big A.
The six-furlong Jimmy Winkfield was Strummer's first time racing outside of state-bred company, facing five rivals that included undefeated stakes-winner One Way Flight, who would go on to earn a graded placing in that year's Grade 3 Bay Shore two starts later. With One Way Flight sent to post as the heavy favorite, the public shied from Strummer and sent him away as the 7-1 third choice.
Strummer did not give his opponents much chance to pressure him, breaking sharply under Norberto Arroyo, Jr. and claiming a 1 1/2-length lead through the first quarter-mile in 23.51 seconds over the fast inner dirt surface. He maintained the same margin through a half-mile in 47.29 with Mid Town and Johnny Utah battling for second position. Approaching the turn, Arroyo, Jr. turned Strummer loose and coasted to a 5 1/2-length advantage at the stretch call after three-quarters in 59.09. Strummer faced few anxious moments from his pursuers down the stretch, crossing the wire 4 1/2 lengths the best in a final time of 1:11.04. He returned $16.20 for a $2 win wager and provided Bush with his 15th career stakes victory.
Strummer went on score eight more victories in his seven-season career, and earned an additional pair of stakes placings when finishing second in the Ontario County at Finger Lakes and third in the Fred Cappy Capossela behind subsequent Grade 3 Gotham winner Like Now, who is also a resident of Old Friends at Cabin Creek. In June 2009, he was claimed for $10,000 by owner Nat Krohn and trainer Gary Sciacca, who campaigned Strummer for his final eight starts and celebrated a determined optional-claiming victory with the veteran gelding in January 2010 at the Big A.
After 56 starts, which all came at the four New York racetracks, and tenures with 10 different conditioners, Strummer retired from racing in 2011 to an upstate New York farm where he lived until he was moved to Old Friends at Cabin Creek in 2015.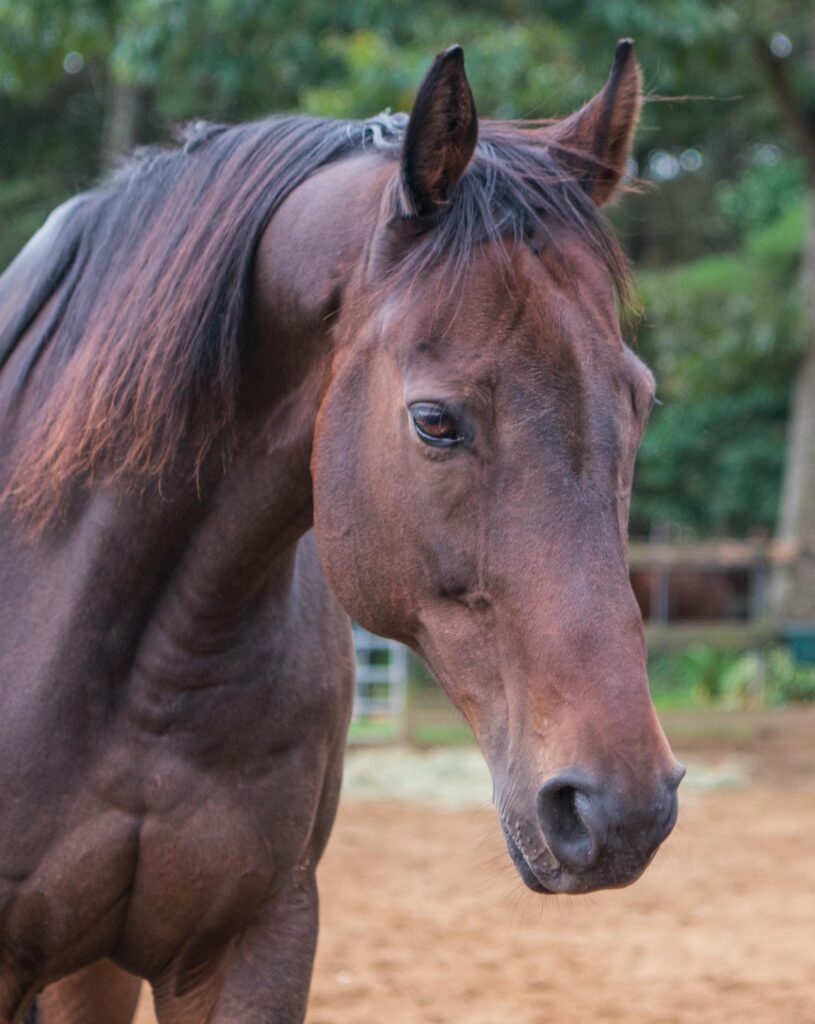 In his retirement, the now 19-year-old Strummer shares a paddock with 17-year-old Doc N Roll, who won the 2008 NYSSS Cab Calloway at Saratoga for owner Sackatoga Stables and trainer Barclay Tagg. The two became fast friends after being paired in 2018 and are star attractions on the farm's public tours, often playing and throwing around their toys in the back corner of their paddock.
Among the dozens of volunteers at the sanctuary is Christine Barnes, who has spent the past six years helping withAdd File everything from gardening to general equine husbandry. Barnes has developed a strong bond with Strummer, who she said is a perfect teacher for volunteers like herself who do not come from an equine background.
"Strummer was my first teacher," said Barnes. "I had very little experience with horses, so I was at a loss how to build a relationship with a horse based on trust, respect, and acceptance. Strummer is a patient, calm and even-tempered teacher."
Old Friends at Cabin Creek, a 501(c)3 non-profit, is accredited by the Thoroughbred Aftercare Alliance (TAA), which distributes funds to its 81 accredited facilities. The New York Racing Association, Inc. (NYRA) and its horsemen are dedicated to the efforts of the TAA, with each owner who participates at NYRA racetracks donating $10 per start to thoroughbred aftercare.
Additionally, New York's horsemen donate 1.5 percent of the purchase price of horses claimed on the circuit to TAA and the New York Thoroughbred Horsemen's Association's TAKE THE LEAD, a program that provides veterinary exams and the funds for transportation and retraining costs for horses at NYRA racetracks.
Strummer's life has come full circle on the tranquil 40-acre farm, living just steps away from his old rival, Like Now, and the 14 other retirees who all raced at least once at NYRA tracks. Barnes said the seasoned gelding could not be a better educator to the public on the care of retired racehorses.
"He makes the perfect ambassador for aftercare by exuding peace, confidence and the patience to everyone he meets," said Barnes. "I believe he is enjoying his retirement at Old Friends at Cabin Creek because he knows he is safe, secure, loved and part of a wonderful herd."
Strummer's days are now highlighted by the droves of volunteers and visitors alike who come to feed him and the other retirees peppermints and carrots, and to dedicate time out of their day to appreciating and honoring their efforts on the racetrack.
Pepper said Strummer is as happy as any horse could be.
"When visitors meet him, his kindness is the first thing they notice," said Pepper. "He's earned the respect of his rambunctious paddock mate, Doc N Roll. His eyes are always soft and we who care for him fell in love immediately. He's a great horse, living a peaceful life and enjoying his treats."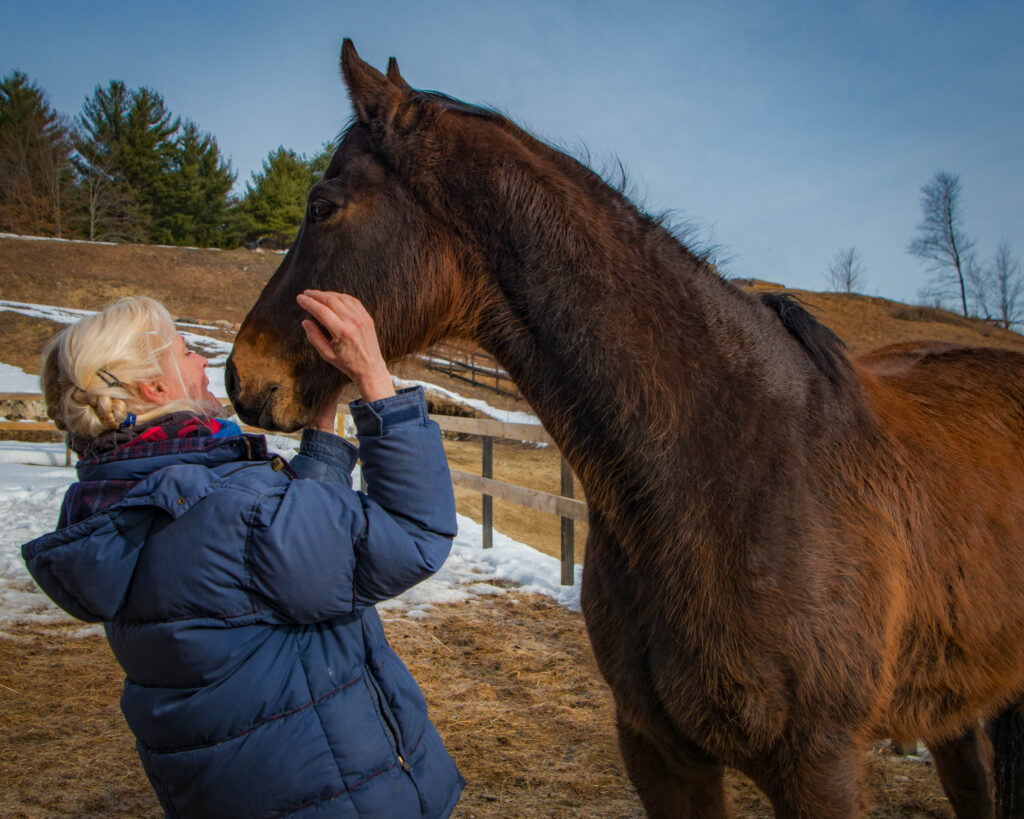 ***
Old Friends at Cabin Creek, which is staffed by volunteers and is funded entirely on public donations and grants, is open for public tours throughout the fall, winter and spring on Saturdays from 12 p.m. to 3 p.m. Tours are free of charge, though donations are greatly appreciated. For more information or to make a donation, please visit www.oldfriendsatcabincreek.com. 
Photo: NYRA Photos