The TAA had an amazing time at the second annual Equestricon held in Louisville, Kentucky just days prior to the 2018 Breeders' Cup at Churchill Downs.
As the official charity partner of the convention, the TAA was hosted a multitude of events including "Track Talks: Leaders and Innovators in Aftercare," the "Beyond the Track" seminar, a silent auction, and more.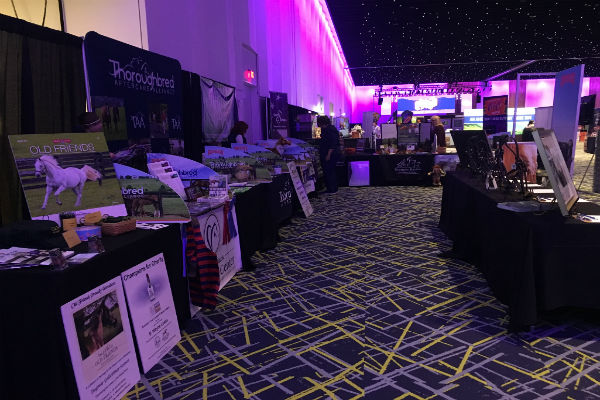 The TAA Aftercare Hub presented by Red Brand Fence, which spanned an entire corner of the Kentucky International Convention Center, was a welcoming and impressive showcase of TAA-accredited organizations. We were lucky enough to have a number of our accredited organizations present to share with the racing community the importance of aftercare and how we are working to ensure that Thoroughbreds have a chance at a second career.
TAA-accredited organizations in the TAA Aftercare Hub:
CANTER Michigan
Old Friends
Equine Rescue of Aiken
Akindale Thoroughbred Rescue
The Exceller Fund
Florida TRAC
Thoroughbred Retirement Foundation
LongRun
Maker's Mark Secretariat Center
MidAtlantic Horse Rescue
Second Stride
Galloping Out
Out Side In
Kentucky Equine Humane Center
Our Mims
Friends of Ferdinand
CANTER Kentucky
Square Peg Foundation
MidAtlantic Horse Rescue
[instagram url=https://www.instagram.com/p/Bpkj09zAZ45/]
[instagram url=https://www.instagram.com/p/Bph3iNlhSu_/]
Day 1 of EqCon was jam packed with our "Track Talks" to kick off the event. Representing the TAA was Stacie Clark-Rogers with guest speakers Michael Blowen of TAA-accredited Old Friends, former NFL player and TAA-accredited Maker's Mark Secretariat Center adopter Jeff Tow-Arnett, Joell Dunlap from TAA-accredited Square Peg Foundation, and military veteran James Stewart.
[facebook url=https://www.facebook.com/ThoroughbredAftercareAlliance/posts/1885473981528370]
Each of the speakers gave a different perspective on how OTTBs and aftercare has affected their lives for the better.
Back in the TAA Aftercare Hub, the silent auction was a popular place to be and with the Breeders' Cup post position draw happening that evening, the trade fair was abuzz with excitement.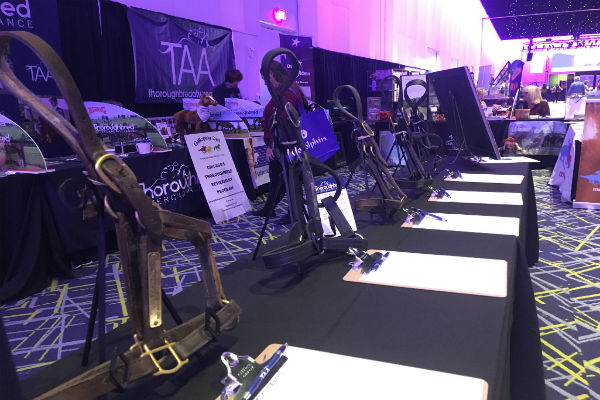 The TAA was proud to raise approximately $9,000 from the silent auction, which wouldn't have been possible without the help of our silent auction donors:
Annie Johnson, Antebellum Turf Times
Ashford Stud
B2B Casuals
Breeders' Cup Limited
Christine A. Moore
Churchill Downs
Ellen Skidmore/Frames on Main
Gulfstream Park/The Stronach Group
Hill 'n' Dale
Jack Wolf/Starlight Racing
Kelsey Danner Racing Stable
Old Friends
Purses For Ponies
Remi F Bellocq/BloodHorse Publications
Sal Sinatra/The Stronach Group
Suzie Picou-Oldham
Taylor Made Farm
Day 2 of EqCon the TAA had an educational "Beyond the Track" seminar featuring Anna Ford of TAA-accredited New Vocations, Jen Roytz of Retired Racehorse Project, and Kristin Leshney-Werner of The Jockey Club Thoroughbred Incentive Program (T.I.P.).
Panelists discussed a number of topics, including the current state of the aftercare industry, opportunities for OTTB owners, and ways TAA-accredited organizations to get involved with OTTB events such as the Thoroughbred Makeover, T.I.P. events and shows, and the New Vocations Charity Horse Show.
Thank you to the Equestricon crew for allowing us to play a part in this year's event and thank you to everyone who helped make it a great two days for the TAA!
[facebook url=https://www.facebook.com/ThoroughbredAftercareAlliance/videos/1107835512712845/]