American Thunder made 29 starts before retiring with a record of 2-7-2 and $25,590 in earnings.
Rhi Rasmussen was competing in the 2019 Thoroughbred Makeover with a mount owned by TAA-accredited Thoroughbred Athletes when American Thunder first caught her eye. The "plain bay Thoroughbred," as Rasmussen described, ended up in an auction but quickly found a soft landing with the same Oklahoma-based organization.
"At the time, I remember him really making an impression on me and feeling an immense amount of relief to know he was now safe, but with the makeover in full swing adopting a horse was not on my radar," Rasmussen said.
On her cross-country trek home from the Thoroughbred Makeover, Rasmussen couldn't resist stopping by Thoroughbred Athletes to check out their newest arrivals. The Texas-bred instantly won her over with his sweet personality.
"I looked at a few horses, but when I met Thunder I loved his disposition," Rasmussen said. "He seemed so calm and collected, even with all he had been through the last month. I think it was right there in his stall that night it was decided.
A few weeks later, American Thunder or "Thunder" left for his new life in Kansas.
"Thunder has really come along the last several months. He fits right in at our barn and I really do love everything about him," she said. "He's been a gem to work with and has quite the personality."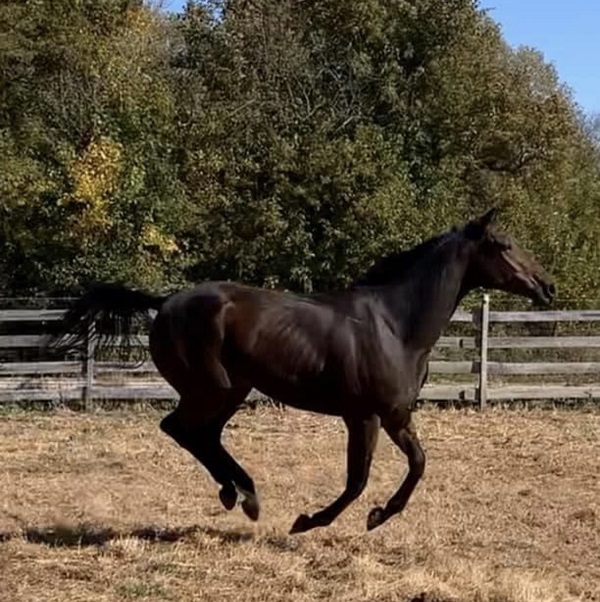 Rasmussen and Thunder were accepted into the Thoroughbred Makeover, scheduled for October 2021, but their partnership won't end there.
"The plan is to take this next year to continue training and hopefully compete in the eventing and dressage disciplines," she said. "Thunder is definitely here to stay, long term I look forward to many more years beyond the Makeover with this special horse."