Accredited aftercare provides owners and trainers with trusted avenues to responsibly retire their horses from racing. Additionally, it works to ensure every Thoroughbred's story can be a happy one. The Thoroughbred Aftercare Alliance (TAA)'s rigorous accreditation process and strict Code of Standards means that when a Thoroughbred's racing story concludes, their next chapter is just beginning.
Meet Be In Charge— a young, promising Thoroughbred with champion bloodlines that concluded the racing chapter of his story earlier than anticipated. However, thanks to his racing connections and accredited aftercare organizations, that story was certainly far from over.
The son of champion sire Will Take Charge, Be In Charge was purchased with greatness in mind. Kentucky-bred by Three Chimneys Farm, the gelding sold in 2017 at the Keeneland September Yearling Sale for $400,000 to Colts Neck Stables. The 2016 gelding raced only once, breaking his Maiden at Monmouth Park in 2019 before retiring to TAA-accredited Second Call.
Second call provides New Jersey's off-track Thoroughbreds (OTTBs) with a place to rest, rehabilitate, and be evaluated for retraining when their racing days are over. The dapple gray was in need of just that, and was acquired by Second Call Co-Founder and President, Laurie Lane in 2020.
At just four years old and with just one start on his record, Be in Charge, now known as "Charger," made quite the first impression when he arrived at Lane's facility.
"He was a ginormous animal," Lane recalled. "Every bit of 18 hands."
Due to his large size, Charger was coming to Lane with a weak hind end, an inflamed suspensory, and in need of time to grow up.
"It was only fair to retire him rather than push him," Lane said. "I'm so thankful for Colts Neck Stables' ability to recognize when it's time to retire their horses in order to let them find their next purpose. Their decision to retire Charger early allowed him to start over in the right hands."
'The right hands,' Lane determined, belong to Charles and Nina Lyman.
The Lyman's run TAA-accredited Thoroughbred Retirement, Rehabilitation, and Careers (TRRAC)— the longest actively running Thoroughbred farm in Pennsylvania, offering medical support, rehabilitative care, and second career training for Thoroughbreds. TRRAC's rehab program includes a swim therapy pool, which was the perfect solution for the monumental Charger who took to it like a fish to water.
While evaluating Charger for soundness, suitability for a second career, and overall disposition, the Lyman's soon realized his Labrador Retriever personality and willingness to try new things made him the perfect trail mount. After losing his last Thoroughbred partner to old age and coming off his own rehab, a new trail mount was something Charles was actively seeking.
"I just came off knee replacement surgery and decided to enter the Thoroughbred Makeover, so I needed a horse to compete," he explained. "Charger's just one of those horses who you become super attached to with his personality. Everyone loves him here, so we decided to put him to the test."
Charger remained eager to learn, and just as the Lyman's predicted, even enjoyed the trail obstacles that were presented to him.
"I was still rehabilitating my own issues with my knee, so we just took it slow together," Charles recalled. "He wasn't scared of anything and really loved working over trail obstacles, tarps, and encountering out-of-the-norm things that horses usually don't want to work around."
Charger's bravery and level-headedness showcased what Charles considers the most important quality of all for his trail mount— a great brain.
"He picked up on the more advanced obstacles and we just knew that he had to go to the Thoroughbred Makeover," he said.
While their scores did not break them into the top ten at the makeover, Charger was still a champion in the Lyman's eyes.
"I'm just so glad Charlie was able to take him to Kentucky," said Charles' wife, Nina Lyman.
"Charlie had a lot of problems with his knee and had a rough time with getting it replaced— he didn't start to ride Charger until the end of July— so he only had two and a half months of riding beforehand," Nina said. "We just love how gentle and loving Charger is."
After receiving a well-deserved winter break, Charger's story will continue to be written with Charles at TRRAC as they continue to teach horses coming off the track how to transition into second careers together.
"He has proven to be a great teacher on the trails, so our goals are that he will continue to promote competitive trail careers for off-track Thoroughbreds and help retiring racehorses expand into a second career in competitive trail," Nina said. "Charger is also a great babysitter with horses in rehabilitation and loves teaching them to swim in the pool. We are very lucky to have him on our team."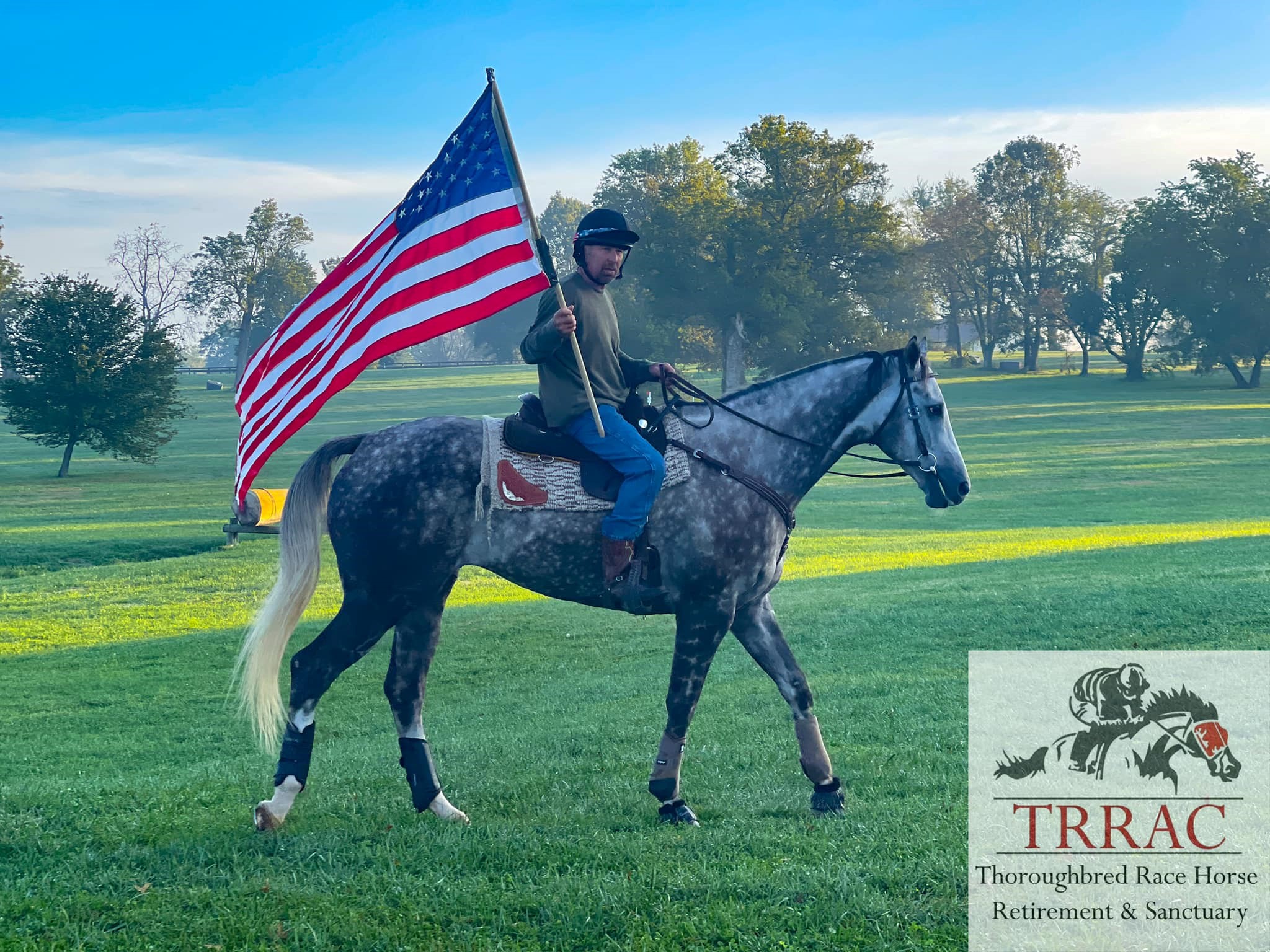 Race Cover Photo: Bill Denver