By Erin Shea
Kenwood Racing's You Betcha only made one start before an injury forced an early retirement from the racetrack. The son of Super Saver then made his way to TAA-accredited ReRun via TAKE THE LEAD.
Karen Benson lost a horse to laminitis and was looking for a new equine partner. While browsing Facebook one day, she saw a photo of a strikingly bay horse. Impressed by You Betcha's conformation, build, and pedigree, Benson made the decision to adopt him.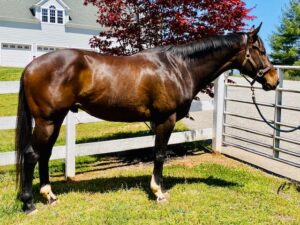 "He is a super intelligent horse with a great brain," she said. "Training is going amazing. This horse is fun to work with and learns quickly. He also is a big ham loaded with personality."
While she has some immediate goals planned out, Benson is looking forward to just enjoying the road ahead with her new horse.
"(My goal is) to have a very successful show at Retired Racehorse Project's 2020 Thoroughbred Makeover," she said. "Then have a nice horse to enjoy for a lifetime."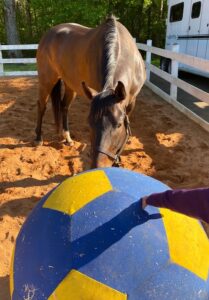 ---
UPDATE: APRIL 7, 2022
Written by: Jen Smith
Since 2020, Benson has diversified You Betcha's retraining portfolio, adding trail riding, field hunting, and show Jumping to his resume. 
"It's been an awesome Journey with You Betcha," Benson said. "My other Thoroughbred, 'Kitt,' was dealing with neurological issues, so I didn't have a horse to hunt. I started You Betcha hill-topping in the fall when he was three." 
With Covid-19 postponing their plans for the 2020 Retired Racehorse Project Thoroughbred Makeover, the pair used the extra year to gain as much experience for the young bay as possible. 
"We trained really hard for the Retired Racehorse Project in 2020," Benson said. "I got him to a couple shows in late 2020 and he was very successful in Field Hunters. I managed to get to take him to Florida to the World Equestrian Center for a week and compete in jumpers."
For their final prep, Benson and You Betcha made their Hunter Derby debut at Tryon International Equestrian Center where the gelding shined bright under the lights. 
"He handled it perfectly," Benson said. "When we left for Kentucky, we were ready." 
All of their hard work and extra preparation paid off at the end of the week at the Kentucky Horse Park. You Betcha made the top five in the Show Jumper division, was in third place going into the Field Hunters finale, and together they finished the RRP Thoroughbred Makeover as the Top Amateur in Show Jumping. 
Apart from their competitive aspirations, Benson and You Betcha enjoy hitting the trails, fox hunting, and navigating obstacle courses.                                     
"I take him everywhere with me," she said. "I'm lucky to live in a big horse area, so there are so many things to do and places to go." 
Reflecting on the last two years, Benson could not be more content with her new Thoroughbred partner. 
"I am so pleased with this horse," she said. "I've since lost my heart horse Kitt, so this horse has some big shoes to fill. He has been my life saver and is filling those shoes and my heart! I'm looking forward to many good years ahead."
FEATURED IMAGE: CANTERCLIX