In her 10 starts, Claudia's Vision never finished better than fifth. While it seemed that the New York-bred daughter of Court Vision just wasn't meant to be on the racetrack, her disposition and build caught the attention of a young hunter/jumper professional.
In late 2017, Taylor Dowd was searching for a horse. Dowd had signed up for a Trainer Certification Program (TCP) Clinic with George Morris in November 2018, and while the clinic was almost a year away, she needed to find a suitable mount. She found herself on the Facebook page of TAA-accredited After The Races looking at the off-track Thoroughbreds.
"I stumbled upon her profile/album posted on the ATR Facebook page in early January. I thought she was super cute and had a kind eye, nice little trot on the short video of her at liberty," Dowd said. "She was put together nicely for a hunter/jumper prospect and had my ideal OTTB 'too slow to race' back story. She had potential to be my George Morris (clinic) mount."
In January 2018, Claudia's Vision, with her new barn name of "Maci," came home with Dowd. Dowd's instincts about her new horse were reaffirmed when the filly didn't bat an eye when stepping off the trailer at her new home and then climbed up a giant snow-covered hill to reach the barn.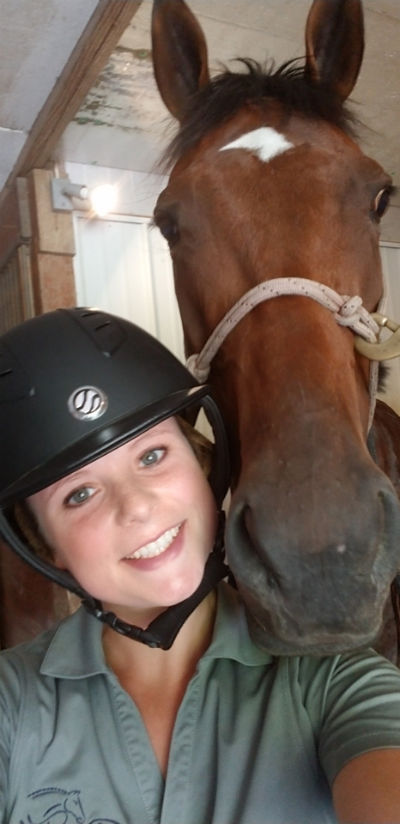 "We arrived home late and it was dark. Our driveway is steep and with the snow, I wasn't able to make it to the top where the barn is located," Dowd said about the journey home with Claudia's Vision.
"We parked at the bottom and, in the dark, made the uphill trek, roughly 300 yards. She didn't take one single hesitant step. She walked into her stall, took a drink, and started munching hay like she had been there her whole life. I love her for that."
Since then, Dowd has been slowly bringing her young horse along and said she's been a "gem" to work with.
"We have had an incredible year together," Dowd said. "She has traveled to some local barns and small shows to school around and has always been willing to please. She hacks out on the trails and in the fields alone. She jumped around our hunt course like it's no big deal.
"We have ridden in clinics with Melanie Smith Taylor, Ronny Riemer, and we did successfully hit our goal to ride together in front of George Morris this November, also accrediting me toward the USHJA Trainer Certification Program. She truly showed a glimpse, in the last couple months, of just how athletic she is going to be. With some more time and training, she is going to be one fancy gal."
The pair looks forward to competing in the baby green hunter division in 2019, and most importantly, just enjoying their time together.
"She is such a fun horse to ride and work with, and just generally be around," Dowd said. "She is affectionate, but independent. She is confident, but respectful and attentive. And she is always willing and honest. I adore her."