Tall, dark, and handsome. Enter Jacob's Arch, a 2001 son of Arch, who caught the eye and captured the heart of Justine Watson.
Looking for an off-track Thoroughbred of her own, Watson was browsing around online and came across an ad for the 17-year-old gelding who was located at TAA-accredited After the Races.
"It was during one of my lackadaisical searches that I found his ad," she said. "He was a little older than I was looking for (17 in 2018), but everything else fit the bill. I looked up the (At the Races) on Facebook and was totally smitten by his pictures. When I originally contacted them, there was a deposit on him pending a PPE. I was so bummed, but told them to let me know if it fell through. Luckily for me, the potential adopters were hesitant about his old slab fracture and the arthritis in his right front. I quickly made an appointment to go see him."
Racing from ages 2 to 7, Jacob's Arch made his last start at Philadelphia Park in 2008. He retired from racing with a 5-3-8 record from 23 starts, with earnings of more than $100,000. Bred by Dr. William B. Wilmot and Dr. Joan M. Taylor, Jacob's Arch is out of the Known Fact mare Naughty Natisha and is a half brother to grade 3 winner and millionaire Naughty New Yorker.
What sealed the deal for Watson was the horse's sensitivity to her relative inexperience being a newcomer to the equestrian world.
"I took two of my horse-knowledgeable friends with me to check him out, and what impressed me the most about him was that he seemed to know I didn't have as much experience as my friends, and adjusted his tempo to accommodate that when I got on after them," she said.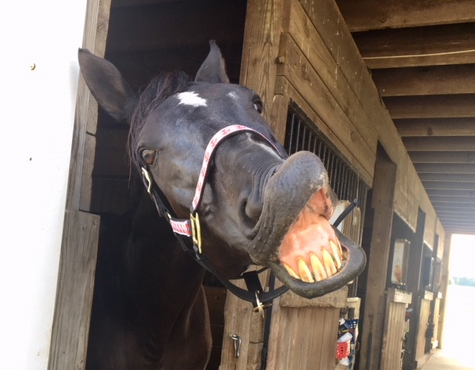 So, Jacob's Arch came home with Watson. And while she's been working on getting him back in shape, the gelding has already taught her a few lessons.
"We have been putting a lot of time into building muscle and getting fit. We have worked with a few trainers, and they have all complimented us on what a great team we make, which just makes me so proud of him," she said, adding that he enjoys having an owner and a job.
"He has a great personality and can definitely take a joke! He can be opinionated at times, but we can have a conversation about it and work through it. He is actually an excellent teacher and has taught me how to canter and gallop. He is also a proper gentleman when asked to give pony rides to not-so-horse-savvy family members."
And he's got a few more budding talents…
"Did I mention he's also a trick pony now? His tricks include smiling, bowing, giving hugs, nodding yes, and counting–just to name a few."
Knowing her new OTTB only for a few months, Watson was curious about the earlier part of his life when he was on the track. She reached out to his racing connections and during a trip to Saratoga over the summer Watson met Todd Yaeger who manages Stepwise Farm, where Jacob's Arch was foaled.
"I got to meet up with (Yaeger) to watch some morning workouts at the track," she said. "He shared a few Archer stories—like how they tried him out as a pony horse there, but he didn't work out because every time someone passed him, he wanted to go—and shared pictures of his daughters riding him bareback. I've been introduced to this whole new world and perspective in horse racing, all thanks to Archer!"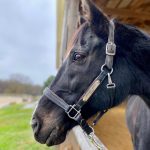 As of April 2021, Watson is happy to report Archer is still going strong, and at 20 years old is dancing his way around the dressage court with style.
"Archer is still doing spectacular, now 20 years old," she said. "We met a trainer last summer that really liked us, and are now doing recognized dressage shows. We are showing first level and schooling second. He continues to amaze me every day, he has such an amazing brain and incredible work ethic."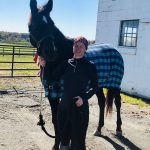 Recently, the pair received qualifying scores towards attending regionals and earning their bronze medal with hopes of going all the way to the national US Dressage Finals in November.