After three starts at Penn National, a handsome bay gelding suffered a slab fracture, thus ending his career on the track. First Lieutenant made his way to TAA-accredited After The Races with a record of 0-0-0 and earnings of $3,900.
In 2015, Alison Shaw contacted the Maryland-based aftercare organization in search of a dressage prospect and all around family horse.
"(First Lieutenant) was shown to me by Bonnie, the founder of After the Races, and suggested as a good fit for my goals," Shaw said. "He had a slab fracture as a 2-year-old and it didn't fully heal so he was only cleared for flat work. He was such a clown when I went to meet him, pulling blankets off the stall doors and playing with his lead rope. I knew I had to have him."
The son of Officer was just four years old at the time of his adoption, so Shaw wanted to take things slow and focus on the basics.
"His restart was slow and steady, lots of ground work, and maybe six months later we got on him for the first time," Shaw recalled. "He was so quiet and unphased by the whole situation. There really have been no lows with him."
As Shaw's family grew, her dressage aspirations were put on hold. Even so, First Lieutenant, now known as "Bodhi," was always made to feel like part of the family. Shaw's eldest son is especially taken with the Pennsylvania-bred一it won't be long before Alison's ousted altogether.
"Bodhi has had it pretty easy as we've had two kids since adopting him, but he is half leased to a woman who simply adores him," Shaw said. "All my kids can lead, groom, and ride him on the lead line. My oldest son who is nine regularly tells Bodhi he will be his one day and I should get my own horse."
Bodhi truly hit the jackpot with his adopted family and vice versa. No matter what they ask of him, Bodhi takes it all in stride.
"He is down for whatever we ask一whether it be wrapping him in wrapping paper and lights for our annual Christmas card or having him do our gender reveal with blue balloons and a chalkboard around his neck," Shaw said. "He is a gentle, loving clown and comes running every time he's called.
"He is our heart horse, even though I don't really ride much anymore being a busy mom of four, plus running a pet care business," she said. "We joke he's our favorite child. I hope to get back in the saddle soon.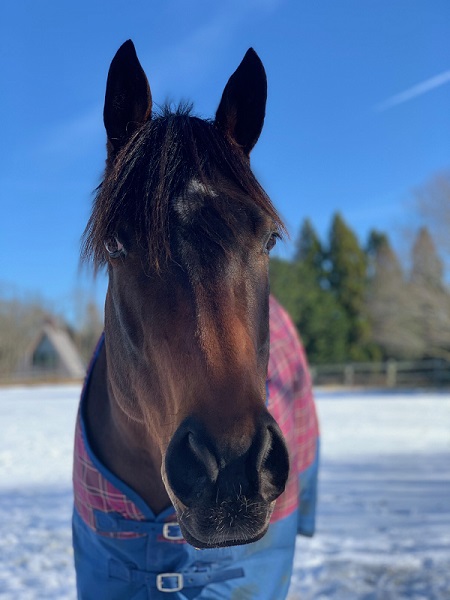 Not only is Bodhi a wonderful family horse, he's quite the model as well.
"He did a photo shoot for Ralph Lauren back in October of 2020 for the men's spring line," Shaw said. "I was told to keep an eye out on all social media platforms for the pictures. He was such a professional and relaxed being around a crew of 30-40 people at an Inn he was trailered to.
"Some of the models had never handled a horse but soon felt so comfortable that they were snuggling him on breaks and he wormed his way into every shot," she said. "He was having a blast stealing one of the model's hats. They adored him and even said they may reach out again in the future."
But, Shaw's family isn't done growing yet. Up next she anticipates another OTTB in their future.
"He is the best addition to our family and I'll likely plan on adopting another horse from After the Races in the future, as my kids have stolen my horse."