Shewasnicerthen made 14 starts at Parx before retiring to After the Races at age 3, having earned $43,011 with a record of 1-3-3.
In the market for a young horse to bring up the levels of eventing, Tori Kager contacted the TAA-accredited organization about a gelding she was interested in meeting. Upon arriving for her appointment, the fiery red daughter of Pleasant Tap stole the show.
"I actually went to After the Races intending to try a plain bay gelding, but when I walked in the barn I was immediately drawn to the long-legged chestnut filly," Kager recalled. "While I was trying the gelding, (After the Races director) Bonnie had a volunteer bring (Shewasnicerthen) into the ring, and after watching her walk and trot around I knew I had to try her. A week later she was officially mine."
While Kager admittedly had a soft spot for chestnut mares, she attributed her decision to adopt Shewasnicerthen to her sweet and willing demeanor, coupled with her elegant, athletic build.
In their first few years together, Shewasnicerthen, now known as "Sage," took to her second career with vigor. Unfortunately, the mare sustained a serious injury during turnout, which set the pair toward a new set of goals.
"Sage moved up through Training Level eventing and was consistently placing in the ribbons against professionals," Kager said. "In the spring of her 6-year-old year, I had overzealously and unsuccessfully tried to move her up to preliminary. We never got the chance to rebuild her confidence and have another go because she shattered her hind lateral splint bone in a field accident.
"Miraculously, two hospital stays, one surgery, and a lot of patience and care later, she was sound and back under saddle within six months of the injury," she added "Her weakness in eventing was always that she was a super careful and anxious jumper, but when she came back she made it clear that she was done scaring herself and she did not want to event anymore."
Although upper-level eventing was Kager's original aspiration, she had no intention of giving up the Pennsylvania-bred she'd grown to love. Unphased, the pair focused their attention on a familiar discipline‒dressage.
"I'm absolutely obsessed with her, so there really was never a question of whether I'd find her another rider," Kager said. "Instead, I made new goals for Sage and I together. We switched to dressage almost two years ago now, and she has never been happier."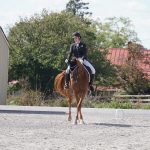 During the summer of 2020, Kager earned her bronze medal aboard her favorite chestnut mare. Looking forward, the pair aims to be more competitive at Third Level before moving up to Fourth.
"I will keep listening to Sagey and set goals that I feel confident we can reach together," she said. "So far, she does not seem close to maxing out her potential in the dressage arena, so we will continue honing our skills and moving up as she feels ready. For this year, I think setting our sights on a Fourth Level moveup in addition to Third Level Finals is very reasonable."