By Alexandra Kokka
Impressive Edge retired to TAA-accredited LongRun Thoroughbred Retirement Society after three seasons on the track. From 11 starts, the multiple graded stakes-placed son of Harlan's Holiday had a record of 2-0-3 and earnings of $160,746.
After running fourth in the 2017 Xpressbet Florida Derby (G1), Impressive Edge earned back-to-back placings in the Peter Pan Stakes (G3) and Iowa Derby (G3)
Lauren Edwards contacted LongRun in search of a new four-legged partner at the beginning of 2019. After she filled out an adoption application, LongRun suspected the former Dale Romans trainee would be the perfect fit.
"They thought Impressive Edge would suit me well, and sent me photos and videos," Edwards said. "My trainer and I both really liked him, but since I live five hours away from their farm and we didn't want to miss out on him, I adopted him sight unseen. He was everything I wanted and more!"
Edwards took a chance on the Kentucky-bred and in turn she gained a lifelong friend.
"My trainer and I both really liked his conformation and movement, and he had a super cute face," Edwards said. "When he got here it was his been there done that attitude and will to please, along with his sometimes silly baby moments that made me love him so much."
Now, he has started over fences after developing a solid foundation on the flat. Edwards intends to point Impressive Edge, or "Loki," toward jumpers or eventing, but for now will get him established as a hunter.
"It truly takes a village, but I've had so much help from the people around me: trainers, vets, my amazing barn manager and friends," Edwards said. "He's the kind of guy who will always give 100% at whatever you ask him. I'm so excited to see where this season takes us."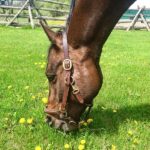 Edwards had her heart set on an OTTB for a long time, and "Loki" could not have made a better match.
"He wants to work, wants to please, and he thrives when he knows he's getting it right," she said. "He can be a bit of a goof in the field and is a huge cuddler on the ground, but as soon as you get on he's in business mode. He is my heart horse and I'm so excited for the rest of the road ahead of us."