Written by: JJ Sillman, Equine Care Assistant at TAA-Accredited Central Kentucky Riding for Hope
Impressive John R is a 2004 Kentucky-bred Thoroughbred by Souvenir Copy and out of Depelchin. During his racing career, he accumulated around $34,000 in earnings before his last race in 2009 for trainer Kenneth Louviere. On his last career start, the gelding was claimed for $5,000 by Rhonda Garcia and her trainer Cary Carter.
Eventually, John landed at the Secretariat Center—a Thoroughbred Aftercare Alliance (TAA)-accredited aftercare organization—and quickly became a fast favorite in the barn for his handsome looks, work etiquette, and gentle nature. Of course, his personality soon won over an adopter who loved him dearly and enjoyed riding him out on trails until her eventual move out of the state. After careful consideration, it was decided that the best choice for John was to stay in Kentucky instead of moving with his adopter. As it happened, John ended up back at the Kentucky Horse Park, but not at the Secretariat Center; instead, a therapeutic riding program was in need of a horse just like him.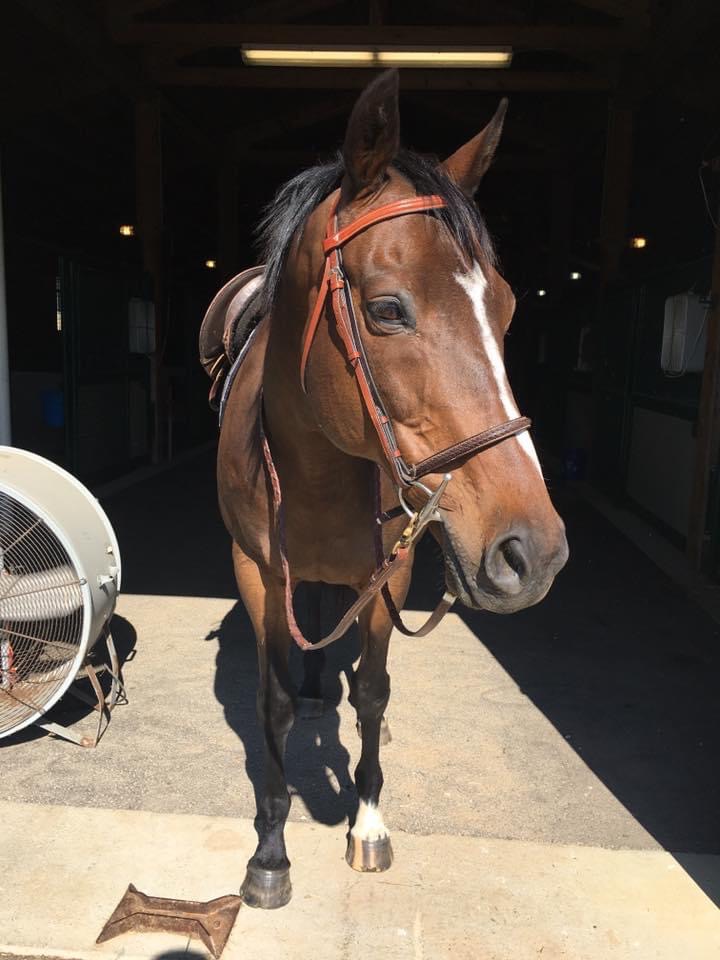 John joined the team at Central Kentucky Riding for Hope in 2011 and just like at the Secretariat Center, he quickly won everyone over with his in-your-pocket personality. He was tall enough to be used for the veterans program but sweet enough to be used for regular equine-assisted lessons for kids of all ages. His favorite lessons were the independent lessons where he was able to give his rider not only the confidence to ride without a leader, but also so many smiles and laughs. He knew exactly what speed every client of his needed which made him a go-to lesson horse. He was a staple in CKRH's lesson program and consistently participated in three to four lessons per week for the next nine years.
In 2020, at the age of 16, John suddenly began losing his eyesight through no fault of his own. The vets and staff worked hard to try to help this quick progression, but in a few months he was almost completely blind. To a horse that had been sight seeing all of his life, this was a huge hurdle for him and the entire team at CKRH. His happiness and quality of life was of the utmost importance after being an asset to our program. The bottom line was that whatever was best for John was going to happen, no matter how hard it would be to do. Nonetheless, with him being at a place where miracles happen every day, it was no surprise that John was going to try to be the next one.
After going blind, John had to relearn everything he had ever known: where his water trough was, where his food was, and of course where all of his surroundings were. He spent some time in a stall and was handwalked to slowly relearn the facility with only the remaining senses he had never relied on before. The adjustment period was extremely difficult but with every step back he would continue to try to take many steps forward in the process. He learned to trust the staff around him and their cues to navigate what at first was scary to him until it was like second nature. 
Next, the main goal was to get John to a point that he could go be a horse again outside in a grassy paddock with a friend to keep him company. He was first turned out in an arena where staff would watch him 24/7 to give him cues as he walked around learning to do it on his own. Then once he learned how to navigate on his own, we started testing out other horses that would be good to help him in this journey he was on. It needed to be a horse that could stand him running into them and not take it to heart. After some failed attempts at finding a match, we discovered that Aksel, one of our Fjords, would be absolutely perfect for the job. 
Aksel turned out to be an irreplaceable asset to John's life. They were turned out in a field and Aksel took as much time as we did to help navigate John to hay and water. Not only was he patient every time John ran straight into him but was kind when John got nervous. Anytime John would start doing small circles in the field after getting discombobulated with his surroundings, you would see Aksel move to get in the way of his circling to stop him. When either one of them is doing something without the other, they will call loudly until they are reunited. 
John being a horse again out in a field with Aksel was enough for us, but it wasn't enough for him. It was clear that every time Aksel left to go work, John was wondering why he wasn't going into lessons as well. Because of how much John loved to have a job, we decided to bring him into work again. First, we started him under long lines only with the staff with which he already had trusting relationships. As soon as the bridle was put back onto his face, you could see a piece of him come back to life. John seemingly was so proud to be brought back into an arena with something to do since he had lost his eyesight. He went back to doing work every week and he was loving every second of it, even if it was just with the staff.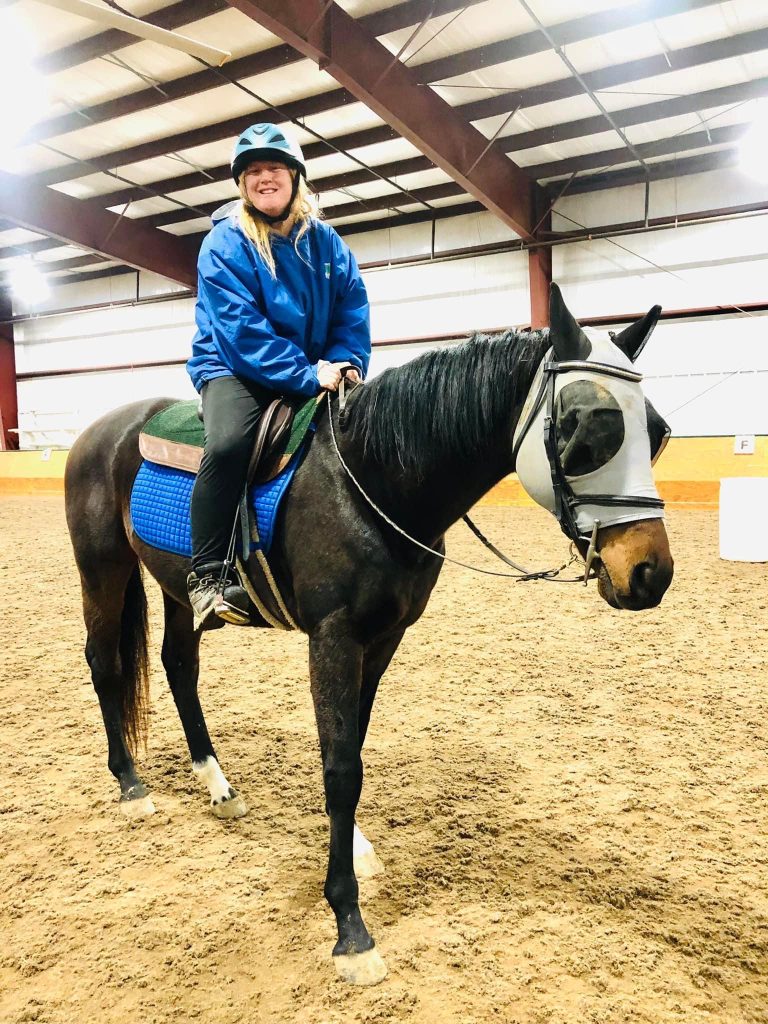 His progress was steady and he was showing no signs of his blindness slowing him down. We kept adding more and more things for him to do. He was doing the long lines inside around obstacles, which then turned into doing long lines outside through creeks and around trees. He loved it. It soon got to the point that he could wear a saddle again and would get all dressed up just to go walk around without a rider. in a lesson again without a rider so he could be in a lesson environment that John had always loved the lesson environment so much, and all of this progress led up to the day he finally had a rider on his back again. Once one of our staff members sat tall on John's back, it just seemed to make him whole again. 
John has proved time and time again how great a Thoroughbred can be. Through the hardest of days, his ability to adapt to different jobs and be resilient when the odds are against him is a testament to how amazing off-track Thoroughbreds are. The hopeful goal going forward will be that he gets back to serving clients at the point he was before going blind. His future will always be up to him as he owes us nothing for what he has done already for this organization. There is no doubt that he will continue to show all that meet him here at Central Kentucky Riding for Hope why he is perfectly named Impressive John R.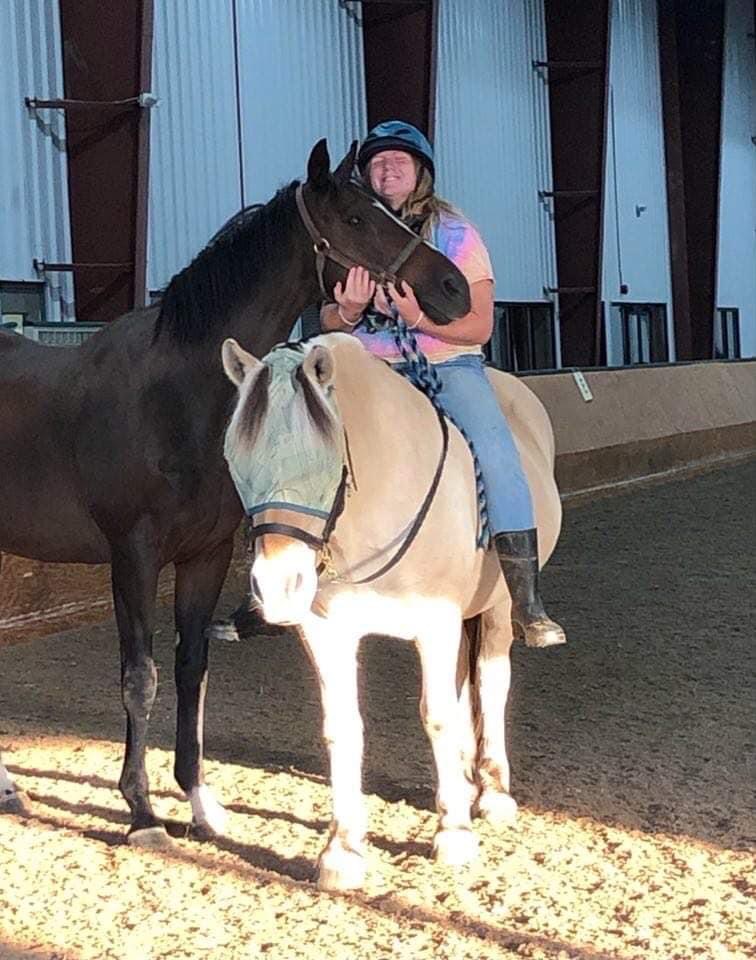 ---
Update: Impressive John R passed surrounded by the Central Kentucky Riding for Hope team that loved and cared for him on October 18, 2022- he will be greatly missed.
From CKRH:
"It breaks our heart to post this. Impressive John R "John" has been a part of our program for 12 years and he made a lasting impact on everyone who was lucky enough to meet him. He was the strongest, most loving, silliest, and most trusting horse on property. With how resilient his will to fight was, he was considered to have nine lives. Throughout his time at CKRH John has faced a variety of obstacles and he overcame each and every one of them with flying colors. For the first time since before his blindness, John was trotting under saddle and preparing to reenter the lesson program. The joy on his face was undeniably heartwarming. This decision was difficult beyond words, but he passed on surrounded by the Equine Team who love him deeply. John R was truly the heart of Central Kentucky Riding for Hope and he has left a gaping hole in all who knew him. We love and miss you forever John R."