Midnight Murphy was purchased as a yearling for $6,000 at the Keeneland September Sale in 2019. Cindy Murphy bought the son of Midnight Lute as a race prospect for her and her husband to train, however the Hill N Dale-bred colt never made it to the starting gate.
After over a year in race training he showed little interest in life as a racehorse, and what Midnight Murphy lacked in speed he made up for in random injuries. So, the Murphy's decided to give the then three-year-old the chance to find a new job and home where he could thrive and enlisted the help of Thoroughbred Aftercare Alliance (TAA)-accredited Horse and Hound Rescue Foundation.
"Murphy was put into training but turned out to be rather slow and rather susceptible to hurting himself," recalled Horse and Hound Executive Director, Nelda Kettles, of Murphy's time on the track. "After some uninspiring works and some mishaps, I was contacted by Cindy to find Murphy a career that was more suitable to what he wanted to do."
Murphy arrived at Kettles' Guthrie, Oklahoma farm sound and ready to begin a second career— whatever that might be. At such a young age, the handsome bay could go in any direction, but the TAA-accredited facility only had Murphy in training for four weeks before he stole the heart of Diana Stuckey.
"Murphy was a big gangly gelding still growing into himself," Kettles said. "I put him into training with Jamie Jennings and he immediately caught Diana Stuckey's eye. Diana is an accomplished retired hunter/jumper rider and was looking for a trail riding and western dressage prospect."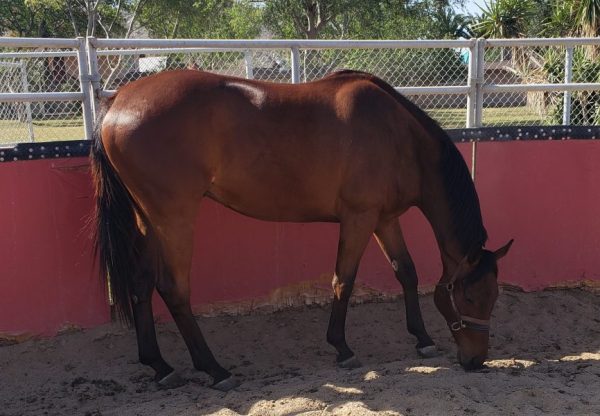 Stuckey had been following Jennings' certified Monty Roberts instructor Facebook page, Flyover Farm, when she first came across videos of Murphy in training.
"When I saw his calm demeanor as Jamie Jennings shared videos, I fell in love with him," Stuckey recalled fondly. "I absolutely loved the way he trotted in the big arena once she got to that point in her training. He is a beautiful mover and I love his confirmation. With her assessments of Midnight Murphy she thought he would be a good fit for me."
A resident of southern California, Stuckey was only able to assess the gelding from her computer screen. Despite the distance, all parties were able to come to the same conclusion— Midnight Murphy and Stuckey were a perfect match.
"After several conversations and checking out her adoption application, it was decided that Diana would offer Murphy the chance at a second career," Kettles said.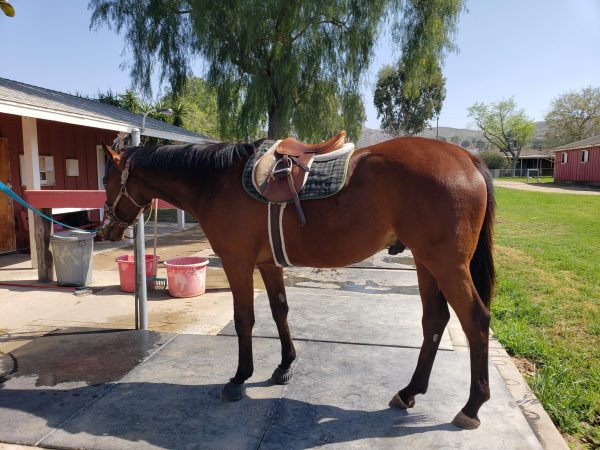 Now, just a few weeks shy of Murphy and Stuckey's one year anniversary, the pair is doing better than ever and Stuckey is happy to report that Murphy has taken to his new life with gusto.
"He has grown a bit—17 hands—and filled out in the year I've owned him," Stuckey said. "He's very smart and his training is going great. We've gone out on many trail rides and he's calm and confident. I'm working in the arena with walk, trot, and canter which he is doing well. I'm taking my time since he is so young, he turned four on May 1st. He's a big boy and so kind. I call him my gentle giant."
Looking forward, Stuckey's only wish is to develop a safe and happy partner to play around with both in the arena and out on the trails. In her youth Stuckey worked for several hunter/jumper trainers and has continued riding throughout her life. Now at the age of 61, the seasoned equestrian has the knowledge and experience to turn Murphy into a lovely riding partner.
"I currently have an older horse who is now 18 years old," Stuckey said. "I've had her since she was two and wanted to get another horse as she ages. Murphy will be her replacement and of course I'll care for her for the rest of her life. Murphy will be an arena and trail horse— I ride English in the arena and Western on the trails. It may be fun someday to do trail courses, but at my age I won't be heading to any big horse shows."
Midnight Murphy may not have accumulated success as a racehorse, but he certainly hit the jackpot when it comes to having humans in his life who genuinely care about his well being. From racing connections, to TAA-accredited aftercare, to adoption— Murphy ended up precisely where he was meant to be.
"Horse and Hound Rescue Foundation and Jamie Jennings at her Flyover Farm were both amazing to work with," Stuckey said. "I'm grateful and honored to have been able to adopt this beautiful Thoroughbred and I'm so incredibly happy with Murphy."