A warhorse of 42 starts, Kipper Dan only visited the winner's circle once and retired with a record of 1-3-4 and $33,339 in earnings. The Kipling gelding made his last start in October of 2015 at Remington Park and then made his way to TAA-accredited Thoroughbred Athletes.
One day when the lively Oklahoma-bred was on the horse walker, his movement drew the attention of Kara Garde, who made a stop at Thoroughbred Athletes upon her trainer's recommendation. Garde lost her heart horse and was looking for another equine partner to help her heal.
"(Kipper Dan) was so interested in what was going on around him that he was darn near performing canter pirouettes," she recalled of when she first saw him. "As a dressage diva, I had to wipe the drool from my chin as I looked to my friend and said, 'Now, there is my dressage horse!'"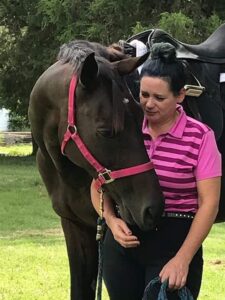 Thoroughbred Athletes Lynn Sullivan recommended Kipper Dan and another horse for Garde to try, but the instant connection Garde had with Kipper Dan during a test ride made the decision easy.
Now, the duo is working toward earning their USDF Bronze Medal and is turning heads in the dressage area.
"'Kip' won both our local chapter and statewide schooling show end of year awards," Garde said. "I have never clicked so well with a horse under saddle. Every judge and clinician that has seen us remarks on his potential to be an upper-level dressage mount.
"More than that though is that we have healed each other. From a heartbroken rider and a discarded horse, we have become one heck of a team. He's my partner and my friend."