Little Brown Derby only raced as a juvenile, tallying one win and two thirds. The Canadian-bred son of Safely's Mark retired with earnings of less than $5,000 and made his way to TAA-accredited New Stride Thoroughbred Adoption Society.
Katrina Hamilton was in the market for an off-track Thoroughbred, so she headed to New Stride near Vancouver. It was there she spotted Little Brown Derby, who was being tried by another potential adopter at the time but once she hopped on, his great canter sealed the deal.
Now called "Kato," the gelding and Hamilton have grown their bond and have competed in the show ring up to three foot at venues such as Milner Downs and Arbutus Meadows.
"My goal with all my horses is to find what they are happiest doing and give them the tools to succeed for anyone to enjoy," Hamilton said, adding that her mother has taken over Kato's training and is working with him in dressage, low-level jumping, and equitation.
"Kato will be a lifelong member of our family," she said. "He has been pleasure ridden by my boyfriend, jumped with juniors, packed me around at show jumping clinics and shows, and now he's expanding his knowledge in my mom's disciplines."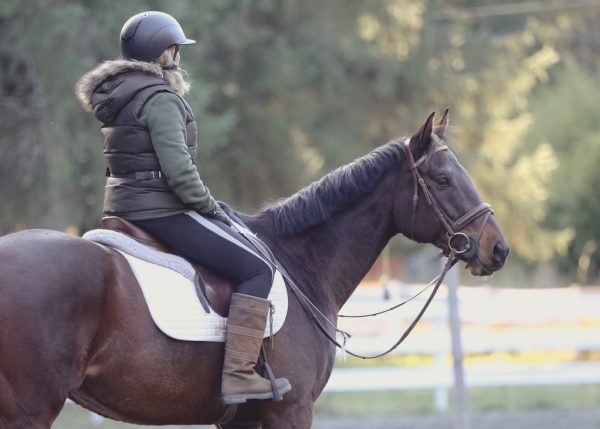 He's also serving as a model and mascot for Hamilton's Derby Clothing Company, a British Coumbia-based retailer specializing in everyday equestrian wear. But regardless of his official title, Kato has found a permanent place in Hamilton's heart and herd.
"Kato was the light in my darkness," she said. "I adopted him to be a trail horse for myself and my boyfriend when I was no longer enjoying the competition world. He has taught me just as much or more than I have taught him. He was the perfect mascot for my equestrian clothing company, and now he can enjoy his years in my herd of ever changing OTTBs."