By Erin Shea
Cathy Sanders had adopted from TAA-accredited New Vocations before and always kept an eye on the organization's website for new arrivals. Looking for a smaller gelding, she was intrigued by the profile of Make The Point, a son of Menifee foaled in 2005.
While Make The Point's stellar personality made him a barn favorite at New Vocations, his large ankle was a turnoff for a lot of potential adopters. But Sanders wasn't deterred, and she put in her adoption paperwork and made arrangements for the bay gelding to become hers.
"His ankle X-ray is pretty bad. He obviously suffered a chip when racing and it had never been removed. Now roughly 10 years later, there was lots of calcification and he has no flexion in the ankle but he is actually sound," she said.
When he arrived at his new home, he was more than Sanders ever imagined.
"He is simply beautiful and he knows it," she said. "Very classy and just the type of horse that does it right. We had no idea of his back training since he had been off track for so long but he was very kind and my husband quickly claimed him. I played with him a little at home and started teaching him to hack out alone around the farm."
Through a 21-start career on the East Coast, Make The Point made his way into the winner's circle nine times and earned $160,693. While he finished his racing career in the claiming ranks, his breeding exudes class.
Descending from a strong female line of Phipps-bred mares, Make The Point is out of New Dice. The Capote mare is a daughter of the Mr. Prospector mare Get Lucky and is a sister to grade 1 winner Girolamo, multiple graded stakes winner Daydreaming who produced grade 1 winner Imagining, and the dams of Kentucky Derby (G1) winner Super Saver and grade 1-winning Kentucky Derby runner-up Bluegrass Cat. Make The Point's third dam is grade 1 winner Dance Number and his fourth dam is champion Numbered Account.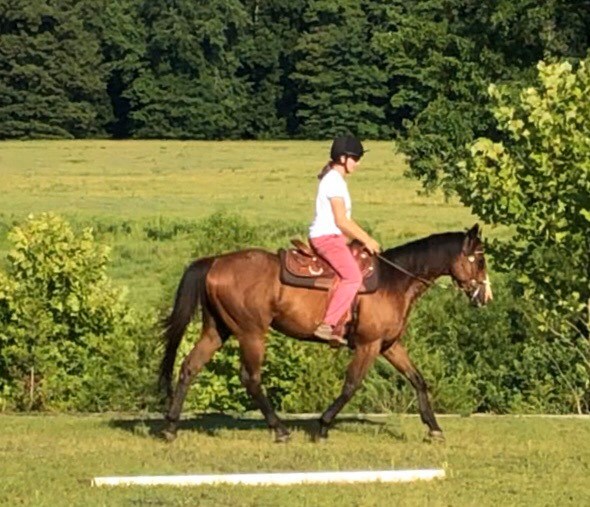 When Make The Point was progressing well in his new career and home, Sanders decided to throw him on the trailer and bring him along to a dressage schooling show she was competing in with another horse. There, his class and calmness shined through.
"He was well behaved hacking around, and I was actually a bit shocked the judge didn't comment on his huge ankle before I began my test," she recalled. "As we headed down centerline, he suddenly put his game face on and puffed himself up and did a lovely test. I was pretty stunned, even more stunned with a score of a 76. After that, I took him to the rest of the series and he always received high praise from the judges. It's very obvious he loves to show."
The duo's success in the show ring earned them the title of champion in the Western Dressage division of the 2019 Thoroughbred Incentive Program Performance Awards.
Now in the spring of 2020, Sanders is attempting to plan the remainder of her show year while dealing with the uncertainties of the COVID-19 pandemic.
"Currently, he's a muddy mess as we try to figure out what this year is going to be. My goal was to show this year and head to Kentucky in October for the New Vocations All-Thoroughbred Horse Show and Thoroughbred Incentive Program Championships, but who knows," she said.
"He was in regular work until a few weeks ago and we are just working on making his dressage a bit better. He doesn't canter one way well due to the ankle so we just will be sticking to walk-trot tests, but we're hoping to add Working Equitation to our resume."
Regardless of the current uncertainties, Sanders is enjoying the ride on her dreamy mount.
"He's the type of Thoroughbred everyone dreams of—beautiful, classy with a heart of gold," she said. "His breeding and good handling in his youth definitely shine through."