By Erin Shea
Nina Neumann found herself drawn to the string of newly arrived OTTBs in her barn. The Thoroughbreds from TAA-accredited CANTER Michigan plucked at the heartstrings of the animal lover.
One in particular, Green Mouse, caught Neumann's eye. The Cherokee Run gelding visited the winner's circle five times during his 20-start career that ended at the now-defunct Mount Pleasant Meadows in Michigan. Although he was known for being difficult to handle and was passed up by potential adopters, it made Neumann more interested in spending time with him as she wanted to give him a chance.
On her 16th birthday, her parents gave her the surprise of a lifetime—Green Mouse's adoption papers.
Now, in the spring of 2020, more than six years later, and the duo recently finished atop the standings of the 2019 Thoroughbred Aftercare Alliance adoptee Thoroughbred Incentive Program performance award (click here to view all of the Performance Award winners). They also took home first place overall in a competitive T.I.P. Dressage Division. While they're stacking up the accolades, Neumann admits the process wasn't a cake walk.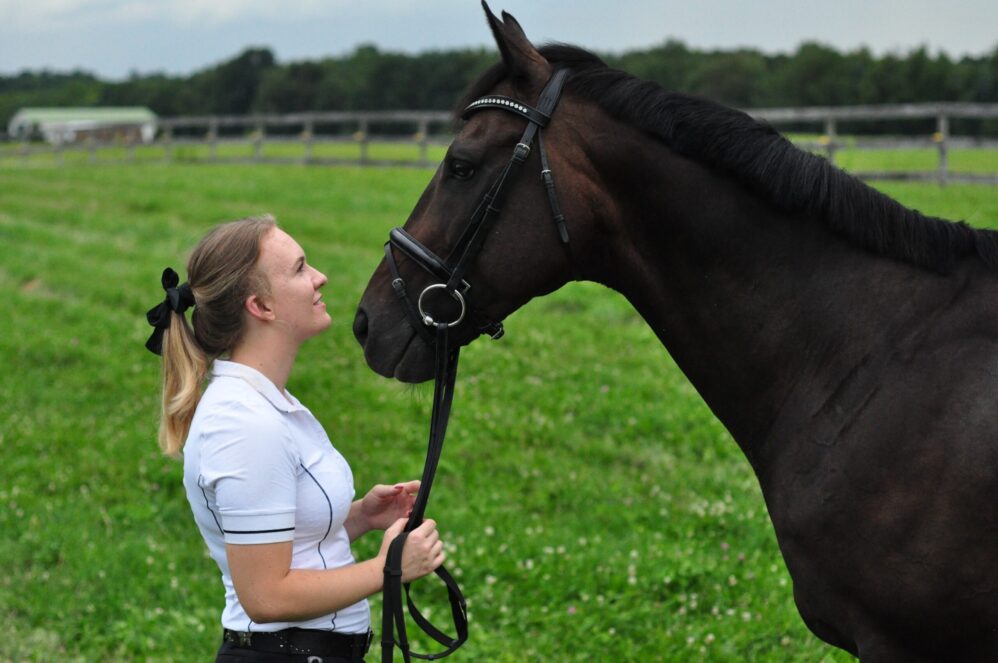 "'Mouse's' retaining process has been a long journey for both of us. I am incredibly thankful for the three incredible trainers who helped us over the years," she said.
"After owning him for a few months, I noticed that traditional training was not working for him. I decided to move him to a quieter barn in White Lake, Michigan. Jeanette Landrith at Tristan Manor was an instrumental part of his transformation to the horse he is today. 'Mouse' spent a lot of time in a beautiful pasture and over the course of a year, I started to bond with him through groundwork. This was a breakthrough for both of us since he finally learned to trust me. It took over a year before we slowly restarted desensitizing him to a saddle and mounting blocks."
And when Neumann went to college in Pennsylvania, Green Mouse went too.
"Our training there (at Three Point Farm in Erie, Pennsylvania) was a second milestone since with the help of my trainer Karen Deitrick, we finally got him to accept the bit," she recalled. "My tiny hollow-backed 'giraffe' OTTB finally started to build muscles in the correct places and his true potential was seen."
After college, Neumann came back home to Michigan and began boarding him at Equinox Farm in Highland, Michigan. As she and "Mouse" were progressing nicely, their new trainer Liz Snoblen gave her a big goal⁠—to compete at a horse show.
"I was very anxious since it would be the first time competing for both of us and I did not think we were ready. However, Liz knew it was time to let 'Mouse' show off his progress⁠—and that he did," Neumann said.
"I was completely shocked by how well he performed at shows, and we moved up to Training Level after receiving an 83% at our second introductory level show. He loves being the center of attention in the arena just as much as his celebratory watermelon treats after tests."
Looking back on their journey together, Neumann says that her game plan with "Mouse" changed along the way as he began to shine during competitions. At the beginning of this year, she was aiming to do first level dressage and begin introducing him to the "A" show circuit. Although due to COVID-19 and stay-at-home orders, those plans have been put on hold but the time hasn't been wasted.
"This setback might just inspire us to focus on training and strive for second level the following year," she said.
Either way, Neumann knows the importance of her and 'Mouse' moving forward as a team.
"I don't set dates for our goals since our entire training has been based on being a team. If Mouse is not ready for something, I don't ever want to push him since he is just too sensitive and anxious for that," she said.
"He has definitely taught me to live in the moment and just trust the process. I can't wait to see where my journey with Mouse will go but I have no doubt he has a lot more to show."
Photos courtesy of Nina Neumann