Peyton Place broke his maiden at Delaware Park on his third career start in June of 2018. It was there that the Maryland-bred caught the eye of Beverley Strauss, the executive director of Thoroughbred Aftercare Alliance (TAA)-accredited MidAtlantic Horse Rescue. 
"He shipped in to run at Delaware after two starts elsewhere and my husband and I thought about claiming him– even though we are not claiming people," Strauss recalled with a laugh. 
As it happened, Peyton Place was claimed that day, not by Strauss but by her friend, trainer Jorge Diaz.
"We got to see him daily," Strauss said. "He was a super nice horse, but Jorge only had two seconds with him, then Jesus Cruz claimed him for Wasabi Ventures Stables the second time Jorge ran him."
Wasabi Ventures Stables and Cruz ran Peyton Place two more times at Delaware Park, with his final start being on what Strauss deemed, "an extremely hot day." 
The heat did no favors for the Mr Armore Stables-bred gelding, and as he made his way around the track, became visibly more tired. Upon crossing the finish line, it was apparent that something was not right. 
"After crossing the finish line, he fell and was vanned off," Strauss said. "He had hit his tendon and bowed badly." 
Fortunately, Wasabi Ventures Stables LLC and Cruz were one hundred percent committed to rehabbing their young gelding and finding him a safe place to retire. 
"They did all the right things and kept him on stall rest until the meet ended," Strauss said. "Once it had, they asked us to take him, and we were glad to."
Peyton finished his rehabbing at MidAtlantic's Breezy Hill Farm in Thurmont, Maryland, before beginning his retraining a year later. By December of 2019, the son of Petionville had found his new home. 
"Chrissy Aguilar came to see him, loved him, and adopted him for her girls to bring along," Strauss said. "Chrissy has a bunch of young riders who work to ride, and she provides them with horses– all Thoroughbreds. She is a great mentor to so many young folks." 
One of Aguilar's mentees, Alyssa Kelly, came along to MidAtlantic that day to try out Peyton.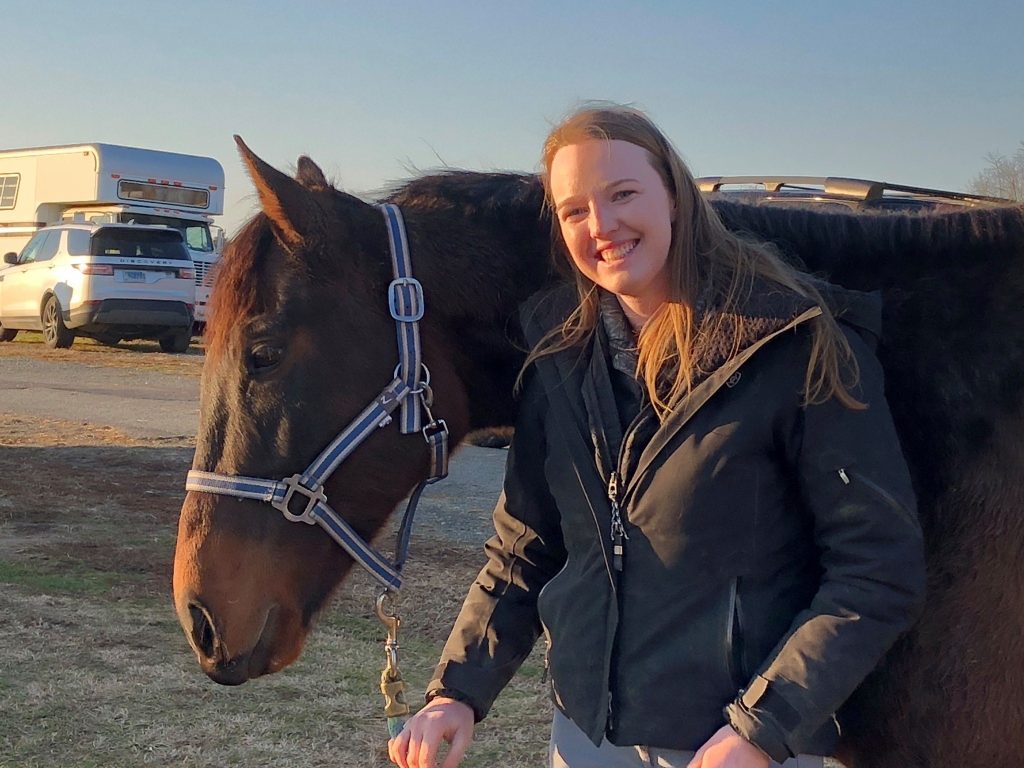 "We rode Peyton once and knew that he had a great brain and nice personality," Kelly recalled. "So we brought him home that day." 
A bowed tendon may have deterred other adopter's, but Aguilar and Kelly had no fear Peyton would be capable of having a meaningful second career as part of their program.
"Many people are nervous about adopting a horse with a bowed tendon," Kelly said. "But Peyton was sounder than I was for the two years that we owned him. We wanted to show that just because they have injuries from the track it doesn't mean that they cannot have a successful post-track career." 
Peyton and Kelly spent the better part of the next two years retraining with the 2021 Retired Racehorse Project's Mega Makeover as their goal. With the COVID-19 pandemic postponing horse shows and much more, the pair made do with what they could in the meantime. 
"I was fortunate to be able to continue to take care of Peyton at the barn and exercise him because he was on self-care board," Kelly said. "Even though there were no horse shows to attend, we still were able to make the best of experiences" 
The pair went on trail rides, swam in a nearby river, and practiced trailer etiquette. 
"Early 2020 allowed us to form a partnership by taking his training slow and gaining different experiences," Kelly said. 
Once things began to reopen and rescheduled events started taking place, Kelly and Peyton were finally able to strut their stuff in a few clinics and shows. Unfortunately, Kelly herself suffered a non-horse-related injury and was sidelined for four months. 
"Peyton was the first horse that I got on after surgery," Kelly said. "I remember there were a few other horses in the ring and one horse was on the lunge line bucking and carrying on. Peyton was such a gentleman and stood still the whole time, even after being on a significant break during the winter– that was when I knew he was a special horse."  
As Kelly regained her strength and Peyton continued his retraining, the duo prepared for the Mega Makeover by attending schooling shows at MidAtlantic Horse Rescue, where Strauss got to see first-hand the special gelding's progress. 
When October came, it was finally time for Kelly and Peyton to compete at the Kentucky Horse Park in the Team Show Jumping and Team Dressage disciplines, where Peyton finished first and eighth, respectively.  
His impressive performance was bittersweet for his rider, as he was for sale during the event.
"After the Makeover, Peyton was sold on December 22nd, 2021 to a young girl who wanted a horse that could foxhunt and build her confidence in jumping," Kelly recalled. "We are still in touch with Peyton's new owners and enjoy seeing pictures and videos of them together."
At the end of the day, Peyton Place accomplished the goal Aguilar and Kelly had sought to achieve- proving that even an unsuccessful, broken down racehorse can achieve great success off the track.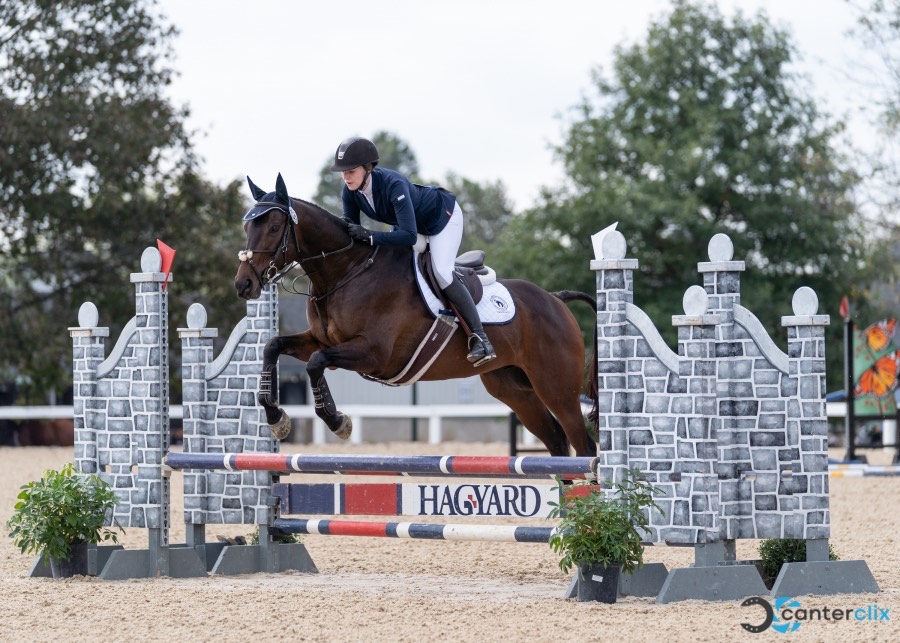 (Image: CanterClix)
Cover Image: CanterClix