**editor's note: IMAGE FEATURED PORTRAYS A HAPPY AND HEALTHY ROWDY RUNNER AT THE RIPE OLD AGE OF 30** 
ROWDY RUNNER (1988-2022)
Rowdy Runner took a slower approach to the racetrack. After 13 unsuccessful attempts to break maiden, the gelding was decidedly retired from racing. Despite Rowdy Runner's incompatibility with racing, his second career would lead him right back to the track.
On May 6, 1992 Rowdy Runner ran his last race and began his second career as a track pony. The job of a track pony is reserved for those who remain composed while leading high strung racehorses to and from the gate both on race days and in everyday training. Rowdy's temperament was perfect for the position and would help him greatly during the next twenty years as he led the next multiple generations of racehorses to their starting position. 
Lead ponies are commonly owned by their riders— licensed employees of the racetrack which play a crucial role in maintaining safety and order on the racetrack.
Pony rider Robert Paterno purchased Rowdy to be his new partner in 1992 and remembers the first time he laid eyes on the son of Thunder Runner. 
"He was just four at the time, small and wild eyed," Paterno recalled. "I took him on and began breaking him to be a track pony. It would take a while, he certainly lived up to his name when he was younger, but in the end, he was a really good pony."
Paterno's patience with young Rowdy Runner paid off and he earned a reliable partner to travel with up and down the East Coast. The two worked at 17 different tracks while following the race circuit over 26 years, meeting countless Thoroughbreds, trainers, jockeys, and race fans. 
"Rowdy was a good pony and a fan favorite," Paterno said. "He would get to meet the public at some tracks because he was so good, and people would always ask to see him every year." 
At 29 years old, Rowdy was still sound, healthy, and full of spirit. On the other hand, Paterno was forced to face the reality of getting older when he developed heart problems. Paterno knew with his medical issues surfacing, it was time to retire his old friend. 
"We found each other at the right time," Paterno said. "We needed each other back then, but it was time for me to let him move on." 
Paterno retired Rowdy from ponying, but with his heart giving him trouble, he still needed a permanent place to entrust with Rowdy's care. That is when Paterno found TAA-accredited Equestrian Inc. in Tampa, FL. 
"I met the girls of Equestrian Inc. in the barns one day and told them about my Rowdy," he explained. "I knew the Thoroughbred Aftercare Alliance takes care of Thoroughbreds that raced, so I asked Equestrian Inc if their organization would accept my track pony with 20 million miles on him. I was excited to learn they would not only accept him but they would let him live there forever. They did so right by him. I can't say that enough." 
Established in 1985, Equestrian Inc. provides ex-racehorses a chance for a productive second career in a variety of disciplines, and in some cases like Rowdy's, a forever home to live out the rest of their days.
Rowdy arrived at his forever home from Tampa Bay Downs in January 2018. Equestrian Inc. Board of Directors' Secretary, Carol Burnell, remembers how sweet-natured and steadfast the bay gelding was right from the start. 
"Rowdy was everyone's favorite," Burnell said. "He was such a sweet boy that we would use him to show the new volunteers things like how to groom, clean feet, and how to properly handle an off-track Thoroughbred."
Even in retirement, Rowdy remained the people's choice. His sweet disposition and track pony training also made him the ideal candidate for easing younger Thoroughbreds into life off-the-track. He was a polite pasture mate that taught the younger Thoroughbreds the ins and outs of proper pasture etiquette. 
"Nothing would bother Rowdy," Burnell said. "As a pony horse he must have seen and heard everything so he was always Mr. Calm. But he certainly lived up to his name in his senior years—taking off when he was turned out in the mornings, just like the younger horses."
While Rowdy was an exceptional babysitter for the horses in Equestrian Inc.'s retraining program, the loyal senior had forged a special bond with another permanent resident.
"He made friends with all the horses but he especially bonded with JJ (Jule's Jewel), another one of our senior horses," Burnell said. "They spent their days in the pastures side-by-side."
Rowdy celebrated his 34th birthday on January 23 of this year. He celebrated the impressive milestone with his best friends, both equine and human.
On February 8th 2022, Rowdy succumbed to his old age and was humanely euthanized. In those 34 years, he lived the exciting life of a racehorse, assumed the role of a steady partner as a track pony, retired from the track to become a beloved mentor and companion at Equestrian Inc., and always remained a permanent resident in the hearts of everyone who knew him. 
"I'm forever grateful to Equestrian Inc. for taking care of my Rowdy," Paterno said. "Most horses don't live that long, and they did right by him to the very end." 
He will forever be remembered for not only being a true asset to the organization, helping both human and equine newcomers learn the way of the OTTB, but also as an outstanding ambassador for the breed. 
The TAA is proud to support organizations like Equestrian Inc. and is grateful to know that horses like Rowdy Runner can live out their days in peace and comfort in a TAA-accredited aftercare facility.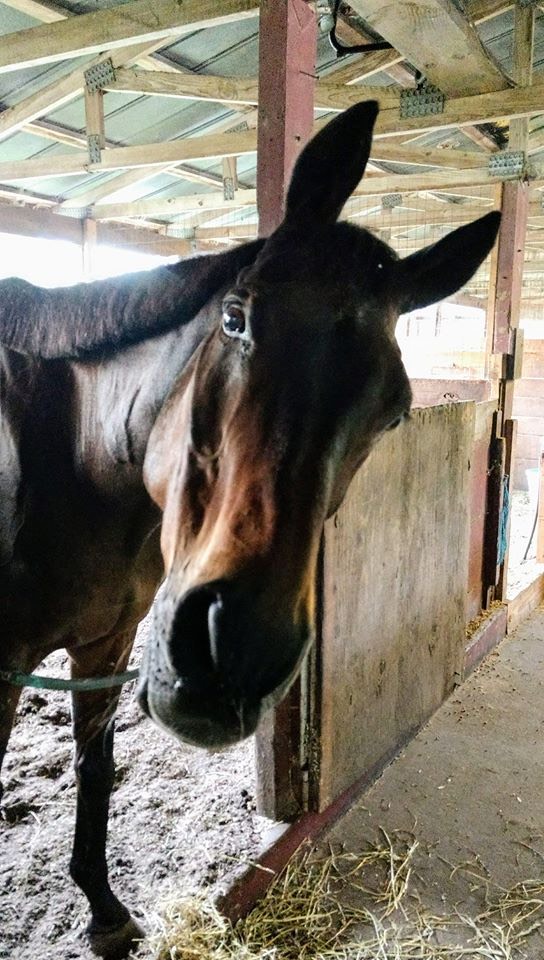 Cover photo: courtesy of Equestrian Inc.