At the end of September of 2017, Hurricane Maria and Irma had wreaked havoc on the Caribbean. Both the human and equine population of Puerto Rico were left in desperate need of help.
Not too far away in Riverview, Florida was TAA-accredited RVR Horse Rescue, which works with Thoroughbreds and other breeds of horses in need. Being affected by the hurricanes themselves and knowing that they could be next, the organization initially wanted to help those who were displaced by the hurricane. However, a flooded facility made that plan difficult.
"We actually had to go through the hurricane process ourselves. … We came back to a flooded property, which made things difficult to work in but not impossible," RVR's Kelly Ford said.
"It really hit home to us how lucky we were—we had some downed trees and we had some flooding—and we instantly thought after the hurricane that we would open up our property and take horses where they had been displaced … We weren't really able to do it because of the state of our own property, it was really hard to maneuver hay in and out. We just weren't able to do what we wanted to do."
But then RVR got connected with Caribbean Thoroughbred Aftercare (CTA), a TAA-accredited aftercare organization based in Rio Grande, Puerto Rico.
"(CTA) reached out and we said that absolutely we wanted to help. We had a really superficial understanding of what they could possibly be going through. We knew how hard it was to record from minimal damage (at RVR) in comparison," Ford said.
In Puerto Rico, CTA facilitated the racehorses' retirement from the track and scheduled their quarantine and shipping to Florida. Then, RVR focused on getting horses vetted, getting them updated on vaccines, having their teeth done, and eventually, finding a new home and career for them.
"It was a no-brainer, yes, we definitely want to help out," Ford recalled. "And it was a way to pay it back to our community as well, because we have a very supportive community that helped us out after the hurricane—the county lent us equipment because we couldn't get our tractor moving, we had people donate their time, we even had a search and rescue with one of (the county's) gator vehicles. So we had great support and we wanted to pay that back."
And they are still paying it forward as their relationship with CTA continues.
Below are a few select stories about horses retired by CTA and rehomed by RVR.
Corona Rosaire
The daughter of Artie Schiller made all of her 27 lifetime starts at Camarero, only winning once and placing another six times.
Although Corona Rosaire had traveled a distance from her home state of Kentucky, she still had a few people back in in the blue grass keeping a close eye on her races.
"Corona Rosaire was bred by my brother and sister (Gregory Grisolia and Lucille Friedman), who have a tiny breeding operation. She was the first horse they ever bred," said Cindy Grisolia, who works at TAA-accredited Old Friends and remembers watching Corona Rosaire stand and nurse on the day she was foaled.
"We watched all of her starts at Hipodromo Camarero—listening online the the race calls in Spanish seeing if we could hear her name."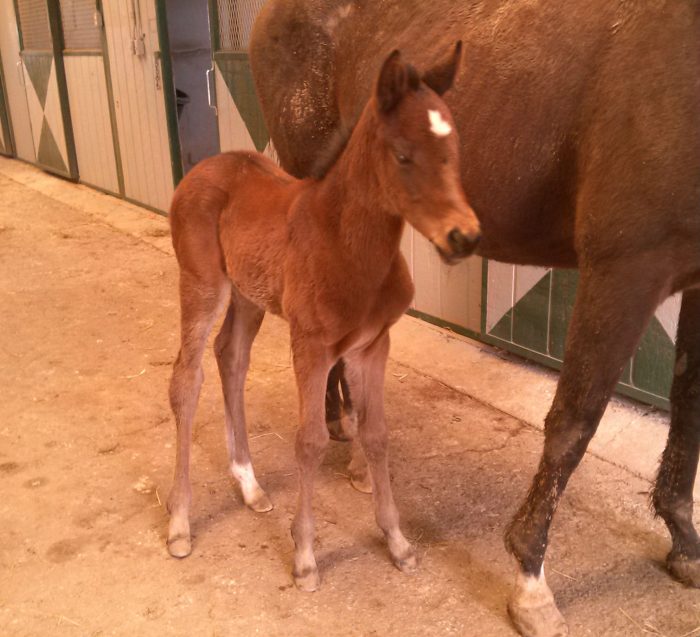 Corona Rosaire as a foal. Photo courtesy Cindy Grisolia
But once news of the hurricanes broke, Grisolia became worried that Corona Rosaire did not survive the storm. Thankfully, Grisolia had confirmation that the filly survived after reaching out to Shelley Gagnon-Blodgett and Kelley Stobie at CTA.
"A month or so later, her owners decided to retire her from the track," Grisolia said. "Thankfully, they came back to CTA. Shelley contacted me and we went about finding her a soft landing. We're so grateful to everyone—from her owners to the CTA, and now to RVR—for helping us. We hope to stay in touch with her new family. I think she is destined for another life, off the racetrack. It was, as they say, not her speed."
VIDEO: Corona Rosaire arrives at RVR:

Run Binky Run
The Kentucky-bred daughter of Songandaprayer was a true war horse. She started her racing career on the East Coast before eventually going to Puerto Rico in February of her 4-year-old season. With a 8-11-5 record from 96 starts, she last raced in April of 2017 at Camarero and retired from the track with $67,765 in earnings.
She retired to CTA, but with all of her hard-fought time on the track she wasn't sound enough for an athletic second career. She caught the eye of Retired Racehorse Project's Jen Roytz who sent the listing to friend Kyle Rothfus as a potential 2018 Thoroughbred Makeover horse.
"Jen sent Run Binky Run to me in the middle of February and was like 'Kyle, you need this horse,'" recalled Rothfus, who works full time in corporate sales strategy and runs OTTB Training as a hobby.
"At the time (Run Binky Run) was listed as not sound, and we kind of dug in a little more and we found that she will be safe for what we need to do. And before I ever started picking out horses for the Makeover this year, I found a permanent home for her through one of the people who had been following my page," he explained, adding that Run Binky Run would eventually go to someone who was interested in light trail riding and a pleasure horse.
With his OTTB Training community, Rothfus focuses on retraining Thoroughbreds through a strong foundation in groundwork to build trust. As he usually works with mares, Run Binky Run seemed like a good fit for his program.
"She's kind of a thinking mare. She's not one of those that's boldly pushing forward … I think she's going to take a lot of time to build trust," he said.
"The plan is to do competitive trail and freestyle. Freestyle we'll do a liberty demonstration. I focus a lot on trailer training, and she's a little bit of a suck-back horse of getting on trailers and going into stalls, so hopefully we'll be able to work on that and have her loading and unloading from the trailer at liberty from a distance."
Although Rothfus has worked with a number of breeds of horses in top training programs across the country, his true love are off-track Thoroughbreds.
"I just kind of fell in love with the breed mixed with their work ethic," he said. "I think they have a high-level of trainability but they still have that sensitivity that you need versus Quarter Horses and warmbloods that can be a little dull and a little slow to learn.
"The off-track Thoroughbred specifically from a Thoroughbred perspective is great because they've already been exposed to so much. I think that's their biggest benefit. … I think when you build that relationship with them, they kind of crave it and they soak it up a lot faster, and because they're handled so much, they just kind of crave that almost pasture-pet attention."
Watch Rothfus work with Run Binky Run in the video below:
Dancing Calling, Calimaco, Verset Gata, & Hidden Splendor
Dancing Calling started his 115-start racing career in Puerto Rico, then bounced around in South Florida and New York before going back to Camarero.
The Family Calling gelding last raced in August of 2015 before being retired to CTA in November of 2017. Suffering bouts of colic and abscesses in three of his feet, he was then sent to Karen and Randy Hickman at Stone Ridge Farm in Ocala, FL for rehab and downtime. While it seemed that he would be best placed in a sanctuary home at Stone Ridge, once he began feeling better it seemed that he would be suitable for a second career, and off to RVR he went.
Calimaco, a gelded son of Mass Media, was bred in Florida and was sold as a yearling and a 2-year-old at OBS before starting his racing career in Puerto Rico.
Running all of his lifetime 17 starts at Camarero, Calimaco notched a record of 2-2-2 and earnings of $12,832.
His last race was was in April of 2017, he was then retired through CTA and made his way to RVR. Not needing any rehab once arriving in Florida, he was adopted out to a new home quickly.
"That horse was probably on the property a couple of days before someone said that they wanted to come see him and then sponsor to adopt him," Ford said, adding that RVR enters into a 30-day sponsor-to-adopt contract with potential adopters to make sure the horse is a good fit for the new owner.
Versa Gata didn't spend much time at RVR before being snatched up by an adopter either.
The Puerto Rican-bred Savu filly made nine starts and failed to finish better than fourth. Last raced in January of 2018, she made her way to RVR and was adopted in late March.
"She got on the property and somebody was like 'Oh I love that horse,'" Ford said. "We do have people who follow us on what our intakes are and they're looking for something particular, and when the Thoroughbreds come in they get adopted very quickly as soon as they're out of rehab."
Hidden Splendor, one of the younger potential adoptees at age 3, was in and out of RVR as well. The Kentucky-bred son of Include finished seventh in his only start in January of 2018.
"He really didn't want to be a racehorse … his (adoption) will be finalized in just a week or two. So they're all doing very, very well," Ford said.
Hidden Splendor celebrates his third birthday. 
For RVR and Ford, it wasn't too surprising that these sound horses were quickly snatched up by adoptees.
"There are so many different facets to it," she said. "First, people just love these Thoroughbreds. And they have all this training and once they're rehabilitated, we have people waiting in line.
"They're great horses in the first place, but the added happy ending story. They survived two hurricanes, Maria and Irma. … so people like the idea of getting a horse that has another chance after something really horrible happened."
But at the end of the day, it was about helping those people and horses in need—the core mission of RVR.
"Our founder Shawn (Jayroe) always had the attitude that horse rescues should work together," Ford said. "We should stick together and help each other out when we can, and this fell right into that philosophy."