By: Alexandra Kokka
Shanes Gold retired from racing after 52 starts with a record of 9-9-5 and earnings of nearly $143,000. The warhorse made his way to TAA-accredited Remember Me Rescue where he made an instant connection with adopter Alexandra Lucas.
"I had been checking Remember Me Rescue's website often, and actually set up an appointment to try another one of the horses they had listed," Lucas said. "But He was adopted before I could visit, so I went to look at Shanes Gold instead. After a test ride, I knew he was just what I was looking for."
Despite having spent the last seven years of his life as a racehorse and only being retired for three months, Shanes Gold put his best food forward and let his big, sweet personality shine through. Lucas took comfort in the Kentucky-bred's status and knew his experience would make him that much easier to retrain.
"The first thing 'Joey' did when I walked up to him in his stall was unzip my jacket," Lucas said. "He has a goofy, playful personality that was evident right from the start. I was also able to take him for a short ride that day, and he was so quiet and willing at every gait."
After being adopted in 2014, Lucas and the son of Yankee Victor spent a few years with a dressage trainer working on low-level dressage, and he made an excellent partner both in the arena and on the trail. But, Shanes Gold, or "Joey" has since found his calling in a new career.
"Due to the birth of my first child a few years ago, 'Joey' has been leased to Blue Sky Therapeutic Riding and Respite, where he is working as a therapy horse," she said. "'Joey' is the barn's resident Disney character, he makes everyone laugh and has a way of helping clients feel comfortable and safe. He loves his new job, and you would never know that he used to be a racehorse."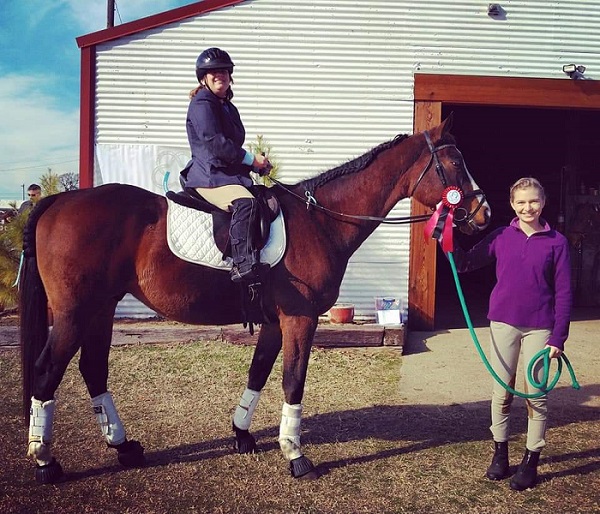 Lucas also volunteers at the Texas-based therapeutic riding center where "Joey" will continue to work his Thoroughbred magic for the foreseeable future.
"I volunteer at Blue Sky helping take care of the horses, and still get to enjoy riding him to keep him in shape for our clients," she said. "He loves his job, and his riders love him."